manroland web systems GmbH
Strong tradition
Offering customised concepts for improvements in flexibility, productivity and quality, manroland web systems GmbH is the go-to company for printing solutions
A German manufacturer of newspaper web offset presses, commercial web offset presses and inline finishing solutions for digital printing, manroland web systems GmbH has a rich history dating back to 1844. It is in this year that Carl August Reichenbach and Carl Buz established Reichenbach's machine factory in Augsburg; six months after the launch of the facility, the first flatbed press was supplied to the Nikolaus Hartmann printing house in Augsburg.
Further developments followed over the next century, with the company achieving major milestones such as the launch of the first high- performance, rotary webfed press in 1931; this had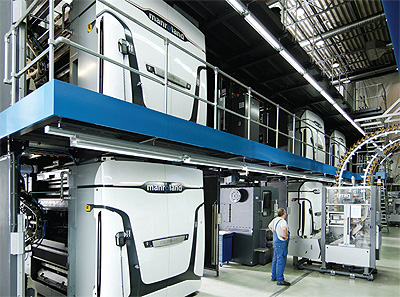 an output of 25,000 16-page newspapers per hour. By 1960, three quarters of the total editions of German daily newspapers were printed on presses made in Augsburg.
In 2012, Possehl Group, Lübeck, acquired the webfed division of manroland AG, giving the company the name manroland web systems GmbH. This acquisition came as a result of the collapse of the financial market, which saw the global market for offset printing equipment at approximately 2.2 billion euros in 2006 and 700 million euros in 2011. Despite the liquidation of manroland AG, proof of the company's solid reputation as a provider of tailored solutions can be seen in the re-ratification of every single deal that it had on order during this difficult period by customers when the new company was formed. Today the company has the broadest product portfolio, for both newspaper printing presses and commercial presses as well as finishing solutions for industrial digital printing.
In addition to printing solutions, manroland web systems GmbH has become known as the best service partner for the industry, a reputation that has been earned through customised concepts for improvements in flexibility, productivity and quality as well as 24/7 support thanks to the global reach of its sales and service team. On top of this, the company offers round the clock support and availability of parts and consumables through online access to its B2B platform manroland web STORE. To further enhance the B2B platform, the company has added new features in 2016 such as availability on smart mobile devices, shopping cart functionality, added methods of payments and integration when it comes to the customer order processing environment.
Discussing the bespoke solutions offered to customers, Alexander Wassermann, Managing Director comments: "Because the printing industry is unique, tailored solutions are very important; we understand that no printer is like any other and that solutions have to face the unique challenges of each customer. These include requirements when it comes to space, production and quality as well as business models, time for ROI and investment requirements. As a company with long-term experience in the printing industry, we have developed a strong reputation as a reliable company that is not only innovative but also service-orientated with optimum consulting skills. These capabilities, alongside the financial strength of our parent company, enable us to stand out from our competitors and hold a45 per cent market share in our field."
Indeed, since being acquired by Possehl Group, manroland web systems has focused on continuous adjustment to the market environment and today commands a share in excess of 40 per cent of the global market for web offset printing press equipment. Playing an integral role in the company's foothold in this business segment is Possehl's restructuring of manroland web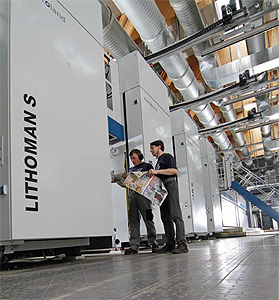 systems to make it leaner and more tightly focused. This development included the reduction of upper management tiers, the rationalisation of the workforce and the integration of a satellite office at Plauen in Saxony with the Augsburg site. Following this restructure, the Augsburg site now employs approximately 1100 people, with a further 150 employees based in sales and services offices across the globe.
Alongside these developments, the company has also maintained a keen interest in market trends and customer demands and responded with technology driven innovations that focus on cost savings, speed, uptime and production flexibility. Recent products launched at the drupa 2016 included the offset newspaper production system GEOMAN e:line, which was developed with a focus on efficiency that enables it to offer short changeover times and efficient inline control systems for the automated control of high quality, continuous production. Features include vertical and gradient adjustability, improved colour matching due to integrated video function and integrated control of third party equipment. Suitable for newspaper presses and designed for medium-sized printing plants, the GEOMAN e:line offers high performance, reduced investment and a low operating cost.
It was at drupa 2012 that manroland web systems announced it is to integrate into digital printing. Now at drupa 2016 the company was showing its competence together with digital printing presses from HP and Kodak as well as other process partners in a live production of whole books and newspapers. By using its know-how, the company has developed digital print finishing modules such as the pin folder FoldLine, a flexible digital print finishing solution for newspapers, commercials and direct mailings, and the FormerLine, a flexible print finishing solution for book production. As a fully-automative, multivariable pin-type folder, FoldLine is the optimal finishing tool for newspaper production in digital production environments and provides the possibility to produce broadsheet and tabloid newspapers in long-grain and short-grain format with different structures. FoldLine can also produce commercials and direct mailings as well as cylinder-stitched booklets and book signatures.
Following a challenging few years, manroland web systems is keen to build on its leading market position in web offset printing by focusing on further expansion of digital finishing and workflow solutions as well as shape best-in-class service partnerships with its broad customer base. By merging innovation with superior customer service, the company is certain to retain its strong foothold in a challenging and evolving market. The company also aims at complementing its business activities by adequate mergers and acquisitions.
manroland web systems GmbH
Products: Web offset printing, service, digital finishing and workflow solutions