Mary Floate speaks to Rob Sinfield about getting ahead of the curve in modern manufacturing
Rob Sinfield, VP Product, Sage, ended up in the ERP industry almost by mistake. "I started out thinking I was going to change the world as a risk manager and auditor, but realized pretty quickly that it wasn't what I wanted to do. I worked for a global manufacturing company initially, and several subsequent moves later, decided that I wanted to get behind the scenes and cross over into software implementation.
"I felt there was a misalignment between software vendors' products and the operational capabilities once in the hands of the customer. In the past, frameworks often required a huge amount of technical knowhow from a customer perspective, in terms of day-to-day implementation. I wanted to move away from that scenario to be able to deliver capabilities that could be readily and easily deployed.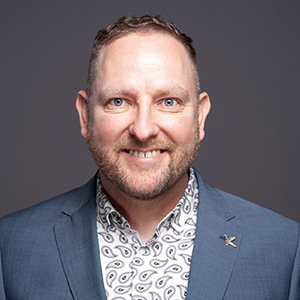 "I joined Sage about five years ago at a time of huge transition. I loved where we were going in terms of really focusing in on customer experience. There were numerous software solutions catering to large companies, but the small- to medium-sized market, the core part of the economy, was woefully underserved. I feel like I've found my home in the software industry and at Sage," begins Rob.
As VP of Product, Rob is responsible for the design, development and delivery of software solutions to manufacturers and distributors. "I look after a number of different teams that are focused on creating tailored customer solutions to ultimately deliver on our promises. Another aspect of my job is to look at what is happening from a policy and trend perspective. My goal is to get manufacturers ahead of the curve, so they are not chasing but are actually setting trends," he explains.
In terms of trends and current challenges facing the sector, Rob breaks them down into three distinct areas. "There are technological, macro-economic and perspective challenges that manufacturers face. In terms of the latter, I think a lot of people still view manufacturing as a dirty industry. Most people don't realize that manufacturing today is highly skilled and specialized, and predominantly fulfilled in clean environments. That perception needs to change, and will only do so, if we help people to get a better insight into what actually happens in modern manufacturing.
"There is also a larger societal issue, revolving around a lack of attractive apprenticeship programs, and people feeling like manufacturing is dated. Additionally, people tend to think that at some point they will be replaced in their role by a robot or automation, exacerbating a perception that manufacturing is not an attractive career choice."
Managing by exception
Considering the macro-economic challenges facing the manufacturing industry, Rob explores supply chain disruption as a consequence of the pandemic. "In recent years, we have seen considerable disruption to the supply chain. If the pandemic didn't directly cause it, it certainly highlighted it. As a result, there has been increased unreliability, and not just from China but other parts of Asia too that is causing manufacturers to feel the stress and strain of supply chain problems. With manufacturers being taken over by distributors, and vice versa, the supply chain is also being condensed. Vertical and horizontal supply chain integration has almost eroded some of that strong manufacturing back bone.
"Alongside this, new vibrant manufacturing economies are popping up in Vietnam, and in Thailand, in areas outside of the traditional powerhouses of China, the US, the UK, and Germany. Changes in legislative policies are also starting to impact manufacturers, particularly in terms of carbon neutrality regulations, for example. Of course, we can't overlook rising costs, labor shortages, and the shift towards e-commerce either."
Moving to the third consideration, technology is also starting to challenge what many manufacturers do. "Not just in terms of the adoption of robotics, additive manufacturing and 3D printing," Rob continues, "but also data, cyber security, and remote working. Prior to the pandemic, there were
predictions from a number of different analysts suggesting that the majority of manufacturers were not likely to adopt the cloud. Perhaps one fifth of manufacturers would start to look at cloud technologies and adopt them by 2026. Post-pandemic, however, that prediction has fallen flat, with perhaps four times that number actively adopting technologies to run their businesses.
"All three areas of challenge need to be considered, but not in isolation. Legislation and societal trends are driving technological change, and macro-economic circumstances are impacting all of them. So, it's the perfect storm, but it's not all bad. There are some really great things that are going to come out of this as well," Rob asserts.
"While manufacturing has always been more cautious than other industries in adopting the cloud, and that is perfectly acceptable when considering data security concerns, I do think this is changing and that the cloud has become incredibly important for manufacturers. Streamlining processes, increasing efficiencies, and unlocking new opportunities for growth are all obvious benefits, but there are additional ones. Manufacturers are able to attract a different type of workforce if they are able to offer remote working, which is an attractive pull to people who are entering the workforce.
"The cloud also improves data management and security solutions. This requires neither investment nor expertise. Cloud solutions provide access to a huge amount of data which can help manufacturers to identify patterns, optimize processes, and make more informed decisions about the impact of business operations.
"For example, one of our customers in North America that manufactures kinesiology tape was repeatedly at the mercy of supply chain issues, and not as a result of any internal processes. We worked together, leveraging other commercial technologies out in the marketplace to build a model that was able to predict supply chain requirements, based on when specific athletic events were taking place. Predictions are based on athlete participation, injury probability, and tape use. We were able to build out models using cloud data to provide real insights into the specific times of the year when demand for this product is high, thereby enabling enhanced supply chain planning. The cloud provides access to more than proprietary data, making it easier to deploy automation, and leverage artificial intelligence to streamline processes.
"It's not about reducing the need for manual labor. As we move into the fifth industrial revolution, it's about adopting technologies and augmenting them with human decision making. Artificial intelligence can make a recommendation for the best course of action. As such, the role of the human being changes from managing everything to managing by exception, thereby allowing for more effective decision making. This facilitates faster production times, fewer cycles, reduced costs, and ultimately, higher quality products," he enthuses.
Data connectivity
Rob expounds the collaborative virtues of the cloud in terms of working with partners and suppliers and improving customer experience, as a consequence of greater visibility. "Equally, the cloud doesn't have to mean multiple tenants. There are businesses that want the cloud but on a sole-tenant basis, on a different platform or within a controlled industry environment. The cloud takes on different variations depending on where and how a business operates, and on its expectations."
Indeed, the team at Sage is acutely aware that different businesses have different requirements. It is unique in the marketplace, offering multi-tenant software as a service by means of its best-in-breed, cloud finance software product, Sage Intacct, but also boasts bespoke products, such as Sage X3, its intuitive, tailored business solution. With a focus on small- to medium-sized manufacturers, customers can deploy what works best for their business.
Looking to the future, Rob identifies the prospective trends likely to affect the manufacturing sector. "From a technology perspective, artificial intelligence and machine learning will play a significant part.
Depending on product type, additive manufacturing may feature more heavily too. The cloud is and will continue to remain incredibly important. Companies are also going to start to look at the net effect of collecting data and getting the most out of it as they can, and particularly, in terms of the interconnectivity of supply chains.
"From a legislative point of view, electronic invoicing is being adopted in a number of geographies around the world. France, Spain, Germany; they are all introducing electronic invoicing in the next 18-to-24 months, so, it's absolutely critical that the UK follows suit for manufacturers to still be able to sell overseas. Solutions that support electronic invoicing requirements in Europe will be essential.
Consumer confidence
"Equally, supply chain disruption is not going away any time soon. Historically, businesses have been focused on being as lean as possible, but now's the time to add back a little bit of fat. As such, businesses are looking to adopt just-in-case inventory. How they manage the impact of increased inventory and holding costs with cash flow is going to be incredibly important and will require tough decisions.
"I was talking to an automotive manufacturer recently, who made the decision to remove certain features from one of its 2023 models as a result of the semi-conductor shortage. While the plan is to reintroduce the features, for now, the product cost remains the same. As a consequence, consumers are going to have to be savvier. Manufacturers will also need to be more open going forward. Communication will be increasingly important, and cyber security and data protection will also be key to customer confidence," he highlights.
"There is an interesting trend," he continues, "where some UK companies are offering manufacturing as a service. So, rather than investing in a CNC machine, manufacturers can sub-contract certain capabilities. I think this is just one example of the ways in which manufacturing is going to evolve.
Championing manufacturing
"Likewise, manufacturers are going to have to start to look at the circular economy. This is not simply about going green. From reducing waste to repurposing materials and products, there are a number of ways in which businesses can benefit from a circular economy. By looking at operational and equipment efficiencies, there are ways to increase the lifespan of machinery and products to make cost savings.
"There are government grants available for those organizations adopting the circular economy, which is a further opportunity. Of course, there is also a competitive advantage to be had. Companies that demonstrate their green credentials are appealing to the more conscious buyer. Just as other businesses are looking at their supply chains, so too is Sage, and particularly in terms of carbon accounting. Businesses will need to be aware of considerations such as these moving forward.
"A final trend is how organizations will access customers directly, almost cutting out some of the expensive middle men along the way. I think that is going to be something in which we see an acceleration. I don't think everybody can simply put their products on the web for consumers to purchase, but the idea of going more directly to your buyer is certainly going to be quite appealing.
"This aligns with the growing demand for customization. If I buy a pair of trainers today from Nike or Adidas, for example, I don't want the same thing as everybody else. I want to tailor it slightly, add my initials to it or do something different. Manufacturers are going to have to figure out how they are going to support that which means they are going to have to invest in modular design. So, the circular economy won't just help them save money, it will help them offer consumer choice," he adds.
Rob is keen to shine a light on the importance of promoting the UK manufacturing industry.
"As of 2021, the fastest growing areas were electric vehicles, renewable energy, advanced materials, like carbon fiber, and bio techs. We have some of the best bio tech companies and manufacturing capabilities in the world. What we fall down on is our ability to positively promote the industry. To do this, we need more apprenticeship programs, engineering courses and technical training.
"We have to change the image of manufacturing, and bring diversity into the industry. While we, of course, need to see more female engineers, we also need to figure out how we introduce more diversity in all its guises. People with neurodiversity, for example, often have an enhanced attention to detail, and as such, can be incredibly successful in manufacturing environments. Furthermore, apprenticeships shouldn't just be for people at the start of their careers. One of our customers boasts an incredible apprenticeship program, which is open to people from the ages of 16 to 65.
"This business is encouraging people who are traditionally seen as too old back into the workforce because these are people who are great at assembling and precision manufacturing.
"It is time to raise the profile of manufacturing," Rob concludes. "The UK is a mega manufacturing hub of innovation. Let's change the perception of manufacturing, and this country will blow anybody away in terms of innovation, and technological advancement. We are a fantastic component of all things that are wonderful in manufacturing."