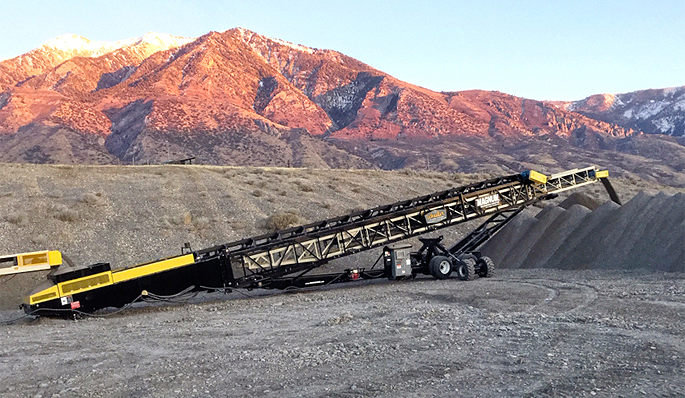 MASABA Inc. continues to invest in its facility and people to remain an industry leader in manufacturing rugged equipment for the world's infrastructure.
MASABA Inc. specializes in the design and manufacturing of rugged equipment for the world. "Our products reputation of strength and reliability comes not only from the high level of engineering and quality manufacturing processes, but our family of employees who take great pride in their work, knowing they are helping to build the world's infrastructure," third-generation owner Jerad Higman says.
Higman's grandfather, Harold Higman, Sr., founded Higman Sand and Gravel in 1939. Equipment was hard to come by at that time, so he had to be innovative in his approach and consequently, designed much of his own equipment. In 1962, Harold Higman, Jr., formed MASABA to build and sell equipment tough enough to withstand the everyday abuse of mining environments. Jerad Higman took over the company in 1999 after working side-by-side with his father and learning what it takes to build equipment that not only works, but lasts.
Today, MASABA offers a wide range of portable and stationary crushing, screening and wash plants, as well as a complete line of conveyors including the MASABA Magnum Telescoping conveyor, truck unloaders, bins, feeder hoppers, sand screws and custom equipment that are manufactured to endure the most demanding environments. "We are building stronger equipment than others and equipment that is easier to maintain," President Jim Peterson notes. "This full product line has been very well received allowing MASABA to grow rapidly within the industry. Customers not only appreciate the initial design of our equipment but more importantly, our ability to react to customization should the need arise, which allows producers to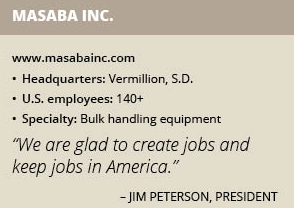 get the most out of their equipment investment."
MASABA's products are made to serve the mining, aggregate, sand and gravel, agriculture, ports and inland waterways, industrial, power plants, pulp and paper, wood chips and specialty minerals industries. Its equipment can be found performing in the Arctic Circle at sub-zero temperatures to loading grain on the family farm.
Masters of Industry
MASABA has been located in Vermillion, S.D., since 2005 and has expanded its facility twice throughout the years to accommodate growth. Its 210,000-square-foot state-of-the-art engineering and manufacturing facility makes design and production capabilities limitless. Using the most advanced tools, MASABA ensures its products are created efficiently and of the highest quality on the market.
The production facility was designed specifically for efficient plant and conveyor production, as well as custom engineering and fabrication. "We have been using lean manufacturing principles for years, which means we are always looking at our processes to improve efficiency and quality capabilities," Peterson notes.
MASABA's Vermillion facility includes four band saws, machining center, 14' x 45' plasma table, 60-foot drill line, 250-ton brake press, 37 overhead cranes, 105-foot blast bay and two 105-foot paint bays, as well as two additional 95-foot paint bays. The most recent 50,000-square-foot expansion was built to hold its paint bays, which were designed to be the most efficient booths available and are an innovation in the machinery fabrication industry.
During the design/build process, MASABA works closely with its customers to define their needs and requirements to create the right solution. The company will then determine if the solution will be a standard or custom piece of equipment and receive customer approval before production begins.
MASABA's engineering department specializes in ongoing product development and custom solutions. Using a variety of specialized computer programs like Aggflow and Overland Conveyor software, the company's experienced team of engineers deliver accelerated product development from user research and conceptualization to product launch. The use of 2-D and 3-D and Finite Element Analysis software is key to that success, as well as to its customers' comfort levels. "Our partners include some of the most successful companies on the planet," Peterson says. "We are known for the attention to details we provide our partners and the service after the sale."
All in the Family
MASABA remains a family owned company and takes pride in fostering a family-like atmosphere throughout the organization. "Our employees are treated as owners and participate in incentives based on quality delivery, so they have a vested interest," Peterson notes.
MASABA employs more than 140 people today and partners with local high schools to excite the next generation about manufacturing and create a pipeline for the future. "I think South Dakota is very open with its philosophy on trade schools, and they have a good program where they share in the cost of education with the employer," Peterson notes. "We are glad to create jobs and keep jobs in America. We believe manufacturing is the backbone of good paying jobs, livelihoods and raising families."
Moving forward, MASABA plans to continue to get even better at designing and building rugged equipment by remaining close to its customers to meet their needs. "Our customers want more customization faster and more value for their money," Peterson notes. "In the field, it's all about uptime and making sure through our 24-hour on-call service that our folks keep them up and producing their products. Everyone has workforce challenges, so we try to make our products simple to use and easy to maintain. We are proud of our employees' abilities to continually provide the industry with quality equipment and the strength our customers depend on."