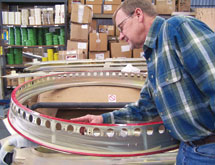 When aerospace firms need a tight turnaround on aluminum, steel and composite finishing services, The Metal Finishing Co. (MFCO) is the one they can turn to, Vice President of Sales and Marketing Ed L. Ball says. "We're a little better at being flexible to our customer's needs than our competitors," he says.
"Some of our competitors are steadfast on the turn times and lack willingness to take on new programs," Ball says. "We will do everything we can to meet our customers' needs."
Members of the Babst family started the Wichita, Kan.-based company in 1940, and since then, it has remained family owned for the last 72 years. Today, Ball says, its clients include high-profile firms like The Boeing Co., Cessna Aircraft Co., Spirit AeroSystems, Hawker Beechcraft, Raytheon Co. and Sikorsky.
With its family ownership, MFCO can make decisions faster than its competitors, Ball says. "We don't need to go through a board [or committee]," he states. "Our ownership is on site, and we're able to make decisions pretty quickly. That's very important in the aerospace business right now, as far as expansion."
Quality Focused
To maintain quality in its services, MFCO has implemented its own type of lean processes, Ball says. "We put or own twist on it," he says, noting that the company adds value to products instead of actually producing them.
"For us to be lean, we've got to think out of the box," he says, noting that the company's vice president of operations, Richard Smith, is a black belt in Six Sigma. "We have to be a little bit more innovative [than others]."
One example of the company's out-of-the-box thinking has included the creation of processing equipment and techniques that meet specifications. But, Ball notes, they have their own unique design to allow processing to occur at a higher level of quality and efficiency.
So far, the company's work has paid off. After implementing its own version of lean for 15 years, MFCO has improved its efficiency by nearly 50 percent. For instance, "We're able to move [turnarounds] from a five-day turn to eight-day turn to a three-turn on aluminum parts at our Murdock, [Kan.], plant or 'quick-turn facility,'" he says.
The company recently opened its new plant in Murdock and another in Chihuahua, Mexico, so it could better serve aerospace clients in Mexico. The new facility in Murdock, Ball notes, is a 153,000-square-foot aluminum processing facility.
The other in Chihuahua is a 150,000-square-foot facility where 60,000 square feet is dedicated to aluminum processing. Ball says the company added the facility so it could serve clients in Mexico.
"There was a lot of aerospace work being moved to Mexico," he recalls, noting that some of its clients that expanded into Mexico include Hawker Beechcraft, Cessna, Bombardier, Safran and Bell Helicopter. "We were actually solicited and encouraged to work hand-in-hand with those customers."
So far, the venture has proved to be positive for MFCO. "Within a year, we're up to 50 employees," he says. "We have a solid management team with local [hires] and it's gone very well for us."
Great to Work For
Ball is a 14-year veteran of MFCO and a longtime friend of the Babst family. He says he has enjoyed his time at the company. "The aerospace business is growing and changing all the time, and the ownership of the company is great to work for," he says.
He praises several members of the management team, including CEO Robert Babst Sr. and President and Director of Engineering Robert Babst Jr. While the elder Babst has 45 years of experience in aerospace processing, Babst Jr. is a chemical engineer.
"They do all of our plant design and implementation," Ball says. "We don't hire outside engineering firms to do that.
"They pretty much engineer everything," he says. "They know better ways to do business better though hands on experience and listening to employees on the floor."
He also highlights Vice President of Business Development Bob Potter, who has 35 years in the aerospace and power generation industries. "He's also the president of the American Society of Non-Destructive Testing," Ball says, noting that the society approves specifications for the aerospace industry.
Its team also includes Vice President of Quality Assurance Jim Cummings, who has been with the company for 13 years and has a background in the agricultural industry. "He sits on a lot of the different groups for [the National Aerospace and Defense Contractors Accreditation Program], the overall quality system for anyone who is in aerospace work," Ball says.
Going Green
Ball says MFCO plans to keep meeting its customers' needs, which includes implementing more green manufacturing initiatives. Already, its facility in Mexico strives to lower its impact on the environment with a pit system that has sump pumps and protective coatings.
"We always go one step ahead and beyond," he says, noting that additional safe guards that are beyond what the laws require are always engineered into its plants. This ensures the chemicals and waste do not impact the environment.
In addition, MFCO is involved with an initiative to replace cadmium with zinc-nickel. "[It] is [an] environmentally friendly coating, which is a green initiative," he says, noting that the firm also uses a tungsten carbide thermal spray, which is an alternative to hard chrome.