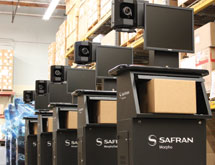 U.S. manufacturers have dealt with numerous challenges in the past few years: rising costs, pressure to lower prices, offshore competition and the inability to find qualified workers to fill jobs. MorphoTrak Inc. has not been immune to these challenges, but it has found a way to overcome them, while gaining a competitive edge in a number of different ways. As a result, MorphoTrak has gained a position as a global leader in the security market.
"We are highly specialized and cater to the needs of law enforcement," CEO Daniel Vassy explains. "We only build for a specific market with certain technology that we know well, and that gives us an advantage in the market."
In fact, he notes, the Alexandria, Va.-based company is the world leader in multibiometric technologies for fingerprint, iris and facial recognition, and an acknowledged expert in identification systems. MorphoTrak's systems and services meet a wide range of security needs for people, companies and governments, including identity management, personal rights for residents and travelers, physical access to airports and other high-value sites, and logical access, either online or through secure terminals.
The company was first formed in 1982 as North American Morpho Systems. It was subsequently acquired by the Safran Group of companies, and became known as Sagem Morpho. MorphoTrak was formed in April 2009, when Sagem Morpho Inc. merged with Motorola Printrak. L-1 Identity Solutions was acquired and became part of the group in July 2011.
MorphoTrak has provided more than 50 percent of the law enforcement biometric identification systems at the state and local levels, and its algorithms are at the core of the FBI's Integrated Automatic Fingerprint Identification System, as well as the fingerprint identification systems used by numerous national security and defense programs.
Seeking Efficiencies
MorphoTrak is No. 1 in the world for automated fingerprint identification systems, biometrically secured ID documents and biometric terminals, and No. 2 in the world for gaming and betting terminals. Vassy explains the company has achieved these leading market positions with smart design, a streamlined manufacturing process and an ongoing focus on continuous improvement.
"Our focus on quality is constantly refined," he says. "We want to have the highest-quality designs and components. Our process also becomes more streamlined as we improve."
MorphoTrak's manufacturing and assembly operation is located in Anaheim, Calif., where it produces the company's Live Scan station, which is a self-contained kiosk that looks similar to an old-fashioned video arcade game. Vassy explains that as the market has matured, there have been downward pressures on the product's price, so MorphoTrak has sought out innovations and efficiencies in the manufacturing process, as well as the product design. As a result, it now takes only two hours to build a Live Scan station, where it used to take six to seven hours.
"When we are looking for efficiencies, we look at the total cost of building and maintaining these units," he says. "Our goal is to always do it right, and do it right the first time."
Remaining Reactive
MorphoTrak used to assemble the components in a steel workstation housing, which required exacting work. It built the computer used by the station and installed all the individual components of the station and cabinet, including a scanner block, facial camera, camera casing and arm, front and back panels and power strip. Vassy adds that many cabinet designs had enclosures inside of enclosures, requiring workers to take apart each assembly – such as the fingerprint scanner and facial camera – install the components within the assembly and reattach the assembly.
To streamline this process, MorphoTrak began using a modular cabinet design, which is "much more builder-friendly," Vassy says. Assemblies such as the camera and scanner are secured to the cabinet through the component manufacturer's bracket, which requires just a few screws. Additionally, instead of building all of the components itself, MorphoTrak has outsourced some of the subassemblies to reliable vendors, so pre-assembled units come ready to install in the cabinet.
"We did all of this less than a year ago, and it gave us a much improved version of the cabinet design in terms of cost and usability," he explains.
MorphoTrak's ability to provide livescan stations with consistent quality and durability stems from its dedication to keeping its manufacturing in the United States, he notes. In fact, nearly 90 percent of the company's scanner block devices – a critical technology in live scan applications – are manufactured in the United States.
"Reactiveness is key," he says. "Our market is not a world of mass production. Quality is a major concern and we have to be able to customize our equipment to the needs of our customers. When you balance the advantages of lower labor costs in offshore markets versus all of the logistics that go into the quality of our livescan stations, it's more affordable to keep our operations here.
"The markets are evolving toward products with more mobility and automation, and we have to be reactive to that," he adds.