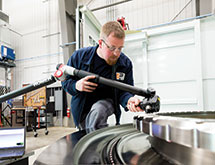 As a leading provider of precision contract machining, fabrication and assembly services for the aerospace and power generation sectors, Midstate Berkshire has always placed the highest priority on quality – if it isn't to spec, nothing else matters. Serving such demanding customers means the company has to be on its game consistently, and CEO Duane Pekar says that need has only become greater as the company has expanded its presence in the oil and gas and power generation markets – markets that are raising the bar in terms of speed.  By implementing the latest in lean manufacturing principles, Pekar says Midstate Berkshire is establishing itself as a go-to supplier for some of the world's most demanding customers.
Driven by the ever-increasing need for complex, precision parts, Midstate Berkshire came to be in 2010 as the strategic fusion of two pre-existing companies that have been serving the market for nearly six decades – Mid-State Machine and Berkshire Industries. Both companies were acquired and merged by parent holding company Precision Partners in 2010, and earlier this year, were acquired by Insight Equity of Texas.
The company's facilities in Westfield, Mass., and Winslow, Maine, total 250,000 square feet and feature more than 100 state-of-the-art, multi-axis CNC machining centers. These give it the capability to serve customers in the aerospace, defense, oil and gas, and power generation sectors with turnkey manufacturing solutions. What allows it to succeed in those sectors, Pekar says, is the company's commitment to reducing waste and improving efficiency through lean manufacturing.
Lean Journey
"By deploying lean manufacturing in our business, we've cut our cycle times by as much as 50 percent," Pekar says. "That has allowed us to expand into the oil and gas market where short lead times are really what the industry wants right now because of the rapid growth."
With the help of lean experts and consultants, Midstate Berkshire has implemented lean principles throughout its operations. The company utilizes a cross-functional team made up of representatives from the company's manufacturing, sales, engineering, quality and materials disciplines to analyze the value stream of each part family.
Through this process, the team identifies areas of waste and eliminates them to provide greater value to the customer. To date, Pekar says Midstate Berkshire has achieved a 50 percent reduction in cycle time, a more than 40 percent reduction in inventory and a nearly 60 percent reduction in distance traveled for its high volume products.
"Lean has changed the way we do business," says Pekar, "and our customers are seeing the ROI every day." For example, the company used to pick up and/or drop off parts on an as-needed basis, meaning there were times when a delivery vehicle was either coming from or returning to the facility empty. Now, the company schedules regular "milk runs" that ensure a continual flow of parts to and from its facilities, and eliminate wasted trips. Pekar says the company also has eliminated the practice of starting jobs early, which contributed to excess inventory. Now, Midstate Berkshire starts work only when required to meet a customer delivery date.
Need For Speed
These improvements have made it easier for Midstate Berkshire to serve the oil and gas sector, which can be even more demanding than the aerospace or defense sectors. "Most of our customers have well-established lead times for new and existing products," Pekar explains. "[But] in oil and gas, it's all about how fast you can get the parts to your customer. Fast wins."
Pekar says that on-time delivery is still expected, but the faster components can be delivered, the better, and customers are willing to pay a premium for faster service.
Oil and gas companies are also unique because they expect suppliers to provide turnkey solutions. Instead of issuing 10 or more purchase orders to multiple suppliers for a component, oil and gas customers want to combine those all into one purchase order. "So the challenge in being turnkey is having suppliers that turn on a dime with us," Pekar says. "Our suppliers have to be performing at a high level – as if they are in-house."
Midstate Berkshire has devoted significant resources to supplier development, working with its strategic suppliers on continuous improvement opportunities. For example, improvements in welding/cladding yield has reduced cycle time by four weeks on deep-sea drilling components.
The company has matched its investments in lean with a big investment in people. Pekar says the company has focused on giving its employees the right tools to succeed, such as giving engineers the ability to program tools from a single software platform.
"We all have to be in lock-step, and that means ensuring our employees have the latest and greatest skills and technologies," Pekar says.
Forging Ahead
Bolstered by its three main areas of investment – equipment, lean manufacturing and people – Midstate Berkshire is on solid ground as it prepares to build on its expansion into the oil and gas and power generation sectors. Pekar says that as long as the company continues to concentrate on eliminating waste and building up its capabilities, Midstate Berkshire can expect to grow as demand for precision parts by rapidly expanding oil and gas customers will only increase into the future.