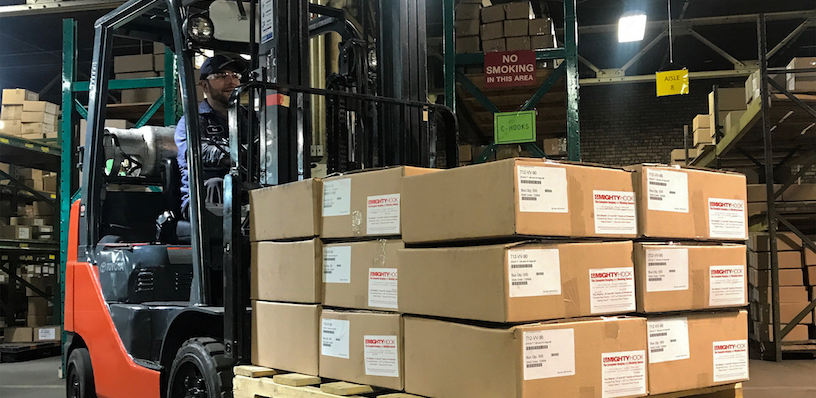 Mighty Hook makes a habit of getting close to its clients. "[We will] sit down with our customers and get a feel for what their needs are both now and what they suspect will be occurring in the future," President and CEO Scott P. Rempala says.
This approach has allowed the company to develop a client base of 2,500 active firms in the United States, Mexico, Canada, South Africa, Australia and Europe. "We feel that by having a relationship with that group of customers, we can determine other areas of opportunity and focus our company's efforts on satisfying those particular customer needs," he says.
Based in Chicago, Mighty Hook offers a diverse line of hanging and masking products.
"We provide below-the-conveyor material handling solutions and augmented products to the organic finishing industry," he describes.
Founder Lee Cullen started Mighty Hook in 1991, after forming one of the first job-shop powder coating companies in Chicago. "It was a source for his own needs as well as other companies [that] were lacking in a source of supply of hangers or hooking systems," Rempala says.
Mighty Hook's partnership with the coating firm enabled it to rapidly develop products. For the first 10 years, the company specialized in selling in-stock products.
However, "We realized that the company was heading down the commodity track," Rempala recalls. "We looked to our customers and where we could find additional value that they needed."
Mighty Hook found that its clients needed assistance boosting efficiency in their coating lines. "We built our company around developing solutions to problems that had entrenched inefficiencies," he says, noting this included acquiring two other companies with additional capabilities and knowledge.
Today, its clients include Fortune 500 OEMs including John Deere, Caterpillar, GE, Whirlpool, Eaton and Emerson. Mighty Hook also serves "small, job-shop coating companies that might be considered mom-and-pop shops," he says.
Growing the Pool
Rempala joined Mighty Hook in 1992 after Cullen approached him about adding structure and organization to the company. "He said, 'You're exactly what I'm looking for,'" Rempala recalls.
Previously, Rempala earned bachelors' degrees in economics and English, and master's and juris doctor degrees in international business. He also worked as a product manager for a store fixture hardware manufacturing company in Chicago, where he gained managerial and operational experience.
Under his leadership, Mighty Hook brought in new talent for its production and sales departments. "[We also] started to develop a clearer understanding of who our customers were, what they were looking for and how we were going to supply that," he says.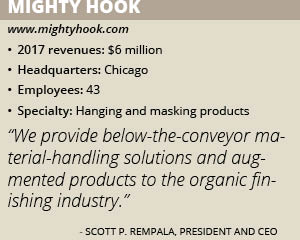 Mighty Hook now has a manufacturing production team of 26 people. "We have a full-time prototype department with five skilled machinists, a production control team and an industry leading sales team that has allowed us the ability to serve the customer and continue to grow the operations," Rempala says.
The company also takes pride in its team of engineers, which possesses extensive industry expertise and problem solving skills that they can bring to the customer base. "They design custom solutions for problems faced in hanging and material handling," he says. "They have a lot of intellectual knowledge on how to solve these problems."
Rempala adds that the company continues to invest in its people. "We look to have a talent pool in our organization that's unrivaled by our competition," he says, noting that the company also regularly adds new manufacturing capabilities.
These range from new equipment for fabricating and forming to new software systems and process controls. For example, "We have a very advanced ERP system that we use on a daily basis to manage our production operations," Rempala says.
The company also has streamlined its processes through value stream mapping and organizational efficiencies. "We also adapt by listening to our customers and trying to stay ahead of the market trend, which gives us an advantage in the marketplace," he says.
Building Value
It is a good time for Mighty Hook to be in business, Rempala says. Over the past five years, many companies have removed their engineers from paint tooling applications to focus on customer requirements.
"They're reallocating personnel and talent away from their own operational efficiency improvement initiatives and looking outside of their own organization for help," he says, noting that Mighty Hook has increased its development of solutions for these companies.
This has boosted Mighty Hook's business, which it expects to continue at a rate of 20 to 25 percent over the next two years, just as long as there is not a recession. "There are certainly discussions among economists that it will happen at the end of 2019," Rempala says.
But even if one occurs, Mighty Hook still sees options where it can grow through the acquisition of augmented product lines. "As we continue to build value for our customers, they will look to us to add auxiliary products and capabilities to the offerings we already have," he says.
On Target
Mighty Hook's Chicago facility has the ability to manufacture 250,000 hooks in an eight-hour shift, and the company does it with a strong focus on quality. Its staff monitors quality and efficiency on a minute-by-minute basis and uses a lean manufacturing model.
But the focus does not stop there. "We have daily huddles with the plant as a whole as well as departmental huddles to try to identify problems before they occur," Rempala continues, adding that Mighty Hook places a strong emphasis on employee training.
Rempala sits on the board of directors of the Illinois Manufacturing Excellence Center, which assists Mighty Hook with training its associates. "They also have helped us develop our lean manufacturing model," he adds.
He is proud of Mighty Hook's team, which is comprised of people who want to work for the company. "Everyone appreciates the fact that customer satisfaction is the targeted outcome in anything we do," he says.
Mighty Hook wants to keep ensuring customer satisfaction as it pursues growth opportunities in ways to serve its clients. "What those ways are will continue to be fleshed out as we listen to our customers in what they want," he predicts.