The power in one
Describing its solutions as 'a complete game changer', MMC First Process AS manufactures entire systems for the handling of fish
Every company needs a unique selling point – a way to stand out from the crowd, and differentiate itself from the competition. Sometimes, such is the success of their approach, that not only does the USP bring major rewards to the business, but transforms the entire industry. This is the position in which MMC First Process AS finds itself, thanks to its philosophy of offering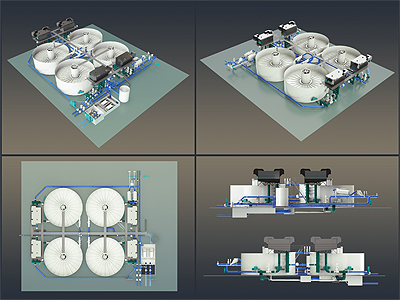 sustainable solutions to all aspects of the seafood industry from under one roof.
It has combined all the capabilities that customers need to excel in their efforts into a single expert resource, and this pooling of specialist expertise means that today MMC First Process stands as a complete supplier of advanced and sustainable system solutions for the handling, processing and cooling of fish to the seafood industry onshore and offshore – worldwide.
Based in Norway with 140 employees in Fosnavåg, Ålesund and Haugesund, MMC First Process can provide unmatched competence for the entire cycle of fish handling, including technology, complete system solutions, logistics and handling, processing, refrigeration, energy optimisation, water treatment, automation and control.
Thanks to its 'all-in-one' approach, MMC First Process has evolved into the most complete supplier of total system solutions for the handling of seafood. But, what unites all of its operations is an appreciation for the delicacy of fish handling, and the importance of retaining quality, all the way from the sea to the consumer, when working with marine resources. Whether it is salmon, pelagic species such as herrings, mackerel and blue whiting, or whitefish, gentle treatment at low temperatures is required, and over the years, MMC First Process has accrued extensive knowledge in how to safeguard quality at all stages of the process, including the grading, storage, filleting, packing, cooling and freezing of a multitude of different species.
Addressing a variety of needs from its customers, the systems supplied by MMC First Process can be found working in fish farms, on wellboats and installed in land-based processing plants. What these all have in common is a dedication to innovation. MMC First Process has a talented research and development department, which has created and fully developed systems such as using holding tanks instead of nets for storage. Another novel system available utilises Archimedes screw systems inside pipes to move prawns and herrings around processing sites whilst remaining fully submerged. This not only improves hygiene, but decreases energy consumption. MMC First Process also discovered that chilling fish before they are killed gives a superior final product.
However, it is not just live fish that the scientists and engineers at MMC First Process are turning their attention to. The company has developed a mobile emergency response system for handling dead fish and silage, which can help the industry in the event of ongoing disease outbreaks and algae blooms in the salmon farming industry.
A fully mobile and self-contained silage system integrated in a 20-foot container, this mobile response solution gives enterprises the ability to handle and preserve the fish quickly and efficiently, before decomposition sets in.
The system has a high grinding capacity, with automatic acid addition. In addition to getting its power from the grid, it also has an integrated diesel generator that makes the system self-sufficient in terms of power. By assuring good access to heat, and heat recovery from surrounding equipment, the system makes sure that the autolysis process gets started quickly inside the ten-metre-square storage/mixing tank in the container.
The system can run round the clock, and silage is automatically pumped into a vehicle or boat that carries it to the onshore receiving facilities. MMC First Process also offers its own transport/storage containers. These containers have an integrated storage tank with a circulation pump to ensure that the mass is well mixed, and the same pump can be used to pump silage into the receiving facility's storage tanks as needed.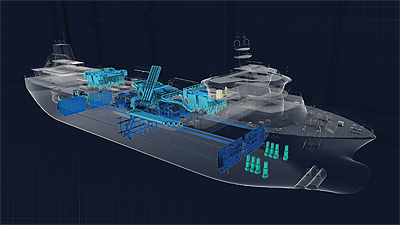 This mobile emergency response system is highly flexible and scalable and can be easily transported by boat or vehicle to where it is needed, giving customers peace of mind that should a critical situation arise, it can be dealt with in the most efficient and effective way possible.
Thanks to breakthrough systems such as that mentioned above, MMC First Process technology can be found installed around the world, and indeed – it recently won a contract to install one of its largest systems to date in a facility in Chile.
Whether it is working in South America or locally in Norway, the operations of MMC First Process are consistent, with the teams well versed in working as an efficient unit. They share the united aim of making its customers the best in the world at handling, processing and cooling the sea's most important food resources effectively, sustainably and carefully.
The company works towards an ambitious vision to transform the world's seafood industry, so it can manage nature's marine resources in a more sustainable and environmentally-friendly manner, and thereby create added value for businesses and society at large.
Now turning over in excess of 60m euros (in 2019), MMC First Process recently came under new ownership, when a consortium composed of First Process Holding, Erle Invest and Credo Partners acquired the business. This development will not only ensure its continued growth and expansion, but also help to maintain its dedication to innovation and the creation of new and amazing systems for the fisheries market.
With significant orders already on the books, exciting plans afoot from its new owners and a policy of continuous improvement, MMC First Process is heading into 2020 with a renewed vision and energy. It has created a one-stop-shop for its customers, with all the right expertise and technology available from a single, well-known and trusted source. By keeping not only the best interests of customers, but also the welfare of fish at the heart of its operations, MMC First Process has established itself as a premier name in the aquaculture industry, and maintaining this reputation and continuing to create market leading and game changing products will remain at the top of its agenda for years to come.
MMC First Process AS
Products: Advanced solutions for the handling, processing and cooling of fish