An exacting approach
When pinpoint accuracy is needed, clients come to MNB Precision Ltd for its specialist expertise in CNC machining
Comprising of three generations of the Benton family, MNB Precision Ltd. (MNB) was established over three decades ago and today stands as a medium-sized company, specializing in world-class CNC precision machining.
While its core business is the production of high quality precision engineering and CNC machining services, another part of its service offering is project management across all aspects of a customers' machined parts. "From the material
purchase to any allied treatment processes, this project management is backed up by our fully approved sub-contractor/ supplier team," noted Luke Benton, mMNB Precision Limited's Owner and Managing Director.
The customers that Luke and the MNB team are serving (predominantly in the oil and gas industry) have strict quality tolerance levels and requirements for the most exacting components available today. In order to ensure that the items machined at its facility in Coventry UK meet the standards required, MNB has a stable of state-of-the-art technology at its disposal. "Our CNC machining capabilities are at the core of what we do," said Luke. "We offer CNC Turning up to 11m in length and to a dia of 1m, and our CNC Milling section has the capacity to support this. In recent years, we have invested heavily in 5 axis machining and Inspection capabilities to ensure that what we have produced is correct. Our CMM capability is up to 4m in length with an accuracy and repeatability of 1 micron."
He continued: "Historically we outsourced some capabilities but we have now added these to our shop too, which means we can provide shot peening, EDM machining, wire eroding and NDT. These supporting sections are able to handle the jobs small or large from our other two bigger sections, CNC Turning and Milling.
"We continuously invest in new machinery to expand our capabilities, and increase the capacity of our CNC precision machining services," added Luke. "Over the last few years, we have experienced rapid growth, which has been recognized by the business community as evidenced by us being crowned Made in Midlands and Made in UK SME of the year 2019, Lloyds SME of the year 2019 and named in 30th place for the Sunday Times Fast Track 100 (a list of the fastest growing companies in the UK).
MNB is clearly on the right track, but as Luke noted, the best machines in the world still need the right staff to operate them, and he credited his employees as a pivotal part of the company's accomplishments. "Our team has enabled the fast and sustainable growth we have achieved," he noted. "Our team of workers, from the people on the shop floor to our directors have all given a great deal to ensure MNB thrives. The technical ability of our team as well as their hard work and determination is what sets them apart from all others. All team players know what their roles are and everyone knows their value to MNB and the growth path we are walking. There are no challenges too big for our team when they all work together so well. In fact, they welcome bigger and more complex challenges!"
The culture at MNB, which stems from the Benton family and encourages and empowers staff, benefits the company in a variety of ways. "We enable people to do their job and they have a freedom to perform in the way they want to," he asserted. "That freedom gives our people the space to develop, which in turn breeds a willingness to achieve more. Planting a seed of trust enables people to grow and in turn they become enablers for their peers. In addition, our family approach ensures that all jobs on our shop floor are manufactured with the upmost care and attention."
This continuous dedication to high-quality means that return business levels are extremely high for MNB: "Our customers come back time and again because they can rely on us to provide parts that are of world class status," Luke agreed. "They also trust us which is very important – our customers trust our ability to deliver parts that are of the highest quality standards. Some of our customers have machine shops themselves, but they choose our machine shop to carry out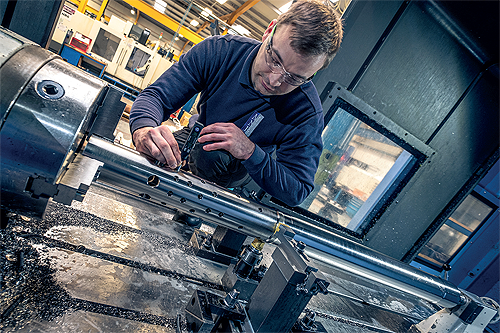 the work because they know the parts produced by MNB will be completely correct to the technical drawing.
"Trust is something that is won over many months if not years but can be lost in seconds. We have not lost many customers but have gained a lot, with us currently having over 50 regular customers each year. This count is rising every month in all industries, Aeronautics, Rail, Defense and Renewables."
There was also one final aspect that Luke noted about what sets MNB apart from the competition: "Our envelope of capability is one of the best in the world," he revealed. "We continually track our competitors' status in capacity and capability, none currently match those of MNB."
The position that MNB has established in the industry took years of hard work and the company has no intentions of losing this momentum – it has further ambitious plans for the years ahead. "We will continue with our investment into machine tools, including large 5 axis capability such as the Doosan 7100 SMX, and we are considering foreign investment in either the KSA or UAE. We will also direct our attention to further development in our people including a plan to win a Queen's Award and gain Investors in People recognition," said Luke.
He concluded with how he sees the company in three to five years' time. "MNB will become a multinational company, operating on three continents, Europe, the Middle East and USA. We will grow from 120 people to 250 within the next four years, and we will be adding more and more CNC Machine tools to enable us to complete more and more complex parts. Our offering of precision machining will be well placed to take advantage of an uptick in the world economy as we recover from Covid-19."
MNB Precision Limited
Services: Precision engineering services
www.mnbprecision.com