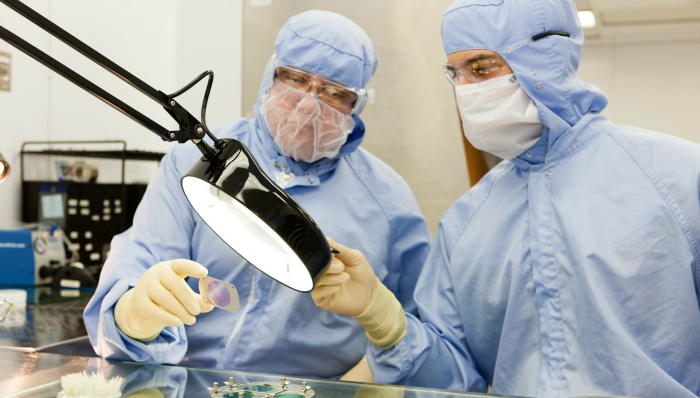 The technical expertise of Moxtek's staff and the company's ability to adjust its manufacturing operations to customer demands are at the core of its success.
"I think the people here are just outstanding," says Roger Critchfield, vice president and chief logistics officer for the Orem, Utah-based company. "With the team we have, I feel that when we understand what the client's problem is, we can solve anything."
The company specializes in two types of technology: X-rays and optics. Moxtek operates divisions, or groups, dedicated to each technology type. "We operate two companies under one roof," Critchfield says.
Moxtek maintains a strong market position in both of its product categories. The company's customers include electronics and technology OEMs as well as the scientific sector.
"One thing that I think our company does well is our ability to partner with our customers to develop niche products that they need," Critchfield adds. "We're good at being able to take those products into high-volume manufacturing and deliver them to customers on-time and when they need them."
One example of the company meeting a customer's needs was its work producing an optics component used in Sony's XRD rear-projection TV sets at the time of their launch in the mid-2000s. The company ramped up production of the component from 5,000 to 25,000 pieces a month and converted to a larger substrate to meet demand.
Although rear projection TVs never caught on the way LCD screens did, Moxtek continues to find ways to adjust its manufacturing activities to meet similar demands, Critchfield says.
The company has kanban systems in place with its customers and major suppliers to meet regular demands. Moxtek also frequently meets with suppliers to forecast demands and set inventory levels accordingly. The optics group also uses a material requirements planning (MRP) system developed by software company The Mass Group in its manufacturing planning process.
Product Applications
Moxtek's X-ray group manufactures X-ray windows as well as handheld X-ray detectors and X-ray tubes and controllers.
The X-ray products manufactured by the company are commonly used in X-ray fluorescence (XRF) detection, a technique used to determine the elemental composition of different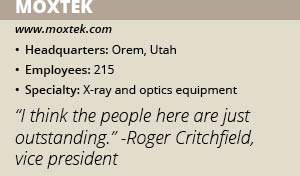 compounds: metals, glass, ceramics, building materials, etc.
Moxtek's X-ray window products are used mainly in scientific research, while its XRF detection products can be used in scientific as well as industrial applications. One industrial application for the detectors is in scrap yards, where they have been used to determine the grades and value of recyclable metals.
The company's XRF detection products have also been used to screen hazardous substances found in sheet rock that was blown onto the Florida coastline following hurricane activity, Critchfield says.
Moxtek's optics products include wire-grid polarizers and polarizing beam splitters, both of which are used to polarize light by reflecting on polarization and transmitting the other. These polarizers are commonly used inside of projectors to help create an image that can beam to a screen, he adds.
Manufacturing Processes
Both of Moxtek's divisions operate in a nine-building manufacturing campus in Orem, with 122,000 square feet of total space, which includes 32,000 square feet of cleanroom space. The company is ISO 9001 and ITAR-certified.
Moxtek uses brazing and vacuum processing techniques to manufacture its X-ray tube products. Moxtek uses a proprietary state-of-the-art nano-scale patterning technology to produce its optics products. The polarizers manufactured by the company are composed of wires that are 30 nanometers in width placed on top of eight-inch in diameter substrates.
All products undergo extensive quality testing. "Our products are well characterized during development; once in production, we continue to monitor the quality of the product with regular in-line testing," the company says. "This allows us to control our processes as well as ensure the quality of products we deliver."
Characterization-testing procedures include measuring the performance of products on equipment Moxtek designed in-house in conjunction with local universities. During manufacturing, process engineers monitor products and processes using standard statistical process control methods. "Our engineering group does a very good job looking at where potential failures might be and fixing the root cause," Critchfield says.
History of Innovation
Technical knowledge and innovation have been a part of the company's DNA since its founding in 1986. The company was started following the development of an ultra-thin polymer X-ray window that is able to detect materials on the low-Z end of the periodic table.
"Before this window was developed, windows made of beryllium were commonly used, but they have a limit," Critchfield says. "Before our window was developed, you couldn't detect lithium, carbon or nitrogen; our products opened up these elements. [Our X-ray window] was a pretty big breakthrough, and because of it we were able to capture a huge portion of the scientific research market."
The company entered the detection product market after customers approached it about developing a XRF detection tool. Developing such a tool required Moxtek to develop and produce portable X-ray tubes. "Usually X-ray tubes are very large and heavy and need a lot of power to run," Critchfield says. "We were able to develop a miniature X-ray tube that can be run off of a battery."
The company was purchased by Japanese company Polatechno Inc. in 2004. Polatechno continues to invest in Moxtek's manufacturing capabilities. This includes building a new facility for the company's optics group in Orem, he adds.