Reaching high
Finding its roots in Finnish technology, research and development, Oy Meclift Ltd is a leading specialist in container handling and associated operations
Operating from its base located in Tampere, Finland, Oy Meclift Ltd. is an independent family-owned company that manufactures a comprehensive portfolio of equipment for the fields of container handling, loading, unloading, lifting and pallet handling. The equipment manufactured by the company includes variable reach trucks, movers and side-reach stackers that are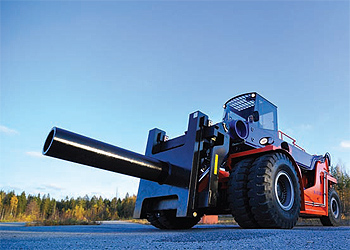 designed and assembled in Finland in association with trusted manufacturing partners. "Meclift specialises in the offering of innovative materials handling equipment for ports and industry and provides a unique product range that addresses a host of different kinds of material handling needs," elaborates CEO, Veli-Pekka Uotinen. "Our clients include the operators of harbours, paper mills, steel/aluminium plants, terminals, offshore wind and military applications."
Meclift equipment is commonly used in ports, railroads, airports, road transport and factory grounds across the world, most significantly within South America, the Middle East and Asia. Indeed, the company's products are known for their strength, agility and versatility, with its range of variable reach trucks, container movers, and side reach stackers being designed to improve productivity and efficiency in cargo and materials handling. Additionally, diverse attachments such as the Meclift double forks system, air cargo pallet forks, coil ram, coil clamps, loading box, lifting beams and paper clamps are suitable for a wide range of work phases.
In order to assist its clients in running their respective operations in a variety of lifting operations, Meclift is committed to meeting the individual needs of each project throughout the process of research and development and the final delivery of new machinery. Due to their high-quality materials, parts, and sturdy structure, the company's machines function reliably in all environments, withstanding also extreme cold, heat and humidity. This is equally true one of its latest machines, the ML4212RC variable reach truck. "The Meclift ML4212RC variable reach truck compliments our existing variable reach truck production family of ML1612R, ML1812R, ML3012RC and ML5012R and builds on this portfolio of equipment with new and exciting capabilities," Veli-Pekka says. "With the Meclift ML4212RC variable reach truck clients can take their heavy lifting operations to the next level in terms of efficiency and safety. The design is capable of lifting 42 tons with 1.2m load centre and can reach up to 3.25 metres, taking the lifting height to as high as 7.8 metres. With its high reaching capability, Meclift ML4212RC excels on loading and unloading materials and containers. It can reach to the end of a standard 20 ft. container and still lift ten tons, making all logistical manoeuvres significantly easier and safer."
The Meclift M4212RC variable reach truck is designed to help with container loading and unloading operations, so that customers can undertake heavy lifting into/out a container that is located on top of the trailer. Through the use of bogey rollers it is possible to move heavier loads in excess of ten tons, even while utilising the unit's maximum reach. The addition of lifting beams makes this system a unique combination for long and heavy object handling, with which it is possible to place rods, pipes and tubes into the middle of a 40ft container. With a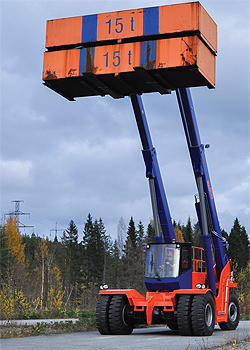 vertically movable cabin, the driver can also position him/herself in the right location to see either the forks or surrounding areas, whichever is needed at the time. This makes the machine much safer to operate and the unit can be fitted with cameras for even greater visibility.
Further to the development of its M4212RC, Meclift has also recently introduced its new ML1812R to provide clients with a unique multipurpose machine. The machines represents the only solution on the market in the lifting range of 18 tonnes that can operate inside containers, by moving swiftly in confined spaces such as warehouses and cargo vessels. In addition to heavy cargo lifting, the ML1812R is perfect for a host of other material handling needs. This makes it an environmentally friendly solution, as less work machinery on site results in significantly less fuel consumption. Employing less machinery on site also provides greater available space and increased visibility, which in turn leads to improved safety and less damage to cargo. Owing to its compact design the ML1812R is easily transportable within a standard 20-ft container, while the machine is also designed to operate reliably in demanding conditions and supported by a base of globally available components and spare parts.
By leveraging the combination of its comprehensive product portfolio and a strong history of innovation, Meclift is able to offer a unique base of material handling solutions. This will prove to be an important asset, when combined with the company's globally available support as it seeks to expand across the material handling industry throughout the coming years. "We have an advantage in that we are family business, with a long-term focus on development and innovation that dates back to the company's founders. This means that there is a strong culture of invention, as well as a drive to improve existing heavy-lifting solutions for our clients running through Meclift. For example, we recently developed a new 42-tone variable-reach lift truck, the first of which we delivered to a customer during October 2016. This is in conjunction with the development of our M4212RC truck that represents an improvement on our best selling solutions in the 18 tonne range," Veli-Pekka concludes. "During the coming years we will work to make our new products better known in the market, as well as to find good partners in Europe and globally to expand our presence within the material handling industry. We are still a small company but we see a lot of market potential through the delivery of unique solutions."
Oy Meclift Ltd.
Products: Manufacturer of unique material handling equipment