People who care: this is more than just a slogan for Wellborn Cabinet, Inc
Paul and Doug Wellborn are two brothers who launched Wellborn Cabinet, Inc (Wellborn) in 1961. That name is also an apt description of the products that the company, which recently celebrated its 60th anniversary, manufactures. They are born to hardworking hands of honest Americans and built with a special kind of care and attention to detail that is only made possible by people that love their craft.
Though the company began in a 3200-square-foot building and chiefly produced low-cost kitchen and bath cabinets for government-financed housing, the business has dramatically evolved over the years. After purchasing his brother's half of the company in 1986, Paul Wellborn, who still serves as President & CEO, became the sole owner. What followed was consistent growth and expansion year-over-year. The company's customer base shifted to residential kitchen and bath dealers, and that move has since paid dividends.
Today, Wellborn offers six core product lines and manufactures its kitchen and bath cabinets from start to finish in its own 2,000,000-square-foot facility in Ashland, Alabama. Recently, Paul sat down with us to talk about American manufacturing, quality cabinetry, and a $4.5 billion trade case against China that took him all the way to Washington, D.C. and into an audience with the President.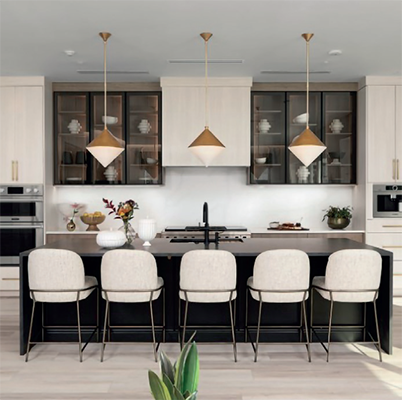 "Over the years, many family-owned cabinet companies in the US have merged together," he begins. "We never did. In fact, we are the largest privately-owned cabinet manufacturer in the country, and it is a true family business. All of the family works here. I have five children, and all of them are part of the company and some of my grandchildren are, too!"
Made in the USA
A tight-knit community of workers under one giant roof ensures that Wellborn Cabinet, Inc manufactures some of the best cabinetry in the country, promoting a quality of craftmanship with which the company – and the family name itself – has become synonymous.
The Wellborn family, and many of the families working within the company, take immense pride in producing high-quality cabinets in the US, hand-crafting every product in Alabama. "If you do research, as we do, on products by our competitors, then you will generally find that the quality of some imports is not as good," Paul reveals. "They might look convincing, but they will not last! It might be that the glue has not been properly applied to the face frames, or something else entirely.
"By manufacturing our cabinets here in Alabama, we can make sure they are very high quality," he adds. "In fact, I have had customers tell me that a kitchen they bought from me 30 years ago still looks as good as it did on the day they bought it!"
The dedication to being 'made in the USA' does not stop with the product, either. "We just installed a new planer mill, which is about 105,000 square feet and is all American-made," says Paul. "The steel we used was made in America; all the conveyors and the machines were manufactured here. We even made our own concrete, so we definitely know that was made in the US! It all means that everything is of the best quality, and that shows in each and every product that leaves our facility."
Family environment
Out of the growing workforce of around 1300, more than 140 employees make up the Quality Control team. Their job is to ensure – across 30 different quality checkpoints – that only top-quality products are manufactured under the Wellborn name. Consequently, the company meets requirements set by the Kitchen Cabinet Manufacturers Association (KCMA) and prides itself on the fact that face frames are built with mortise and tenon joints to create strong, long lasting, quality cabinets. These face frames are then sanded by hand on the inside edges and fronts to provide a smooth surface to the wood.
When asked about the enduring success of the business, Paul is quick to reply. "It is people," he asserts. "I believe in people, and I thank God for the people we have here. We have so many good people here, and sometimes that includes whole families – brothers, sisters, moms, and dads, some of whom started right out of school. It definitely makes a difference in a company to treat people as we would want to be treated. We have a slogan on our trucks: 'People who care.'
"But, for us, that is not just a slogan. Our people care; they are dedicated to everything they do. In turn, we are dedicated to them. We have an on-site day care center, a gym for exercise and to keep fit, and a medical clinic with nurses on standby. For those that want to relax, we also have a 35-acre lake behind the plant with up to 15lb bass – making it a perfect place for a bit of fishing after work. I enjoy coming to work every day because it is an absolute pleasure; it is like a large family working together. It makes me proud of the environment the entire team has created over the years."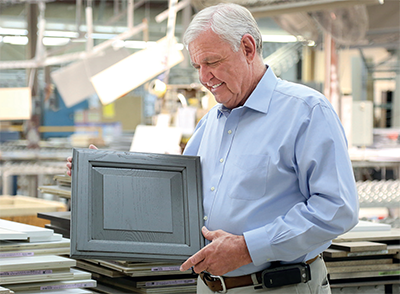 As Paul goes on to point out, however, when he talks about the people side of the business, it is not limited to the ones working within the facility. "Within our wider family are our suppliers," he details. "As we set up good suppliers that perform well, we dedicate ourselves to them like we do our own people. It is much better to build a relationship that can stand the test of time. Suppliers are critical for our business. At the end of the day, they make sure we do not run out of product! Even if it is as simple as some screws; without a screw to hold your hinge in place, your cabinet will always remain unfinished."
Wellborn offers cabinetry for every room in the home, and across six product lines: Home Concepts, Select, Premier, Estate, BathScapes, and Aspire. All of which provide a wealth of options to choose from. From a material standpoint, Wellborn uses wood, medium density fiberboard, decorative laminates, and embossed and heavy textured melamines.
The beauty of wood
Examples of wood include cherry and character cherry, which is synonymous with luxury and offers a rich, distinctively red appearance, but is also available in a multitude of colors like caramel, ginger, espresso, and nightfall. Maple and character maple is finely textured, lures the eye with a natural luster, and can be chosen in colors like ash, castle, drift, and river rock (among plenty of others). Authentic American red oak features an open-pored grain pattern and is available in dark, light, medium, and natural. Finally, Hickory, which Paul reveals his company began working with before many other competitors, classically offers contrasting colors from dark to light, while also being incredibly durable and featuring dramatic wood characteristics.
At the top of the portfolio is the Aspire line, which was designed for higher end homes. The Aspire Full-Access Frameless line gives any space a sleek and modern look. With over 30,000 door styles, species, and finish combinations, the customization is truly in the hands of the customer. There are literally thousands of cabinets, accessories, and semi-custom options which offer even more design flexibility. As standard, premium all-plywood cabinet construction is used.
Strong future
Paul is also no stranger to politics, particularly when it comes to protecting the industry to which he has dedicated his entire working life. "As members of the American Kitchen Cabinet Alliance (AKCA), we were part of filing the largest trade case (ADCVD) against China in history. We won the case in a five-to-zero vote with the International Trade Commission, or ITC. The Chinese were using an illegal trade method known as "dumping" to undersell American Manufacturers.
"If a kitchen cabinet cost them $150 to build, they would sell and ship it to America for $50. Losing as much money as they had to for as long as they had to until they closed every manufacturer's door in America. Thanks to the diligent work of the Trump administration and our team at AKCA, our industry – and over 250,000 jobs – were saved.
"We stayed in Washington, D.C. for about two years, walking the halls of the Capitol," he reflects. "We met with many senators, congressmen, and President Trump on multiple occasions. Realizing that we could lose an entire American industry, most of our elected officials as well as President Trump supported our efforts."
ADCVD cases come up for renewal every five years, but after winning this first round, Paul is looking forward to a strong future buoyed by a healthy backlog of orders. "The cabinet business has done pretty well," he concludes. "Therefore, we believe in the years to come, we will continue to do well thanks to our dynamic approach to business. In the next three-to-five years, if business stays the way it is, the company could show growth anywhere from 50 percent up to double what we are doing today. We are constantly on the lookout for new things to make that possible."
www.wellborn.com