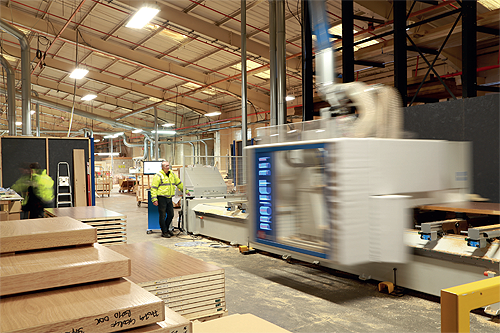 Performance Doorset Solutions
Opening new doors
Specializing in the supply of doors and associated joinery items, Performance Doorset Solutions is expanding into new sectors as it charts a course for profitable growth
Established in 2003 to make composite doorsets for the social housing sector, Performance Doorset Solutions (PDS) has built its reputation as a door-related products manufacturer of unrivalled quality. After starting life in a 5000 square foot facility with only three members of staff, PDS moved to a purpose-built factory just three years after its founding. Benefitting from a capacity five times the company's original site, PDS evolved into a manufacturer of fully factory-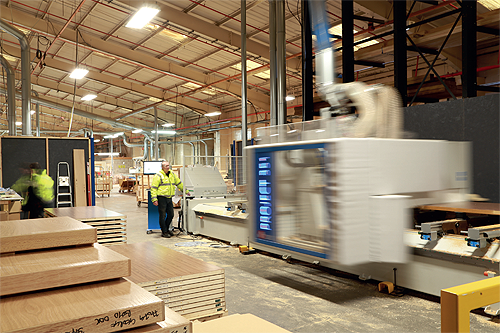 finished general joinery and windows, including sash windows, timber windows, and fire resistant doorsets.
Understandably, a decade of success at PDS attracted widespread attention, and in 2015, the company was acquired by Canadian corporation Masonite International. However, in March 2019, PDS returned to the UK when Co-Founder Tim Fairley headed up a 14-strong consortium and re-acquired the business, rescuing it from potential closure.
"When we originally sold PDS in 2015, we were turning over around £14 million and employing 148 people," Tim recalls. "We bought it back from the Canadian corporation three years later because, unfortunately, they had run it down, reducing our employee total to 59 and losing £3 million in turnover. As of today, with PDS back in safe hands, we are up to £10 million in turnover and 112 employees. We've really kickstarted our growth, taking us back towards where we were in 2015 and hopefully soon, beyond that."
Serving a variety of clients, including major construction firms, house builders, social landlords, local authorities and home owners, PDS's product range places an emphasis on security, fire rating and made to measure permutations. The high-quality, fully-certified and well-tested offering has been an enduring factor in the growth of PDS and remains a differentiator for the firm in a competitive market.
"When it comes to our products, we have the flexibility to make many different configurations and sizes, and we profit from the support of a strong sales team," Tim says. "Our core specialist product right now is security fire doors. In the main, these are being installed as part of the Government's fire door replacement scheme, triggered by the Grenfell tragedy. It means high-rise and multi-occupancy properties draw high-demand for our products. As the main owners of these large buildings, social landlords are our principal route to market at the moment and we are working with them on a number of replacement and refurbishment schemes."
In order to support the rise in demand for fire doors, PDS recently invested over £1 million into new machinery and testing for its products. Much of the company's fire door manufacturing is performed using high-tech, computer-controlled CNC routers, of which PDS now owns seven. In terms of testing, the company spent well over £60,000 in 2020 as part of a rigorous certification program to ensure its doors protect lives and properties.
"We are always looking at the evolution of products and how the market is developing. Testing is a vital part of the way we innovate," Tim states. "Every time you perform a fire test it can cost anywhere between £6000 and £14,000 depending on the scale and scope.
We are in a constant state of development with our products so testing is being carried out all the time."
One of the products that has helped set PDS apart from the competition over the last decade is its timber fire door. Available in standard and bespoke sizes with a host of finishes and internal and external options, the timber doors offer clients assurance of performance from both a security and fire perspective. As a member of the Fire Door Alliance, many of PDS's timber fire doors are dual directional tested, PAS24 tested, EN1634 certified, as well FD30 and FD60 fire rated.
"To sell a fire door into the markets we operate in, you have to have product testing and third-party accredited certification," Tim explains. "At PDS, we have all that across a wider product range than the majority of our competition."
In January 2021, a tower once earmarked for demolition became the latest property to receive PDS fire doors as part of a £7.5 million improvement project at Fitzwarren Court in Salford. More recently, the company was involved in work for Rochdale Borough Council and Rochdale Development Agency's town hall relocation project. The schemes mark a strong start to the year for PDS, especially in light of the challenges and upheaval caused by 2020's Covid-19 outbreak.
"The first nationwide lockdown in 2020 was perhaps our biggest challenge of the last 12 months because we lost around six weeks of production when the Government decided to shut construction sites," Tim reports. "We fared better in the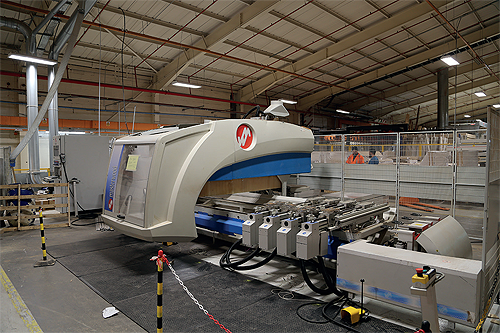 subsequent lockdowns as the Government made it clear that production and construction had to continue. They've made a commitment now to keep construction going because they know that it is driving the economy.
"Additionally, the Government has committed to fixing the safety issues at thousands of properties around the country that are not currently compliant from a fire risk perspective. They cannot risk stalling these fire door installations and cladding upgrades and so construction sites are now back in full flow. In the meantime, construction companies have put a lot of time and effort into creating safer working environments. The industry is thriving again, and we, as a company, are thriving too as a result."
Looking ahead, PDS is set to further its activity in the healthcare and education sectors in the coming months as national demand increases in both areas. The Government's focus on upgrading the NHS means that relevant door-related products will soon be needed in up to 40 new UK hospitals, as well as upgraded and refurbished wings in existing facilities. With many students learning from home due to Coronavirus restrictions, schools and colleges are experiencing a similar increase in renovation and new construction work, unlocking another new avenue for PDS's expansion.
"In order to keep growing our product range, we've put in new machinery onsite because healthcare and education both have quite specific product requirements," Tim reveals. "The fire doors we are making for hospitals will be slightly different to our regular line and products for schools will need features such as added finger protection. Both segments are exciting new areas for expansion. We are evolving quickly as a business."
As PDS grows, the company's workforce will have to grow with it. To shore up its next generation of employees, PDS recently lent its support to a local college as part of the Government's 'Build Back Better' post-Covid economic recovery plan. Working with Hopwood Hall College in Rochdale, PDS has vowed to employ more apprentices and give students in the Rochdale Borough an opportunity to gain workplace skills through industry placements. A long-time supporter of its local community, PDS is dedicated to creating further job and training opportunities, and this reflects the value it places in people.
"People are everything to this business because we are a manufacturing firm, and as much as people will tell you that modern manufacturing is all about technology, it's not – you have to have a good combination of both," Tim declares. "Good people with the right attitude and the right work ethic are vital. Then, when you couple this with modern equipment, you have a powerful recipe for success.
"As much as we benefit from our machinery, people are our most important asset," Tim adds. "No matter what the experts tell you, we couldn't replicate what we do at PDS with less people."
After an eventful, but ultimately successful, 17-year journey, PDS is back in the hands of its founders and ready to tackle the year ahead. With all items machined, assembled, pre-hung and fully decorated in-house, the firm remains a trusted supplier in complete control of its entire production process. Proud to operate a policy of continual improvement and investment, PDS is on the cutting edge of the industry in terms of testing and compliance, and offers consistent quality and market-leading expertise. As the firm proved to the nation in 2020, no matter what it faces, PDS, like its products, can be relied upon.
"This business has been built in such a way that it is healthy, self-sufficient, and without any debt or borrowing to its name," Tim proclaims. "Over the next few years, all I ask is that we keep growing organically, keep creating jobs for the local area, and keep making it a good, vibrant place to work. We know that our technical capabilities and certification focus will keep us at the head of the market, so as long as we continue making a good quality product, people will return to us and keep buying. With vaccines rolling out and Covid-19 almost behind us, I think we will start to see the market bounce back, and we will still be right there with it when it's buoyant again in three to five years' time."
Performance Doorset Solutions Ltd
Products: Doorsets and associated joinery
www.pdsdoorsets.co.uk