A bright future
Plessey Semiconductors, a leading expert in the manufacturing of semiconductor products used in sensing, measurements and controls applications, is now at the forefront of the solid-state lighting revolution
With a rich history for innovation that spans more than a century, Plessey Semiconductors (Plessey) has long-term experience in providing new solutions that address the challenges faced by clients. Manufacturing semiconductor chips at its Plymouth based factory since 1987, the privately held company re-emerged with a highly focused operation in 2009 and today operates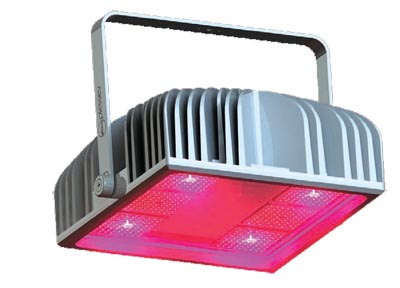 from a 270,000 square foot facility that also includes Gallium Nitride (GaN) on silicon growth capacity and a revitalised brand. The company also has a design and technology centre in Swindon as well as sales offices across the globe.
Renowned as a world leader in producing GaN-on-silicon LEDs to a range of global blue chip organisations, the company is passionate about providing intelligent electronic solutions through the utilisation of solidstate lighting and sensing to enhance people's quality of life. Manufactured using its own GaN-on-silicon technology, it became the first company to produce commercial LEDs on large six inch diameter silicon substrates and provide lighting solutions to industrial, architectural, retail, outdoor, portables, horticultural, wearable and residential technology sectors. This technology is a relatively recent addition to the company, which has a heritage rich in integrated circuit (IC) chip technology. However, the acquisition of the intellectual property from a Cambridge University spin-out, which had developed ground breaking Gallium Nitride on Silicon (GaN on Si) for LEDs, resulted in Plessey focusing its attentions on lighting technology and subsequently converted the concept into a manufacturing process that can produce efficient powerful LEDs.
Within the LED market, around 80-90 per cent of LEDs are currently based on sapphire technology, which is naturally very costly. However, by bringing this GaN on Si capability into Plessey, there will be a major step in innovation for the lighting industry as silicon solutions provide a range of benefits, as Clive Beech, LED Components Manager at Plessey Semiconductors, comments: "Because of our long history as a manufacturer of ICs, we have grown up with silicon and have thus entered the LED market using silicon wafers; on our site we currently manufacture on silicon six inch wafers, but also have the tools to manufacture LEDs on eight inch wafers. This distinguishes us from our competitors who are restricted by very expensive four inch sapphire or silicon carbide wafers and allows us to offer very price competitive high power LEDs while maintaining the performance and reliability demanded by our customers."
Since previously being featured in Manufacturing Today Europe, the company has introduced its combined optics and LEDs range and developed a range of grow lights that are a compelling product in the agricultural light arena; designed to displace old-fashioned inefficient sodium lights that many growers are currently using, Plessey's LED grow lights, named Hyperion, are flexible lighting system, which means the spectrum that the grow lights produce can be customised for a particular crop type, as Clive notes: "With our LED grow lights a different spectrum can be used for tomatoes or flowers, for example, as they each have different requirements. The LED grow lights bring a lot of engineering and science into the growing of plants, with a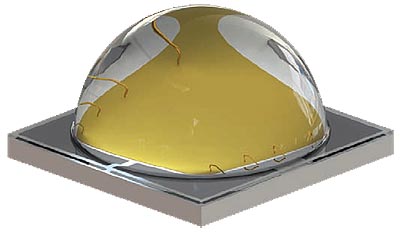 custom spectrum for each product, while also providing customers with benefits such as a greater life cycle in comparison to sodium lighting; because these LED grow lights go into installations at high elevations in green houses, maintenance is an important feature to the grower."
Additionally, the company is introducing its first four-junction monolithic lighting LED, the nominally high power 12 volt 700mA PLW7070, which boasts 50 per cent more cost-effectiveness than any power LED solution while also providing a 30 per cent increase in light output when using any standard, a narrow beam secondary optics. "This product is targeted at the industrial sector general lighting, portable lighting and general purpose high power light sources. The core component is a single chip that has multiple die integrated into it; by having a monolithic single 12 volt chip we provide benefits such as reliability as the actual LED product in its package has less internal construction in comparison to a product that has four chips.
"Furthermore, optically, having a single chip eliminates cross-hair effects and so provides optimised far-field imaging; while our competitor's products have four light spots from the four chips, our product has a single central concentrated spot of light. Thanks to this single chip, our central beams also have a 30 per cent higher central beam candela power than other LED devices, a benefit that is caused by the light in the LED being centred on the optical centre of the package," highlights Clive. "Because this is a conventional silicon based system, the silicon substrate used is around one fifth of the price of our competitors expensive sapphire or silicon carbide substrate and has dramatically higher thermal performance, making it fundamentally more reliable; this means the 700mA PLW7070 is not only competitive when it comes to performance and optics, but price too, when it comes to incumbent solutions!"
Not a company to rest on its laurels when it comes to innovation, Plessey recently announced it had won the prestigious Sapphire Award for Modular LED Light Engine for its Orion™ LED Beam forming module. This win follows Plessey extending its range of ultra-slim Orion LED modules that are based on its Stellar™ beam forming technology at Europe's largest annual lighting event, LuxLive, in November 2016; the technology boasts new beam angles that open the technology to a wider range of applications in both industrial and architectural lighting design. The Orion LED beam forming modules deliver a compact 3000 lumen beam from a tiny module that can be as little as 5.6 millimetres thick, which is one-tenth of the thickness of standard alternatives.
Looking ahead, the future looks bright for Plessey as it continues to develop technology and products in a fast paced market to remain at the forefront of innovation. Seeking other ways to remain competitive, the company will primarily be focusing on scaling up production to meet the forcasted demand and enhancing capacity at its facility while also responding to the progression of smart technology in the market with the development of intelligent LED products. "Part of this will be to move to eight inch silicon wafer production, leading to an almost doubling in the number of LED dies we can produce per wafer at effectively the same cost, with the move into smart technology taking us full circle; we began as an IC manufacturer and progressed into LED production while maintaining silicon work. With our capabilities it is likely that we will combine LED with smartness from silicon in the future," Clive concludes.
Plessey Semiconductors
Products: Specialists in manufacturing of LED Diodes and silicone based semiconductors used in sensing, measurement and controls