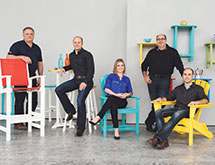 It is said that gold is where you find it. For Poly-Wood, Inc. it was found in the mountains of recycled plastic created by government recycling programs. Director of Sales and Marketing, Megan Pierson, says the company's founders saw a great opportunity in that overabundance of recycled materials and started using it to create extruded plastic lumber in their garage that became the foundation for the company's first samples of outdoor furniture. After exhibiting these initial products at a furniture show in Chicago, Poly-Wood Inc. drew the attention of a company called The Sharper Image, which first purchased Poly-Wood recycled plastic furniture and featured it in its catalog and retail locations. From there, the rest is history. Today Poly-Wood remains the leader in the recycled plastic outdoor furniture category.
"We're doing really well," Pierson says. "We're the originators of the category, and have spent 25 years pioneering."
Poly-Wood's furniture has found a successful niche in the outdoor sector thanks to its low maintenance, durability and unique appeal. Pierson says the company adds to the appeal of the products themselves with a robust infrastructure that can turn around orders in a relatively short timeframe. With the "outdoor living room" concept becoming more and more popular with homeowners, Pierson says Poly-Wood is excited about the future of the category and the company.
Material Strength
The lumber used to create Poly-Wood's outdoor furniture is formed from a proprietary blend of thermoformed plastics and additives mainly derived from post-consumer bottle waste such as plastic milk jugs and detergent bottles. Pierson says the company extrudes all of its own plastic lumber at their location in Syracuse, Ind., giving it strict control over the quality of the materials that go into its furniture.
The high quality of the materials that go into Poly-Wood furniture makes them ideally suited for outdoor use, and the company says customers appreciate how little maintenance they require. The company's furniture requires no waterproofing, painting or staining, and is exceptionally resistant to environmental stresses. Pierson says customers don't have to worry about Poly-Wood furniture fading, cracking or rotting like they would with traditional wooden furniture, or rusting like metal products. On top of that, Poly-Wood offers customers peace of mind through its 20-year warranty, which guarantees residential users will get 20 years of worry-free use out of their Poly-Wood furniture.
There's more to the appeal of Poly-Wood furniture than its technical specifications, however. The company's most popular products are its Adirondack chairs, but Poly-Wood offers a wide variety of options ranging from bar chairs to dining chairs to chaise lounges. Additionally, the company offers these options in an extensive array of color and style choices. Pierson says Poly-Wood challenges the common perceptions of plastic outdoor furniture. "Our furniture really has a unique style," she says. "It's sleek, sophisticated and we have a variety of color options."
Behind the Scenes
Beyond the inherent advantages of the products themselves, Poly-Wood has earned its leadership position in the marketplace through its state-of-the-art manufacturing processes and highly responsive supply chain operations. Pierson says the company's infrastructure is capable of turning an order around in one day, making it a highly valued partner for many big-name retailers including Home Depot and Target. "The way our system is set up allows for a fairly seamless fulfillment process," she says.
Poly-Wood's manufacturing facilities feature CNC and robotic welders, ensuring the most efficient manufacturing and the most consistent quality across all product lines. The company also stamps each and every piece of furniture it produces with a serial number as well as the date and time of manufacture. This allows the company to pinpoint down to the specific workstation where any defects or issues with any piece of furniture originated.
Pierson says the company has a robust IT infrastructure that controls every point along the manufacturing process and supply chain, which creates precision control and alleviates one of the major headaches most manufacturers encounter in terms of efficiency and consistency. "I think that's probably the biggest challenge for anyone in this category, and it's not a challenge for us," Pierson says.
New Directions
Pierson says the company is excited about the current trend toward the concept of outdoor living rooms, where homeowners value furniture that is comfortable as well as capable of withstanding the elements. She says Poly-Wood is hard at work on developing several new products that can fit this concept and help customers create the type of outdoor seating and entertainment area they desire.
Poly-Wood also is developing an innovative new product in the deep seating category. Pierson says this new type of seating can be shipped fully assembled and folds flat for easier shipping. She says the company expects to save a lot of money on freight costs with this new product. Beyond that, Pierson says Poly-Wood continues to look for new opportunities in international markets. With the addition of new types of materials to its product lines, Poly-Wood expects to continue to hold onto its position as an innovator and market leader.