Polymer-Technik Elbeproducts
Getting ready for a big leap
Polymer-Technik Elbe is preparing to grow internationally with new plants in China and Mexico. The rubber compounds manufacturer is on the lookout for trustworthy partners to achieve its complete transformation into a truly global company
Polymer-Technik Elbe (PTE) is entering a new phase of its development. Having proven itself as a capable manufacturer of rubber compounds, PTE is actively looking to expand its geographical
footprint and form strong international bonds with like-minded companies, in order to facilitate its breakthrough into the higher echelons of the industry. "The speciality of our company is that we do not have a speciality," jokes CEO, Dr Wolfgang Keil. "We are an important link in the supply chain, mainly for the automotive industry, where we supply rubber compounds to our customers who are chiefly part makers," he explains.
Germany is often envied for its ingenuity in the automotive industry, which remains strong as ever, creating a fertile niche for companies like PTE to flourish. "If you divide the rubber industry into tyre and non-tyre segments, at least 60 per cent of rubber consumption comes from the former, while between 60 and 70 per cent of the remaining 40 per cent also runs into the automotive industry under one form or another," Wolfgang discusses. "About 50 per cent of our work is for this sector, as we supply the industry with a wide range of Elbeproducts such as bladder compounds, or even more special thread compounds, in different cases.
"However, we serve many other industries, including construction, cable, railway, and household appliances, among others," he hastens to clarify. "I believe that our customers trust us, because we are versatile in providing both material and process development, when needed. Some of the larger companies we work with normally use us only for process development, but we also have a number of smaller clients, whom we can provide with material development, too. It is also very important that we can offer a high level of technical customer support. We use and, more importantly, believe in state-of-the-art technology, so even if it might be a bit expensive, we try to produce on the latest versions of the machines we operate," he comments on some of the company's biggest strengths.
Few people know, but PTE's knack for identifying smart ways of working has led to the introduction of a specific kind of filter technology for rubber mixing back in 2004, which, today, is recognised as a standard across the industry. "It was for a project we were doing alongside a major European consortium in Shanghai, where we needed to try this technology, because the older technologies had failed in meeting the demands of that project," Wolfgang remembers. "There is another reason why we should continue to smarten our processes, and that is related to the costs associated with producing in Germany. Electricity here is more expensive than in any other country in Europe, so it is generally not an ideal place for production; therefore, we are constantly pressed to find ways to keep staff costs at a certain low level for the future."
A projected annual turnover of 200 million euros may sound as quite a respectable result, but PTE's ambitions fly much higher. "In fact, I think this is far from what the really big companies achieve, and we want to get to a stage where we can compare with them," Wolfgang points out. "This is why we have begun to increase our global footprint. We have had a subsidiary in China since 2007, and in May 2018, we signed a contract for a joint venture with a huge, state-owned Chinese enterprise."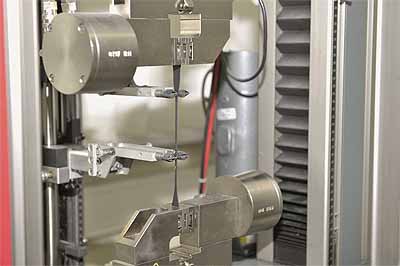 The new collaboration means that PTE has waded into unknown waters, as never before had the company been involved in a partnership of this sort. Wolfgang shares his thoughts on the joint venture's prospects: "It is a new experience for us, as there is another company by our side, which we need to respect and work effectively together. It is a 50-50 joint venture, so, in theory, we should make joint decisions, but this does not always come easily. The times in China are changing. I have been going there quite often since 2004, and I can observe that now the Chinese are eager to take a leadership role in every discipline. We have had very positive communications so far, as we genuinely desire to have a greater Chinese presence for our customers, and the company respects us for that. It is undeniable that China is very forward-thinking and is willing to invest in new technology, which is something we admire. What is more, we have identified China as our most important market for the near and medium future, so t is is another reason to be excited about opening a second site in the country."
North America has also been viewed as a key area that needs to be targeted by PTE, hence the establishment of a $20 million plant in Mexico in 2016. "It is an important location, because no country in the world has a higher density of big OEMs than Mexico. Everybody is there. Toyota, Nissan, Honda, BMW, Mercedes are all present in the country, so, to us, it was crucial to move in this region to serve the automotive industry. Also, since our suppliers are mainly international companies, they often follow a regional strategy and have different pricing in separate regions, which means that establishing a presence in Mexico gives us a better access to competitive prices," Wolfgang continues.
Finally, he furthers the idea that it is vital for the company to continue strengthening its network, if it is to move to the next level. "We cannot go on our own. We need reliable partners, especially on the supply side. Material and machinery suppliers are key for PTE, and we have even bought shares in an engineering company that provides us with some exclusive technology.
"In the long-run, I expect that there will come a time when the heavy investing of today will cease, as interest rates get higher, so we need to be prepared for that, too. Ideally, we should keep our equity capital at about 50 per cent and not spend too heavily. We have to go with the market and grow accordingly, both organically and through partnerships. We are positioning ourselves well in Asia, which will be our number one market in the future, but in all cases, we have to follow our customers wherever they go, and give them what they need," Wolfgang concludes.
Polymer-Technik Elbe
Products: Rubber compounds