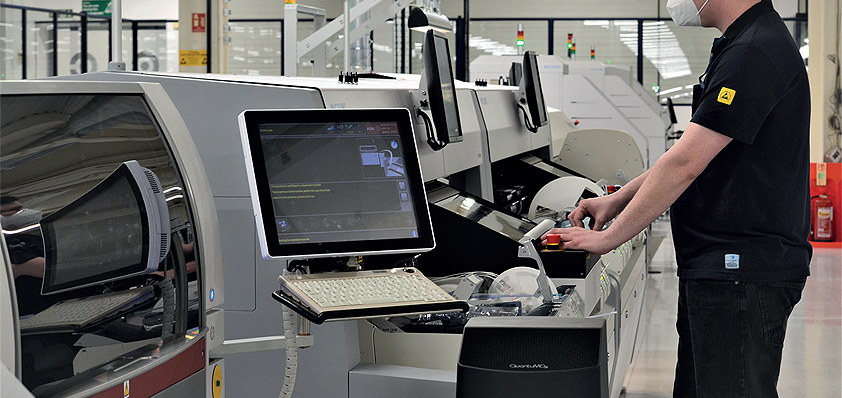 Hope for a healthier future
Dedicated to making transformative medical diagnostic technologies available to all, QuantuMDx is helping to accelerate the detection and treatment of diseases, and the eradication of transmission
Fighting for the democratization of healthcare since 2008, QuantuMDx is a life sciences company developing and delivering the future of medical diagnostics. The award-winning firm's journey began in a makeshift garage laboratory before the ground-breaking potential of its technology attracted investment from South Africa, seeing the fledgling business transported to Cape Town. After two years in the Rainbow Nation, QuantuMDx returned to the UK, landing in Newcastle, where then company Chairman, Professor Sir John Burn, offered the firm laboratory and office space.
Boosted by grants from the EU and the UK Government, QuantuMDx has established itself over the years as a leading developer of a range of medical diagnostic technologies designed for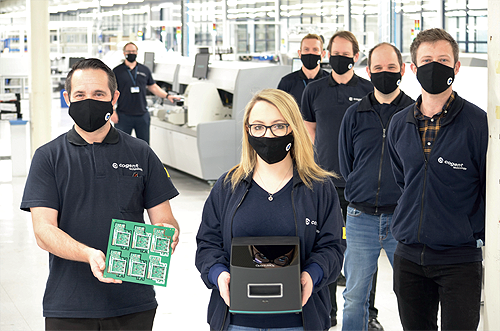 clinics, pharmacies, hospitals and laboratories around the world. Understandably, the company's work has increased significantly over the past 12 months due to the Covid-19 pandemic. CEO Jonathan O'Halloran explains more: "At the beginning of the pandemic, we were a few months away from getting a CE mark on our Q-POC™, which is our portable, battery-operated, molecular diagnostic PCR device that can provide results in approximately 30 minutes," he says. "We decided quickly that we were going to focus the entire company on developing SARS-CoV-2 tests on the Q-POC™ for laboratories, and managed to win a grant that allowed us to go and start, and luckily now finish, a programme of accelerated scale-up of manufacturing for that."
The result of QuantuMDx's increase in production for the Q-POC™ meant that the device was delivered – and has received positive preliminary evaluation data from the NHS – within half the time that the process would usually be expected to take. As Vice President of Manufacturing Andy Whittle reports, the operation was highly complex.
"Whereas we had planned for the Q-POC™ consumable to be made in tens of thousands or hundreds of thousands, the pandemic moved the goalposts and production shifted from the thousands to the millions," he reveals. "In order to facilitate this increase, we took our existing product at the time, stripped back the design, and identified what we could remove in order to immediately address the SARS-COV-2 test demand. We organized our internal and external teams quickly, went through design for manufacture, and found ways to make it more cost-effective, but also quickly scalable. Normally, you would like to have a product handed over from development to manufacturing, but the reality in the medical device sector is that you have to scale manufacturing while you are still developing, therefore you need both flexibility within the manufacturing process and established partners that can adapt."
With the help of the Cambridge Design Partnership and RD Support, QuantuMDx embarked on the finalization of its developmental design, whilst establishing the reagents for SARS-COV-2. Regarded as a reliable way to empower health workers, the Q-POC™ benefits from swappable lyophilised reagent fuses, meaning a product testing for SARS-COV-2 can quickly be adapted to test for a range of diseases such as flu or HPV on the same platform. QuantuMDx technology also enables the Q-POC™ with long storage and shelf-life, as well as removing cold chain shipping and handling complexities. Working closely with a host of manufacturers from Denmark to Singapore, the company is now on track to complete the Q-POC™ project in ten months – compared to the industry standard 16-20-month delivery time.
"Working with our partners in Copenhagen for our pilot line and Univac Precision Engineering in Singapore for our high-volume consumable line, we've been able to really expedite the process," Andy remarks. "The high-volume line we have established in Singapore has the potential to produce two million units per annum and every piece of production equipment, excluding injection molding machines, is unique and specifically designed for our application. Univac are currently conducting complex validation activities, on track to complete Q1'21. We can then begin manufacturing the cassette, for which we will carefully manage the supply chain."
Scaling up the production of its flagship product to mass manufacture over the last year has not come for free and in December 2020, QuantuMDx announced an £11 million investment into its production capabilities. Along with the improved competences the investment has afforded Univac, the funding has also helped QuantuMDx secure more manufacturing space and a new surface mount assembly line specifically for QuantuMDx in the UK. The company's UK manufacturing partner, Cogent Technology, operates an 80,000-square foot facility in Felixstowe and its site also includes a state-of-the-art Automated Optical Inspection machine – the only one available in the UK.
"We have scaled up with Cogent and put in a dedicated PCBa manufacturing line, in addition to a scalable dedicated Q-POC™ instrument build cell," Andy states. "It means that we now have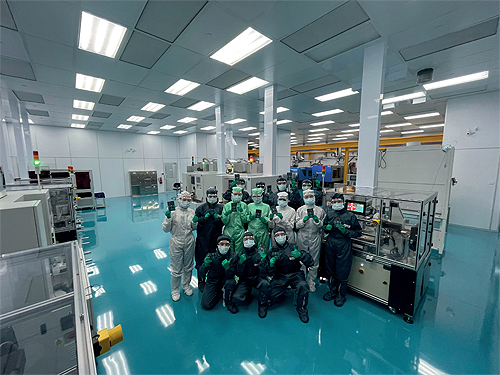 significant Q-POC™ instrument build capabilities in the UK."
In early February 2021, QuantuMDx completed work on a research-use only Covid-19 test product for the Q-POC™. During March, Univac is set to perform process qualifications for the company's consumable cassettes for SARS-CoV-2. Following clinical performance and utility studies, QuantuMDx is targeting to have a CE-IVD marked Q-POC™ system, from both a cassette and instrument perspective, by the summer. A true one-stop-shop medical diagnostic technology that can be used in the battle against current, and future, health crises.
"The next step will be to increase the number of tests we are doing," adds Jonathan. "We are currently looking at a pipeline of tests that are appropriate for use at the point of care. What I mean by that is the running of lab-quality tests while the patient waits.
"Over time, we will be including respiratory panels, sexually-transmitted disease panels, hospital acquired infection panels, and really building out a menu to increase the utility of the device. With that expanded menu upcoming, we will obviously have to increase our manufacturing capacity and that's when we get into the real fast-paced scaling of the business. As we move forward, we will continue trying to feed the demand for our tests while accelerating the speed of the scale of manufacture – that's a key balance we have to strike."
As one of a small minority of PCR-based companies with devices that can sit at the true point of care, QuantuMDx is well-positioned to become a global force in medical diagnostics well beyond the Covid-19 pandemic. Quicker, more portable, and more accurate than almost all market alternatives, Q-POC™, and the expertise of the company behind it, will be a long-term differentiator for the business.
"As I say, over the next five years, we will be building up menus to attract a lot of different markets, not just respiratory panels and sexually transmitted diseases, but we are also evaluating veterinary testing for pets. We'll then be looking at supporting pharmaceutical companies," Jonathan notes. "Pharmaceutical companies are developing drugs at breakneck speed at the moment, but a lot of them are working on a subset of the population depending on their genetics. Consequently, before they prescribe the drugs, they have to run a companion diagnostic test to ensure patients receive the right drug. We certainly see huge value in running that test quickly while the patient waits, and we can provide that technology."
Looking deeper into the decade ahead, QuantuMDx aims to start working with pharmacies, to provide more community-based testing for patients. Jonathan believes that a move from large central laboratories to smaller, more-localized labs is the next big step in the evolution of healthcare as people take more control of their own health.
"In the future, our devices will link up to apps on smartphones so patients can start monitoring certain markers daily or weekly because what matters is not, 'What does my SARS-CoV-2 status look like on any given day?', but 'What does the trend data look like, because I could catch SARS-CoV-2 at any time.' For example, if you are looking at a metabolic marker or a hormone marker, you want to understand how that changes over time, so therefore, by developing a device like this, you really are starting to give people the ability to manage their own health, not just with the sensors on an iWatch or an iPhone, but with top-quality pathology test results.
"For the first time ever," Jonathan asserts, "you will have the ability to know yourself inside-out in a way that previously could not be imagined. When you start getting that sort of data at a population scale, you can start running machine learning on that data set and start to understand human disease like never before. That is what really excites me about the next five to ten years."
QuantuMDx Group
Products: Medical diagnostic technologies
www.quantumdx.com