Close to customers
It has now been almost a decade since Quintus Technologies introduced fundamental changes to its operation, resulting in strong growth across multiple high-profile sectors
What Quintus Technologies was before 2012 and after that year, are two different beasts. At the time CEO Jan Söderström joined the business, Quintus was operating on a project-by-project basis, creating tailor-made equipment for each individual customer it had. Since 2012, however, the provider of high-pressure sheet metal forming presses and hot and cold isostatic presses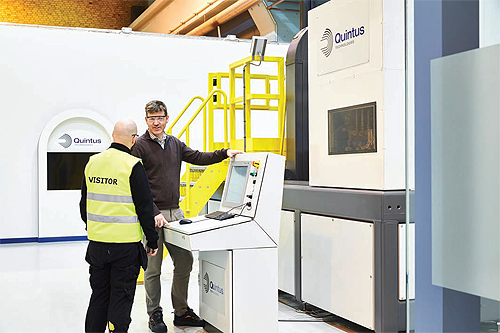 for densification of advanced materials has triggered several key changes to the way it functioned. By doing this, Quintus successfully grew in a number of global markets, also posting a 20 per cent year-on-year increase in turnover over the last five years.
"We focused on three main areas that we wanted to evolve," begins Jan. "First of all, as we export 99 per cent of our products, we took the decision to set up sales and marketing offices in the locations where we sell our machines. As a result, we now have organisations in the UK, Germany, France, United States, China, and Japan as well as additional representation by distributors and agents on selected markets.
"In parallel, we also began to standardise our equipment. Instead of offering tailor-made products, we broke our machines down into 11 submodules, which has enabled us to standardise the components. Consequently, we reduced our delivery time by some 50 per cent and got our costs down, as well," Jan adds.
The third business aspect Quintus concentrated on, was the development of an efficient aftersales service. In 2016, the company launched a five-year support programme called Quintus Care, in which it takes responsibility for the operation of each machine it has installed at its customers' premises. "Not only do we provide maintenance, but we also educate our clients on technology developments and how to increase productivity and quality at reduced cost. Equally important is our effort to secure our partners' future business volumes by sharing the latest in how modern HIP technology can be applied to new products, materials and processes. We have had tremendous success with Quintus Care and we are incredibly proud of how it has strengthened our offering," Jan enthuses.
As it aspires to be its customers' global partner for advanced manufacturing applications, it is no surprise that Quintus is at present heavily exploring the ways in which it can make the most of the rise of 3D printing. Jan comments: "In fact, we have got two hot isostatic presses called QIH 48 and QIH 60 that are in high demand at the moment, because they are perfect for 3D printing activities. The last couple of years have seen us sign several contracts with 3D printing companies – mainly in the medical and aerospace sectors – who we are helping to optimise the whole process and get the right material properties of their components."
Together with the aerospace and medical industries, Quintus also serves the automotive, oil and gas, and energy sectors. Understandably, each of these has its specific requirements and for the company to be able to address them effectively, it had to completely change its approach in the past few years.
"We used to be a machine builder and were mainly recruiting engineers who we were able to design and build our equipment," Jan discusses. "What we have been doing since 2013, is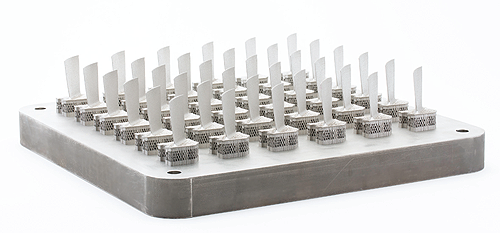 recruiting senior professionals coming from the industries we are supplying our products to. They are experts not in building the machines, but in their application, which has entirely transformed our selling process. We can now fully understand our customers' needs and, instead of simply giving them a quotation when they come to us, we sit down with them, we discuss their challenge, and create a business case together. To maintain the level of expertise we are operating three Application Centres where we are conducting application development together with Customers, Institutes and Universities. It is a different model of operation, so, to make it work, we need real experts in the application of every machine we make."
In Jan's opinion, the medical and aerospace sectors will continue to grow in demand over the coming years. He also mentions that, while it represents only 30 per cent of Quintus' isostatic press business, the company also makes equipment for sheet metal forming that is being supplied mainly to the aerospace industry. "We are pleased with its continuous growth. The volume of new-build planes increases every year, which is a good sign for the future development of this side of the business," Jan points out.
Speaking of the company's ambitions for the years to come, he outlines Quintus' desire to deepen the relationships it has already formed with its clients. "A lot of companies, both in Europe and the US, are now aiming to establish themselves as fully-fledged service providers and we want to help them achieve that by teaching them how most effectively to use our machines. This is part of our Quintus Care programme and we will remain fully committed to offering our customers detailed application knowledge for them to become more efficient in their work.
"In the long-term, we can definitely see a considerable growth in 3D printing, so we have to be ready to meet the demands of the market. Our latest technology is High Pressure Heat Treatment which combines the HIPing and the Heat Treatment in the same cycle. What gives us confidence that we will succeed, is our belief that we have the best people in the company who exemplify our applications-based approach and who know how to support our customers. Last but not least, we stay on top of the ongoing digital developments, making use of AI and the smart factory concept, in combination with 3D printing, which emphasises our willingness to always learn and adopt the best modern practices, so that we stay relevant in the marketplace," Jan wraps up.
Quintus Technologies
Products: High-pressure sheet metal forming presses and hot and cold isostatic presses for densification of advanced materials