The concept of quality
As a subsidiary of R STAHL in Germany, R STAHL's Indian operation is helping the global organisation to achieve unprecedented levels of growth
Soon to be celebrating 140 years in operation, German-based R STAHL has more than 80 years of experience in the explosion protection technology industry and a global footprint. With a name synonymous with explosion protection expertise, the company operates under ISO 9001:2008 certification for the QMS, ATEX and IEC Ex approvals for all of its manufacturing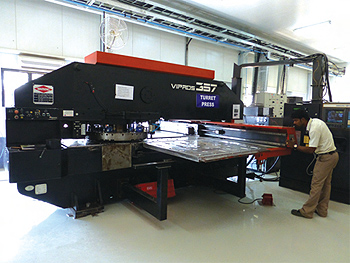 facilities; here, the company manufactures worldclass components for gas and dust explosive environments, with products including light fittings, junction boxes, control panels and signaling precuts as well as system solutions.
Established in 2000, R STAHL's Indian arm, R STAHL (P) Ltd, is backed by the comprehensive support of its parent company and has become a centre of manufacturing excellence. It is here that the company mainly caters to the market needs of the EMEA countries, in addition to Asia and a small part of the Americas, mainly through other subsidiaries and distributors or R STAHL. Alongside these operations, the company serves industries in India, such as pharmaceutical, oil and gas, fertilisers and chemicals, offshore and marine and OEMs.
"R STAHL (P) Ltd is a renowned manufacturer and supplier of explosion proof equipment; our plant is ATEX, IECEx approved and we are committed to manufacture and sell quality products with the ever evolving German technology, not only to the Indian clientele but worldwide. Our products are manufactured using state-of-the-art CNC machines under the supervision of trained experts, thus a high degree of product quality and reliability, backed up with prompt aftersales service, is assured," says Joerg Fitzek, Managing Director of R STAHL in India.
He continues: "Moreover, our in-house skilled R&D team continuously works to create efficiently designed new products, along with new, improved versions of some of the existing products. With a manpower of approximately 350, in the Indian operations, our company is the main manufacturing hub for Asia, where we have all mandatory Indian and international certifications and approvals that underline our competence and qualify our products and systems for installation worldwide."
Since previously being featured in Manufacturing Today Europe in April 2016, R STAHL has invested a huge amount of money in its cutting edge manufacturing facility and has witnessed a vast increase in demand for explosion proof equipment, particularly lighting and switchgear products. Having kept watch on market developments, the company has also made the strategic decision to focus more on the pharmaceutical and chemical industry sectors, which have promising and high growth rates in Asia. "For the pharmaceutical industry, R STAHL has a portfolio of products, ranging from automation products such as HMIs and CCTV camera systems, remote I/O, fieldbus to signaling products like audible, visual and combination annunciation, lighting for both clean room and non-clean room requirements, switchgear like plug and sockets, and enclosures in stainless steel and GRP; control stations and equipment," comments Joerg.
He adds: "We all know that worldwide, there is a huge growth that is projected in the chemical sector. However, we must all agree to the fact that there is a lack of awareness about the potential dust hazards and, so, we decided to take the lead here and create an awareness amongst end users about the need to install certified dust-proof equipment where there are potential dust hazards. Since most of R STAHL's products are dual certified for hazardous gas as well as dust, there will be a major thrust in the market and special efforts put in to increase customer awareness about the necessity of installing certified dust-proof equipment in the hazardous dust classified area."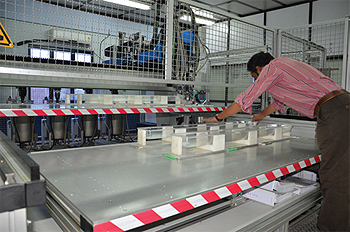 With R STAHL increasing its turnover from 16 million euros to 21 million euros over the last two years, it is anticipated that the company will reach 25 million euros by 2017 thanks to additions to its product portfolio, redesigns of existing products, phasing out some old designs and networking on a global scale. "Executing a strategy of proactive marketing, adopting modern digital marketing techniques, networking between sales and marketing teams globally, better quality promotional material, strong marketing communication and brand promotion using the digital platform, and accepting customer's valid suggestions while designing products are some of the impacting factors for growth," says Joerg. "Further, the concept of manufacturing within the country and supplying to customers R STAHL equipment of the same international quality, results in shorter lead times, reasonable pricing, the ability to approach customers with holistic solutions; focusing on project requirements and working with consultants closely are also among the many reasons behind the growth in sales."
Also aiding in the company's future growth is its strategic investment in long-standing South African sales partners ESACO Pty Ltd, which will lead to development of the African market, particularly the sub-Saharan region. "Through the investment, the market development in the region, in areas such as Angola, Mozambique, Namibia or Nigeria, will be particularly intensified. As such, R STAHL estimates that the sales increase that can be achieved in the market in the medium-term will be between 15 million euros and 20 million euros. With the proximity to African-end customers, continued success will be ensured," highlights Joerg.
Anticipating solid growth, both in terms of revenue as well as in the company's product portfolio, Joerg believes R STAHL (P) Ltd will continue its focus on the pharmaceutical and chemical sectors as well as marine and offshore. However, for dual certified products, the company will be seeking to grow in markets such as pharmaceutical and food. "The estimated sale by the end of 2020 is 50 million euros," he concludes.
R STAHL
Products: Manufacture explosion protection and electrical products