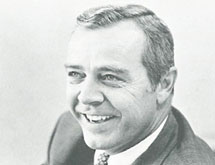 Out of the many things Philip Conklin believes in – his father's philosophy in creating a smarter supply chain and that entrepreneurship can happen at any age, for instance – American-made steel nears the top of that list. As a supplier of only 100 percent American-melted and manufactured in the United States steel, R.W. Conklin Steel – started by Philip's father, the late Rolland "Pete" William Conklin Jr. in 1983 – was founded on and lives by the idea that a strong steel industry is a necessary component to national stability and that American-made steel is the best-quality steel in the world.
"One reason we stay domestic is because we believe in the integrity of the U.S. domestic mills and their technologies and in monitoring quality control," explains Philip Conklin, second-generation owner, president and CEO. "We hear horror stories of companies importing foreign steel and finding it to be an inferior product, so we want to stick with the United States.
"From a policy standpoint, the United States needs a strong manufacturing-based steel industry," he adds. "History affords us the introspection of why we need to maintain such. It was iron and steel that formed the backbone of our nation. [It began] with our first established colonies and their resourcefulness in learning the manufacturing of iron for simple farm implements, iron skillets, stoves and other iron goods, such as muskets, cannons and cannonballs that enabled us to establish and defend our independence as we originated as a nation.
"It was later with the Homestead Act that U.S.-produced barbed wire allowed the ranchers to tame the West. Through our belief of Manifest Destiny, it was American iron and steel with the national fortitude of the American worker paving the way for a great America," Conklin notes. "If we relied on everyone to provide us our steel for shipbuilding or domestic vehicles or aircraft carriers, you'd lose your ability to preserve our rights here as Americans. I think it's very important and it's been great because the U.S. steel industry as a whole is the top in the world as far as quality and the ability to provide a low-cost, high-quality steel product. That consistency and having the highest quality is so important, even to foreign entities that operate in the United States, such as car manufacturers who rely on our steel products."
Filling a Hole
To be the reliable supplier meeting those demands, R.W. Conklin Steel buys from mini-mills, stocks inventory and ships directly to customers. R.W. "Pete" Conklin previously worked for integrated steel producer U.S. Steel; however, when competitive mini-mills began springing up, it caused U.S. Steel to close all of its structural steel mills, leaving some customers in the lurch. Conklin decided that with his knowledge of the industry, he could effectively transition into his own startup serving his customers at U.S. Steel.
At the time, "one of my father's clients asked, 'Where will we get our steel from now?' and my father replied, 'Me,'" Conklin explains. "The mills did sell direct to customers, but they couldn't be efficient at it. Instead, they worked with people who could organize the supply. It was a matter of getting bids out to the customers and getting them out consistently, understanding the market and pricing, stocking the right inventory and anticipating the needs of customers such as the specifications and lengths that might be required and then shipping it and making sure it arrives when the customer needs it. That's what we call threading the needle, and I don't think there's another company that does a better job at the threading the needle than us."
In 1983, H-pile structural steel was Conklin Steel's sole product. It since has added other structural steel products such as wide flange beams, standard beams and sheet piling by sourcing from three major mills: Steel Dynamics Inc., Nucor Corp. and Gerdau Steel/Long Products North America. It also stocks pipe mill products from domestic manufacturers such as Independence Tube and Atlas Tube. R.W. Conklin is the link between these steel mills and end-customers in the construction and other industries. The mills focus on making the product, while R.W. Conklin Steel focuses on being the strategic supplier that customers can depend on.
"My dad believed in creating a smarter supply chain," Conklin explains. "It involves anticipating the customer's needs and being in touch with the customers and designers in the construction industry to provide information during the design phase and provide preliminary costs.
"We pride ourselves on the same principles my father laid out – getting information that customers request, making sure they get their domestic steel delivered to the site when they need it and if they run into issues, being as flexible with the customer as possible," Conklin continues. "When you meet those needs and exceed customer expectations, that creates repeat steel business."
The company's dedication to creating a "smarter supply chain" or "threading the needle" has led to strong trust among customers. All of its products adhere to the Buy American clause and has provided the foundation and structure for private and public buildings and infrastructure projects throughout the country. Contractors have called on R.W. Conklin Steel for high-profile projects such as the new Yankee Stadium and Thomas Jefferson Hall at West Point. It also serves OEMs, resellers, fabricators and service centers.
New Ventures
Today, R.W. Conklin is parlaying its trusted name and core competencies and expanding into new but related industries to form a group of companies called ConklIntegrated. "I am leading the company to be a diversified group of companies," Conklin says. "Each company will be able to stand on its own two feet and provide both quality products and services to a number of industries. Much of it will be involved in supporting American infrastructure with manufacturing and services."
Conklin, who says that he is always working on new ideas, has already developed sister companies for internal benefit such as ConklInvestment Trading and an intellectual property arm, ConklIntellectual. Now, the company has launched Conklin Intermodal – a for-hire trucking company and will continue to launch more than 20 companies that will serve various industries.
Each company is in different stages of development, with Conklin Intermodal leading the way – it became operational July 1, 2012. The for-hire trucking firm has the ability to haul flatbed freight and intermodal freight on trucks that meet the toughest U.S. environmental standards.
"Conklin Intermodal is our for-hire trucking company and it has sparked another company for us – Total Flatbed Logistics," Conklin says. "Total Flatbed Logistics will be a brokering agent for handling flatbed transportation for various commodities, including intermodal transportation. Having the two companies gives us the ability to marry freight with the how or methods of transport. It seems fitting because so much of my work has been in logistics – sending materials where and when the customer needs it, being close to the customer's markets and to the materials and figuring out different ways to get this product out."
In fact, all of the new companies being created under ConklIntegrated share this same trait of having synergies with Conklin Steel. For instance, the company already stocks sheet piling, which is used by the construction industry on a purchase and rental basis. Conklin Steel will continue to sell sheet piling while ASPAR will be a rental arm for the same product. For Remesh USA, this fabrication company will be able to leverage the line of rebar available at Conklin Steel and also provide the mesh that often goes along with it for the construction of buildings.
"R.W. Conklin Steel is our main operating entity," Conklin says. "But ConklIntegrated is our foray and our beginning into manufacturing and a new start for us. We are really laying the groundwork with doing testing with Conklin Intermodal and setting up as an intermodal transportation trucking company."
Though these will be new companies, Conklin affirms that they are backed by a nearly 30-year history that values industry knowledge, quality U.S.-made products and customer dedication that is lived out by each Conklin employee.
"It seems like just yesterday when we had our 25th anniversary and now we're on the cusp of our 30th," Conklin says. "Five years have passed and the whole economy has shrunk, but I can proudly say that myself, my staff and new hires have contributed to our business growth. We have added employees, and that's something to be especially proud of in this environment with no reduced wages.
"It's all about reciprocity in this business, both internally with employees and externally with vendors and customers," he continues. "We seek to strengthen relationships with suppliers and customers moving forward because it all leads to prosperity, and everyone wants prosperity."