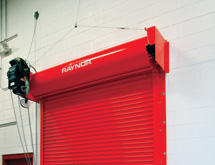 The garage door is one of the most prominent parts of a home's exterior, even if it's not necessarily the first feature that comes to mind for most homeowners. Although most people are mainly concerned with whether their garage door opens or closes, a poorly constructed or unattractive door could be a big problem when it comes to a home's overall appearance or resistance to the elements.
Since 1944, Raynor Garage Doors has crafted both residential and commercial garage doors with long-term dependability, function and aesthetics in mind. The Dixon, Ill.-based manufacturer produces several lines of residential garage doors including its Distinction Series of custom wood or aluminum doors, the Innovations Series of steel polyurethane doors, the Traditions Series of steel polystyrene doors and the Advantage Series of steel pan garage doors. The company's commercial product lines include sectional doors, rolling steel doors and fire doors.
Raynor Garage Doors also offers wind load systems on its doors that are engineered to withstand high and hurricane-level winds. The company manufactures all operating devices for its residential and commercial products.
"We are typically seen as one of the higher-end manufacturers in the industry," Director of Marketing Pete Elsenbach says. "We take great pride in manufacturing a robust and durable product and typically stay away from the commoditized lower-end part of the marketplace. This is not to say we don't place any products there at all, but we prefer to make products that serve our customers for longer periods of time."
In addition to its standard product lines, Raynor Garage Doors prides itself on the ability to perform both residential retrofits and specially designed commercial products. "We are inherently better than many of our competitors at making one-off products and are very good at making doors to order," Elsenbach adds. "If someone has a unique application we are very adept at making sure that can happen. We don't turn down doors that are challenging, and our engineering and manufacturing group enjoys the process of making them."
A World of Color
The company's ability to customize garage doors was recently enhanced with the introduction of its Opticolor™ factory paint program. This offers more than 1,800 color options on two of Raynor's residential product lines, with plans to expand it to the rest of its lines.
"There's a number of choices for siding colors and entry doors on the market, but our garage doors typically have only six standard colors," Elsenbach says. "We looked at our processes and asked ourselves if there was a way we could provide a wider color palette in our factory post-painting process."
The Opticolor process features the use of Sherwin Williams BP enamel paint, which is applied as a third layer of paint to pre-painted and galvanized steel. The paint used in the process is covered under warranty, supplementing the standard warranty Raynor Garage Doors provides.
Customers can pick their colors at a dealer, who Raynor provides with a merchandise display featuring color fans and small samples of actual garage doors. Several dealers are going one step further in promoting the program by displaying full-sized garage doors with several different color samples at trade shows.
"The Opticolor program has become quite a success for us so far," Elsenbach says. "This program gives us something more visually eye-catching and stimulating than what others are able to offer."
'The Extra Mile'
Raynor Garage Doors manufactures its products from a six-building campus in Dixon that serves a network of 800 dealers both in the United States and internationally. The company maintains its own fleet of trucks to transport products to dealers.
The dedicated fleet gives it the ability to be responsive to dealers' needs. The company believes in working with dealers to ensure their needs are met, and provides engineering and other assistance to help them perform any kind of installation.
"We try to go the extra mile from a service perspective to make sure the dealer is happy," Elsenbach says. "We are very loyal to our dealers and will do almost anything to support them and make sure they have everything they need to be successful selling our product."
Raynor Garage Doors' dedication to customer service has earned it recognition in Professional Door Dealer magazine's "Best of Business" dealers' choice poll for the last three years. The company was recognized for having the best customer service among garage door manufacturers nationwide, and also ranked among the top-five companies in several other categories including residential doors and operators, vinyl door products, best website and commercial doors. Dealers and other industry professionals were invited to vote online in multiple categories, picking their top three company choices in each.
American Made
Raynor Garage Doors' dealers and employees are both offered a variety of training programs through the company's "Raynor Academy." The "academy" provides weeklong training courses in product knowledge and hands-on installation. In addition, attendees are taken on tours through Raynor's six plants, viewing all manufacturing lines.
Typical manufacturing functions include processing, stamping,  roll forming steel coil and door section assembly, which for some lines includes welding and riveting. After assembly, sections are packaged and transported onto Raynor's fleet of trucks for delivery to customers.
In addition to producing both insulated and non-insulated garage doors on dedicated lines, the company also manufactures many of the components used in its products including hinges and springs.
"We do source some of our components, but by and large we are as much of a made-in-America manufacturer as you are likely to find in this industry," Elsenbach says. "We're very committed to making as much of our products as we can domestically and keeping our workforce employed."