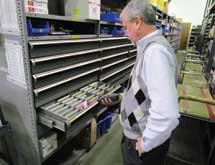 Replenex' level of service to customers goes beyond supplying in­dustrial products to helping clients improve their bottom line. The company has evolved from its origins as an Army surplus wholesaler in 1946 to offering more specialized products and extensive supply chain management services. Products distributed by the company include abrasives, coolants, cutting tools, safety and MRO supplies.
Replenex's supply chain management offerings include a JIT/ Kanban© barcode scanning software system initially developed and copyrighted in the early 1990s. "This al­lowed us to increase the services we were providing to the customers," President Matt Cohen says. "Our JIT/Kanban system enabled our customers to efficiently order the right product at the right place and the right time by the scan of a barcode."
The Right Tools
Today, the JIT/Kanban software is one of the four main ways Replenex helps customers with their supply chain. It also has a tool crib software system, custom web-based inventory management programs and automatic dispensing and vending machines.
The company's tool crib software incorporates planning, inventory control, purchasing and usage management functions in one interface. The software can manage thousands of inventory items using flexible tracking, item identification, searches and reports, the company says.
Replenex's vending machine offerings provide users with accessibility, storage and control over their inventory. The company helps customers best utilize their resources through these and other tools, Cohen says.
"We're always looking at ways to drive our customers' profitability and make them more efficient, effective and productive," he adds. "The information we end up collecting from our customers through these tools truly is business intelligence, and we analyze it in such a way that allows the customers to make business decisions, rather than just a data dump."
Replenex's supply chain capabilities were apparent when it participated recently in a kaizan activity with a customer that involved value stream mapping. "We mapped the flow of product today from Replenex to the customer's point of use, and in that same exercise, mapped the future state of what the product flow will be from Replenex and all suppliers of indirect materials to point-of-use-cells," Cohen says. "We were able to take our software and customize it for the customer's desired future state of its supply chain."
Technical Know-how
Replenex prides itself on its staff, particularly its technical salespeople, who are regularly trained and certified by Replenex's vendors. The training helps them best represent the products they're offering and work with the customer on the best applications of the product, Cohen says.
"We really have an environment geared toward continuous improvement, even though we're not a manufacturer," he says. "We're always looking at a better way to serve the customer and help them do their jobs."
Replenex employees definitely maximized their technical training to drive continuous im­provement during Replenex's work in 2009 with United Gear and Assembly, a Hudson, Wis.-based manufacturer.
"United Gear was doing a lot of prototyping at the time because of the economy," Cohen says. "Our technical salesperson worked with the United Gear engineers and our core suppliers, so as the prototypes were being designed we were helping them decide what tools would help United Gear produce the part most effectively."
Rewarding Partnerships
In addition to training programs, Replenex works closely with vendors to improve its own supply chain, and often partners with other companies.
A joint effort with one prominent supplier recently earned the company the American Eagle Value-Added Partner Award from the Industrial Supply Association. Replenex worked with 3M to help Winnipeg-based bus manufacturer NFI standardize its practices. The award recognizes channel partners who work together to achieve cost savings or productivity improvements for customers.
As a premier service distributor for 3M, Replenex employs a 3M specialist in the applications of the manufacturing giant's products.
"This has been a very rewarding partnership," Cohen says. "Many of our customers appreciate the expertise [the specialist] can bring to them. We take a completely customized approach to each customer, and that approach is noted as a difference be­tween us and our competitors."