Richard Burbidge is steadily climbing towards future growth
Archwood Group comprises three trading brands: Atkinson and Kirby, Masons Timber, and Richard Burbidge. The latter is a fifth-generation family company that has been operating since 1867 and working with wood for its entire existence. Henry Burbidge was inspired by the textile industry to establish his own business in Coventry, which has gone on to serve automotive producers, provide wartime efforts, manufacture kitchen doors and furniture, and gradually worked its way into building stairs.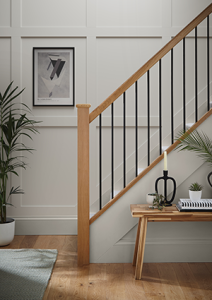 "I have been with Richard Burbidge for 17 years," opens Josh Burbidge, Managing Director of Archwood Group. "I joined as a National Account Manager and worked my way up through the business until 2011, when I took over Masons Timber as a consequence of an administration buy-out. I moved over to Nottingham to rebalance the company back into profitability, before taking a commercial role where I remained until I became Managing Director in 2020. Over the last two years, we had the obvious battle with the COVID-19 pandemic, but have successfully brought on enough new accounts to bring the overall group back into profit."
Today, Richard Burbidge is predominantly a home improvement and timber product supplier that sells its branded goods and moldings through B&Q, Homebase, and other members of the DIY retail sector. The business also serves the Repair, Maintain and Improve (RMI) market through trade merchants such as Travis Perkins and Jewsons, and regional suppliers such as Boys of Boden and CW Berry. In terms of stair parts and components, Richard Burbidge's offerings are available through Stair Box, Northern Joinery and Stair Craft.
Committed to carbon reduction
"With regards to our environmental responsibilities, the group is signed up to PFC and FSC," Josh continues. "So from a product supply perspective, almost 93 percent of our purchases come from certified sustainable sources of timber, meaning there are more trees planted than cut down in the harvesting of raw materials. Additionally, we have joined the United Nations Race to Zero campaign. This initiative will see us work to reduce our carbon emissions across all scopes of the business, with transparent action plans and targets set along the way.
"The immediate plan is to reduce the 15,500 tons that we emitted in 2020, by half, over the next 17 years, before working towards zero emissions by 2050. In doing so, we have firstly tackled our energy sources and usage, by investing £750,000 into 2600 solar panels across the roof of our Chirk HQ, which will cover between 30 and 40 percent of our energy requirements. The rest of our energy is sourced from renewable tariffs, and we have recently signed off capital expenditure to reprogram our extraction facility. This will decrease our draw for electricity by between £80,000 and £100,000 per annum. In time, we are planning to engage with our supply chain peers to ensure that they are also adopting appropriate carbon reduction plans."
People first
Alongside its sustainability activities, Archwood Group has just been awarded the 'We Invest in Wellbeing' gold accreditation by Investors in People, and recognized by the Credit Union of Wales for the way in which it has supported its employees during the cost-of-living crisis, as Josh details: "We believe there's more support that an employer can offer than simply paying people additional amounts of money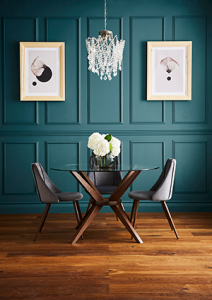 to help them through the difficulties caused be the energy crisis. We have brought in a number of different parties to advise our workforce on reducing energy and water usage, as well as the available credit facilities that can provide necessary aid to smooth out the lumps in their income. I'm very proud of the work that the team has done.
"As a family business, we have strong principles of looking after people," Josh explains. "It also means that we have more of a long-term outlook on operations and investments, rather than simply focusing on annual gains to distribute between a board of shareholders. We believe in sticking by our people for the foreseeable by investing in their futures, and giving them the opportunity to work in an environment that they are proud to tell their friends about. It's all about family first, so the culture very much allows for people to care for sick relatives, for instance, for a period of time that they can work back at a later date. That's an important part of the organization's ethos."
Looking ahead, Josh cites continued expansion as his main focus. The team has successfully established the foundations for future growth, with the aim of increasing revenue by medium to high single digits on an annual basis. "Once we're there," he concludes, "we can reinvest more into the organization to be able to help our customers further and sell products that provide not only greater profitability, but delight for the end consumer too."