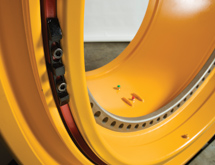 Drivers in the mining industry want to be certain that their wheels and rims are built to last and endure harsh conditions. RIMEX Supply Ltd. sets itself apart by supplying customized parts that last far beyond the lives of its competitors' products, co-owner Derek Weston says.
"That's one of our major strengths," he asserts. "[For] the harsh mining applications, we have a product that can last the life of a machine, whereas the standard products are being replaced yearly."
Based in Surrey, British Columbia, RIMEX manufactures wheels and rims for mining, forestry, agricultural and industrial applications. Weston's father, Chris Weston, founded the company in 1976.
"He started the company out of the back of his truck and grew from there," the younger Weston explains. Today, the company has 250 employees worldwide and serves many high-profile clients, including BHP Billiton, Rio Tinto, Hitachi Ltd. and Caterpillar.
Although 2013 was slow in the mining sector for RIMEX, 2014 should be busier, he predicts. "We're definitely seeing some confidence in the mining [industry]," he says.
Award-Winning Work
RIMEX has maintained a competitive edge by continually reinvesting in itself, Weston says. Recently, the company purchased a new plasma cutter and CNC boring mills. "In 2014, we'll be upgrading our CNC drill which will [boost] productivity," he adds.
The company has received recognitions for its manufacturing operations, including being nominated in the BC Export Awards. "We were nominated in the top-three British Columbia exports for manufactured product category," he says.
Getting Ready
The future for RIMEX, he notes, is hard to predict. "We don't plan to grow every year," he admits, but notes that the company is currently preparing for the next mining boom.
"Even though I'm not 100 percent confident we're going to be busy next year, I'm planning for growth," Weston says.
The company will manage this by adding more equipment and possibly add a new location in Surrey on land that RIMEX already owns. "Hopefully, [that] will start happening this year," Weston predicts.