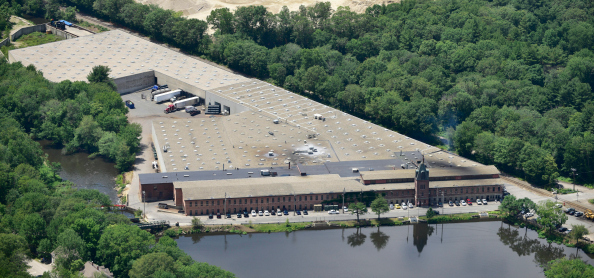 Riverdale Mills Corporation manufactures more than 3,500 configurations of welded wire mesh for the marine, aquaculture, security, and construction and farming industries.
"We invented Aquamesh®, the welded wire mesh used for building lobster traps, crab traps, aquaculture trays and other subsea applications," says CEO Jim Knott Jr., proudly noting that 80 percent of all lobster traps built in North America are made with Aquamesh.
"Today Riverdale Mills is equally known for its galvanized and PVC-coated wire mesh products for the high security and construction industries," Knott says. "Our WireWall® high-security fencing protects the employees at the U.S. Embassy in Panama, commuters at the L.A. and San Diego transit systems, the Port of San Francisco, and the service men and women at military bases in Virginia and California. WireWall is a virtually impenetrable, high security fencing material that is nearly impossible to climb or cut."
The Galvanizing Difference
The Aquamesh and WireWall product lines have distinguished Riverdale Mills from its worldwide competitors. "Our Galvanized After Welding (GAW) and PVC coating process is what ensures the durability and longevity of Aquamesh and WireWall," Knott says. "Those products have paved the way for the company's growth and significantly increased global demand. Riverdale recently experienced a 40 percent increase in sales for both product lines."
Galvanization provides a protective zinc coating that prevents corrosion. "If zinc is applied to wire strands before they are welded together, known as Galvanized Before Welding or GBW, the wire junctures lose their galvanized protection," Knott explains. "When zinc is applied after welding or GAW, the junctures are sealed and protected. Riverdale Mills only uses the GAW process to manufacture its Aquamesh branded welded wire mesh products. Riverdale also produces welded wire mesh from bright basic wire, GBW wire, stainless steel wire and other alloys."
Made in the USA
A commitment to producing superior products, anticipating industry trends and meeting customer demand is why Riverdale Mills continues to "grow, innovate and deliver products that consistently exceed expectations."
The company is also committed to providing and keeping jobs in America. All of Riverdale Mills welded wire mesh products are made at their sole manufacturing facility in Massachusetts. "We have a diverse workforce and 200 dedicated team members who keep Riverdale Mills operating 24/7," Knott explains. "In the past four years we have increased staff by nearly 100 percent and are now operating seven days a week."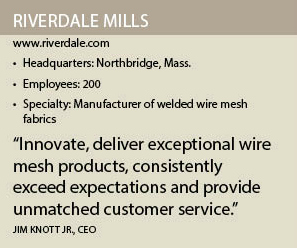 High Standards
Riverdale's manufacturing facility is in a completely renovated 1840s-era mill building that produced scythes in the mid-1800s and bayonets for the Union Army during the Civil War. The facility has expanded several times over the years. It is now 400,000-square-feet and houses multiple state-of-the-art welding and coating machines.
In addition, Riverdale exports more than 40 percent of its welded wire mesh products to a variety of industrial and consumer clients in South America, Central America, Canada, Mexico, Kenya, New Zealand and Europe. "Riverdale Mills' welding machines are some of the widest welding machines in the world, which allows the company to produce the broadest possible range of products for our customers and meet international design requirements and standards."
The company's in-house shearing and forming department can also accommodate a wide range of customer-specific demands. "Our six shearing machines, operated by highly-skilled technicians, precision cut to produce a variety of panel sizes or products," Knott says. "Panels can be formed to meet customer requirements."
Environmentally Responsible
Riverdale Mills is committed to ensuring its manufacturing processes never impede the integrity of the environment. The majority of Riverdale Mills' products are made from steel, the most recycled material in the world. "Almost 100 percent of the steel used in the manufacturing of our wire mesh products is recycled to significantly reduce waste."
The company also recycles its scrap metal, wood, plastic and paper to further reduce waste. Riverdale Mills also has a line of phthalate-free and plant-based PVC coating products. In addition, it uses water from the Blackstone River to generate hydroelectric power, and uses natural gas-fired diesel generators to generate additional electricity and reduce the company's carbon footprint.
Ultimately, a deliberate focus on invention, innovation, the development of leadership products and customer service has paid off.  Riverdale Mills was recently awarded the 2016 Global Trade Award from the Associated Industries of Massachusetts International Business Council. The award recognizes Massachusetts' companies that demonstrate excellence in international trade and set the standard for global business.
"For over 35 years, Riverdale Mills has produced technologically advanced and sustainable premium products in the U.S. for industries across the globe," Knott concludes. "We are proud to be recognized as a key contributor to the global economy."