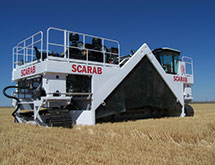 People often consider natural methods and materials to be best in agriculture, and Scarab International's products help municipalities, farmers, feedlots, dairies and others transform organic material into a valuable commodity used as a natural fertilizer.
Organic material can include food waste, manure, wood byproducts, yard trimmings – "anything organic produced by people, crops, cattle, chickens, hogs or restaurants," Sales Manager Jim Greer explains. "There are companies that make compost to bag and sell to the general public or to farmers. A lot of big farm operations will compost and put it back into their land."
Scarab's compost turners travel over rows of compost called windrows and use a drum that is pulled under the compost to turn it. That creates the aeration that is necessary for compost to be naturally converted to fertilizer.
The compost turners are available in widths at their bases from 8 feet to 27 feet and can process from one or two acres of compost up to hundreds of acres. They are self-propelled by two front-drive wheels or all-terrain tracks similar to those used on construction equipment. A Murphy Power Vision screen in the cab provides all the information an operator needs including a back-up camera, and joysticks, toggle switches and buttons on each side of the screen control the operation of the machine.
In-house Manufacturing
Other than specialized components, "We basically build every one of those machines from scratch," Greer declares. Scarab's manual welders build the frame from tube and sheet steel. Its CNC plasma machines cut up to 3-inch-thick steel, which is the only automated portion of the operation.
The frame and track assemblies are sandblasted and painted, and then components such as drive motors, pumps and filters are attached to them. Hoses are run throughout the machine, the engine is mounted and the cab is installed. A manual lathe is used to machine small components.
"We manufacture the cab ourselves," Greer notes. "We install all the glass in the panoramic cabs and do all the interior work. We soundproof it, we insulate the cab and then we do that for each machine and each cab. Inside, they have a stereo, air conditioner and heater."
Getting Wired
Over the years, Scarab Manufacturing has outsourced some of its subassemblies. "We used to make every wire harness by hand," Greer recalls. "There was a guy and that was all he did – work on cabs and wire harnesses – and it was just incredible. It was a very labor-intensive process doing every single wire harness by hand." Now Scarab's control panel supplier, Murphy Instrumentation, supplies all of its wire harnesses.
"We used to assemble our power plants all by hand," Greer remembers. "We would just buy the engine from the manufacturer and the radiator from the radiator company, build a platform and put it all together. Now we're having the engine manufacturer build us the power plant. Once it comes into our shop, we pick up the power plant, stick it on top of the machine and connect the harnesses. We try to cut out as many labor-intensive things about our machines as we can. We can't replace the welding, but as for some of the components, we can help with a lot of that."
Greer estimates that by having wire harnesses and power plants assembled by suppliers, Scarab is saving at least 25 to 30 percent of the labor it used to expend on each machine. He calculates the engineering costs of designing the subassemblies will be paid back with savings from the first five machines Scarab manufactures.
Besides cost savings, another motivator for using subassemblies is the difficulty of finding and keeping employees. "The labor market is so unreliable," Greer laments. Scarab competes against the wages paid by the energy industry in its area.
Turn, Turn, Turn
Marvin Urbanczyk has designed all of the machines since he founded the company in the early 1970s at the request of a local feedlot that needed to manage its manure and animal bedding. Growing up on a small farm, Urbanczyk had obtained a college degree, started his own farm and had worked with large equipment his entire life. In 2006, the U.S. Composting Council awarded Urbanczyk the Hi Kellogg Award, which recognizes individuals who have left a lasting, positive impact on the U.S. composting industry.
Scarab's compost turners are distributed worldwide. The drums that travel under the windrows of compost are belt-driven, which the company says delivers 50 percent more horsepower to the drum than hydraulic models. That makes for lower fuel consumption and faster operation. The company says these savings can pay for a larger compost turner in fewer than 10 years.
The company is continually improving its machines, which are designed for easy operation. With a continual focus on quality and service, Scarab International is poised to last as long as the Egyptian civilization that considered its namesake – a beetle that rolls compost into balls – to symbolize fertility and immortality.