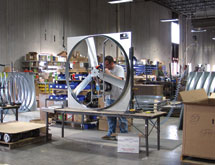 The worst of the economic downturn seems to be over, but even so, most U.S. manufacturers are cautiously optimistic going forward. Schaefer Ventilation LLC, however, grew by 30 percent in 2012, even though its primary market – dairy – had several challenges. This is on top of 36 percent growth in 2010 and 48 percent growth in 2011. An acquisition and several successful growth initiatives boosted Schaefer's business last year, enabling it to continue on a path of prosperity that was established a couple of years ago.
"It was a horrific year for many companies, and 2009 was definitely tough for us," President Neil Crocker stresses. "But we survived 2009, and since then we've been able to triple in size. Now we are growing rapidly and profitably."
Based in Sauk Rapids, Minn., Schaefer Ventilation designs, manufactures and distributes thermal comfort products for agricultural, horticultural, industrial, commercial and rental applications. Founded in 1951, the company has 80,000 square feet of space where it designs and assembles its products, as well as performs some metal forming. Its products include confined space ventilators, dairy cooling systems, circulation fans, exhaust fans, misting systems, infrared radiant heaters and portable evaporative coolers.
"We're historically known for serving the dairy market, but we're working hard to increase our presence in the industrial and commercial markets," Crocker says. "Right now we're focused on recruiting and training distributors to better serve industrial clients."
The Value Proposition
Much of Schaefer's ability to focus on the industrial market is due to its acquisition of Americ Corp. in April 2012. Americ is known for its line of confined-space ventilation fans and accessories to the industrial and equipment rental markets in the United States and overseas. Schaefer merged Americ's fan assembly operations with its own in Sauk Rapids last summer.
"Americ fans are known the world over for quality and reliability," Crocker says. "We are very pleased to add this made-in-America product line to the existing Schaefer product line. The Americ fan line allows us to serve markets that have previously been beyond our reach and to accelerate Schaefer's international expansion."
He notes that fans are commodities to some extent, but all of Schaefer's brands are focused on delivering the highest level of value, defined as high air movement, high efficiency and long life at a reasonable price. Additionally, keeping its products made in America is very important to the company.
"Delivering the value proposition is critical for us – for all of our brands," Crocker says. "We really focus on quality and made in America, compared to those that outsource their manufacturing to China and sell less-than-high quality fans that have to be replaced frequently."
Schaefer recently introduced an extensive line of stainless steel and washdown-duty air circulators, as well as the WayCool® portable evaporative coolers that have a patented oscillating feature. Crocker explains these are "incredibly useful and cost effective for cooling manufacturing facilities that aren't equipped with compressed-gas air conditioning."
The company puts a lot of resources into new product development, he notes, because 25 percent of its revenue comes from products that have been introduced within the past two years. Additionally, Schaefer understands that new features and products improve its already significant value proposition.
"Our product management, product development and engineering staffs are all in-house," Crocker says. "We use a stage-gate development process that allows us to reassess the worthiness of a product at each stage of development. By using the stage-gate process for developing and launching new products, we have a much better new product launch success rate."
Strong Values
Schaefer works closely with its clients to develop ventilation solutions that work in their particular facilities. By offering good, cost-effective solutions to clients' issues and being responsive to clients' needs, the company maintains the strong reputation is has built for more than 60 years.
"Ventilation products are an incredibly cost-effective way to create a safe and comfortable work environment for employees," Crocker explains. "We are proud to help company after company solve their safety and comfort issues with cost-effective and energy-efficient products."
This reputation is helping Schaefer expand into new markets as well as new geographic areas. The company is transitioning from "an accidental exporter to an intentional exporter," Crocker notes, and it is focused on developing a distribution network in countries that are on or near the equator because they have the greatest need for its products. He says 15 percent of Schaefer's revenue came from exports in 2012, and expects that number to go up to 20 percent in 2013.
"We have a reputation for energy-efficient and reliable products, and an excellent reputation for customer service," he says. "We are known for saying what we'll do and doing what we say, and that is a reflection of our good Midwestern values. We also have a supportive dealer network and a good warranty program, and all of this together is going to help us continue our high level of growth."