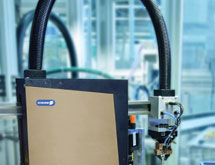 Based just outside of Raleigh in Morrisville, N.C., SCHUNK USA manufactures clamping and gripping tools and has an extensive product range. Founded in 1992, the company is part of SCHUNK GmbH & Co. KG, a private, German family owned organization with a network of global subsidiaries and partners that was founded in 1945 and currently has 2,000 employees.
The company is well known for its customer-driven approach to business, as well as for the high quality, precision and innovation behind its workholding, tooling and automation solutions for machining and manufacturing. In the United States, it has a team of sales and marketing professionals, as well as U.S.-based manufacturing that allows the company to offer quick response and turnaround to its North American customers.
"We are responsible for the entire U.S. market, which includes our sales group, all aspects of marketing and local manufacturing," President Milton Guerry says. "We have some responsibility for all of North America, too, and we have about 105 North American employees, with 85 in the U.S."
Making its Mark
SCHUNK USA has a strong presence in conventional markets such as automotive, aerospace, medical, heavy equipment and oil and gas. Those markets continue to drive a significant portion of the company's revenue. But it is also actively involved in broadening its reach to include research and development in areas like robotics and defense.
"We've been successful in getting into emerging markets because we have useful, high-precision products and we make investments into supporting our efforts to get into those markets," Guerry says.
Although the quality of its products and the depth of the company's technological capabilities are a strong selling point, Guerry maintains that a focus on customer service is a major differentiating factor for SCHUNK USA. Its dedicated salesforce includes more than 20 people out in the field working with customers every day. In addition, every level of management has a responsibility in managing customer relationships.
After two successful decades in the United States, the company believes there is still more opportunity for regional growth. To support its growth plans, the company has been expanding employment in this country, bringing on more sales and marketing personnel. In fact, Guerry says the organization has added to its employment numbers by about 25 percent in the last few years.
SCHUNK USA also is continuously reinvesting in its manufacturing operations in North Carolina. About eight percent of revenue has been put into shop improvements in each of the last two years, and Guerry expects that the company will invest an additional six or seven percent in manufacturing operations this year, too.
"We haven't expanded our floor space yet, but we've expanded our capacity with new equipment," he says. "We've invested in everything from the fundamentals of heat treat, which we do on site, to the flexibility of our grinding processes."
Working Together
One of the challenges SCHUNK USA has to overcome is a general skills gap in U.S. manufacturing. Although the company plans to improve its efforts in terms of community outreach to help find and build manufacturing skills locally, it also can rely on its place within the wider global organization for employee exchanges.
"Throughout the entire company, about 10 percent of our employment is people in training, such as apprenticeships or exchanges," Guerry says. "Employee exchanges help the whole company to keep our high level of technical ability up to the same standard worldwide."
Another way the various parts of the global organization work together is through their participation in the company's annual global sales and commitment conference. This worldwide corporate strategy meeting focuses on SCHUNK USA's efforts in the Americas, Asia and Europe.
"We come together once a year to discuss everything from A to Z," Guerry says. "The meeting includes representatives from 27 countries, and we ask ourselves how we can work strategically as one."
Guerry believes that the opportunities for North American growth in the years ahead should be plentiful because he sees a U.S. market that is waking up to the fact that domestic manufacturing and adding value are important. "You can see that people working in manufacturing are making more average pay compared to other industries, so people are starting to see that this is a high-paying, high-value-add industry," Guerry says.
As the awakening progresses, Guerry says there will be a need for higher-level technology that is already being used in other countries that have more advanced manufacturing sectors.
"There are opportunities for us to take that development route and invest in highly technical machines and automation, whether they are flexible or fixed," Guerry says. "I believe manufacturing will be a bright spot over the next three to five years for this country, and we think North America will be a bright spot for the world economy. That is why we plan to invest in our manufacturing capabilities here and develop specific products for the U.S. market."