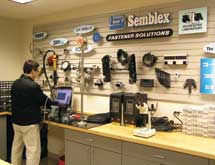 Since 1968, Semblex Corp. has grown into an organization capable of providing leading technology fastening solutions and complex, cold-formed specialty components. A privately held organization with four plants in Elmhurst, Ill., Semblex continuously invests in improving its quality, technology, equipment and personnel. It is TS 16949, ISO 14001 and ISO 9001 certified.
"We differentiate ourselves through being a value-added supplier of custom engineered fasteners and special components," Vice President of Sales and Marketing Mark Quebbeman says. "We help our customers achieve their objectives thanks to our core competencies and expertise when it comes to engineering and manufacturing. We look for ways where we can apply value analysis, value engineering and additional services for them, as we offer much more engineering support and focus than most, if not all, other companies in the industry."
Adding Value
Many of the markets Semblex serves are in transportation, including the automotive, heavy-duty truck, farming, off-highway, motorcycle and recreational vehicle industries. The company also supplies products in some commercial and industrial markets. All of the markets Semblex serves are critically focused on quality and highly competitive on price and cost. These are reasons why its products aren't the same bolts and screws you would find in a local hardware store. These products have to hold complex equipment together for a decade or more while dealing with major vibration and harsh environments. Critical life and death issues are at stake, so performance of the fastener in each specific application is critical.
"Clients come to us first and foremost because we have the widest array of the known technology of fastener products," President Don Cunn­ingham says. "Most of these are either pat­ented by us or by other leading global companies, and we have the license to supply them. We back that up with engineering resources that allow us to look at our customers' needs and come up with the very best solution that will last for the longest time, have the least possible chance of failing and lowest cost assembly and can be made at the highest level of quality."
Semblex is also involved with the val­­ue analysis/value engineering (VA/VE) method of creating value for custom­ers. This means working closely with a customer by walking an assembly line, conducting a product teardown, or by responding to a specific quality or manufacturing issue.
Through that process, Semblex can propose solutions. Perhaps the line walk reveals an operator manually putting a washer on a bolt. Semblex can offer to automatically assemble the washer to the bolt and ship a single pre-assembled part to the customer ready to go. In proposing these solutions to customers, Semblex offers its proprietary products and engineering knowledge while still giving customers options that will improve their own existing operations and save them money at the same time.
Whether it is product additions or new equipment, Semblex has a corporate philosophy that underscores the importance of reinvesting in its internal strengths. The company prides itself on its ability to anticipate the needs of the market and seeks to enhance equipment and products so it can offer better solutions and insights to customers. Over the last few years, Semblex has continued to add to its capabilities and product portfolio. Additions to its li­censed product line include the Hex­Stix Recess, a hex-lobular recess design providing installation stability and alignment. They also added the REMINC product family after receiving a North American license for REMINC trilobular fasteners, which offer an array of thread forming and thread locking solutions. Semblex has continued to build on innovative products like the Mortorq Super Spiral Drive System, which allows for the use of lower head height designs and weight savings along with the ALtracs Plus thread design for optimum performance in light metals like aluminum and magnesium.
Another recent example of im­provements and additions to the company's arsenal includes the installation of a 5-Die Long Stroke Progressive Header, the Sacma SP360-EL. The installation allowed Semblex to en­hance its parts forming capabilities.
Known for Quality
The company's commitment to continuous improvement and quality has resulted in recognition on many levels. A few years ago, John Deere's achieving excellence program recognized Semblex as a partner-level supplier be­cause of its quality products and service. In addition, Semblex has earned the TORX Drive System World Class Quality Award for three straight years.
"We've added to our capacity, which also improves our productivity," Cunn­ingham says. "We constantly work to improve our internal quality systems and processes and to extend our high expectations to our outside suppliers. We're currently implementing state-of-the-art enterprise computer software, which should improve our abilities for scheduling and make our on-time performance even better. In­ventory management should improve, as well."
Cunningham says the industries Semblex serves are seeing improvement in their bottom lines after the recession, and he believes that maximizing organic growth is the key to his company's future. Although the company is open to the idea of growth through mergers and acquisitions, he says that Semblex's sales and marketing efforts are leading to increased penetration into its target markets.
"Our most immediate priority is to complete the implementation of our enterprise management system and then improve and enhance our business model," Cunningham says. "We need to be there for our customers with engineering resources and product solutions to help them solve problems and realize opportunities."
Semblex will continue to take ad­vantage of several international alli­ances in the automotive industry that are positively impacting its ability to serve on a global level. The company has a great many years of experience throughout – at the operator level, on the floor, in engineering and management – but it is regularly looking to cultivate a culture of learning through regular training for employees as well as by bringing in new, young people. In fact, Semblex has a relationship with Elmhurst College that brings interns into the company. All of these factors are part of making sure Semblex has an internal entrepreneurial understanding of all the areas of the organization.
"Our biggest strength is that we bring fastening solutions to our customers that fix their problems and enhance their assemblies," Vice Presi­dent of Quality and Engineering Gene Simpson says. "We work with them to provide the best solution for their app­lications, accomplishing this through our capabilities, our products, equipment, suppliers and most of all our people. Our solutions help our clients grow, and as they grow, so will we."