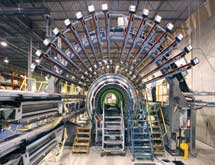 With sails built to emulate the airfoil shape that planes use, modern sailing aspires to fly more than sail over water. "A sailboat works a lot like an airplane with one big exception – an airplane generally has engines," North Sails Technology President and CEO Tom Whidden points out. "If it doesn't have an engine like a glider, it's got to be pulled up in the air to get it going, whereas a sailboat simply has to be moved from standing still.
"It's the same principle because you're using a winged section – it's a little different principle to get it to go through the water," he explains. "This is not a very intellectual approach, but the wind is pushing it sideways, and the keel underneath is keeping it going in some semblance of the direction you want it to go in. In simple terms, the wind is trying to push it, and the foil is redirecting it. The keel has shape under the boat and keeps it going straight. It is the summation of all the local pressure forces on the sailboat."
The shape of the sail is crucial to championship speed – the better it can emulate the airfoil shape, the faster it can go. That is where the patented sail technology developed by North Sails becomes indispensible to championship races. "We've been on every winner's boat since 1980 in the America's Cup," Whidden asserts.
Besides sails, the company also manufactures masts. It has been putting its sails on competing boats since 1958 and its masts on them since 1992. Both sails and masts have been on sailboats winning America's Cup championships since 1980. Whidden himself competed in the America's Cup race five times from 1980 to 2003 as the tactician onboard.
Space and Art
North Sails Technology also manufactures sails for the Volvo Ocean Race, formerly named the Whitbread Round the World yacht race and held every three years. Manufacturing sails for such competitions is approximately 30 percent of North Sails' business in units but half its business in dollars, Whidden estimates. The company also ventures out of the marine busienss to do special projects utilizing its technology, design and engineering. The company made the soft storage containers used on the space shuttles and worked with Boeing on the 787 Dreamliner.
"Everything they took into space went into space in our gear," Whidden asserts. "We make materials for surveillance balloons. We made the umbrellas for Christo on projects in Japan and California. So we do a lot of things, as well." The umbrellas were produced by 10 other manufacturers and placed across landscapes in Japan and California simultaneously by the artist Christo and his wife Jeanne-Claude in 1991.
North Sails Technology also produces apparel in Europe and Asia. "We sell 2 million pieces of clothing around Europe, but primarily in southern Europe," Whidden states. "It's an arm of North Sportswear, and it is a good business on its own."
The company also builds EdgeWater powerboats and manufactures material used in skis and snowboards. "Our brand image has helped us a lot," Whidden says. "We're quite well-known around the U.S. and Europe even outside of sailing. In fact, we have developed a process to make a material that is a little out of our normal business. It's a new ultra-thin spread carbon or some exotic fiber, spread into tapes and then used with multi-layers to make rigid or flexible composites. The rigid composite will most certainly be used outside of the sailing business."
One use of rigid composite is on the Solar Impulse airplane being built to fly around the world solely on solar power. "We have some technology from being known in sailing that has allowed us to go outside and use our brand name to get in the doors of places," Whidden says. Working with the top companies on these various projects has enabled the company's engineers to pick up good ideas.
"We get some of our technology from working with teams outside our company and industry," Whidden points out. "That's very typical of our company. If it's not invented here, it doesn't bother us. We're happy to go outside and find technology and use our expertise to develop it. If you get to work with the top people, then from interfacing with them you get smarter and smarter. A lot of these teams want to have an interactive relationship as opposed to just one-way."
The Sailing Secret
North Sails Technology uses a patented 3DL process it developed 20 years ago to manufacture the newer 3Di patented molded sails that retain their airfoil shape when loaded by aerodynamic forces. These sails are manufactured in a 78,000-square-foot manufacturing facility in Minden, Nev. To adjust the sails during manufacturing, technicians often lie on their stomachs in harnesses suspended from wires and position themselves over the massive sails like supermen.
"The big difference in sails – the way they're built now and the way they were built five years ago or more – is that before, we used yarns or fibers as they came to us to be laid between the sheets of film," Whidden explains. "Now, we take a single yarn which is made up of hundreds if not thousands of monofilaments twisted into a single yarn. We then spread the monofilaments that make up a single yarn into a tape. Those tapes are ultrathin and are then layered in multiple directions, producing a truly isotropic composite. The tapes are unidirectional but laid in the direction that the designer wants them to be laid in. You get a lighter, stronger sail, and it looks like a true foil now."
The pattern of the tapes depends on the design requirements of the sail. "As boats get bigger, they tend to be more custom, and so typically, when you get a boat roughly 30 feet and above in length, every single sail is custom," Whidden declares. Designers can shift the position of the mold to adjust the sail's airfoil shape to suit the boat's requirements. The sail is then thermoformed on the mold to take a permanent airfoil shape that is extremely rigid when on the sailboat and under load.
North Sails Technology also manufactures multiple one-design sails. "We're best known for making one-design sails utilizing set patterns in highly competitive classes," Whidden notes. A total of 11 molds and seven gantries manufacture the sails around the clock in Minden, and more sails are manufactured in the company's additional manufacturing plant in Sri Lanka.
"We have 1,000 employees in Sri Lanka," Whidden estimates. "It just happens to be a good cut-and-sew mentality there. We've been there for over 25 years, and we buy materials from the Far East there that probably are every bit as competitive in quality and price as anything we buy on this side of the ocean."
Another advantage of the Sri Lankan factory is its proximity to end users in Europe and east, including Thailand, Malaysia, Japan and China. Whidden muses that ironically there is not as much interest in sailing in the southern hemisphere. "We do a lot of business in New Zealand and Australia, Singapore and South America, but we wish there was more," he insists.
Designing Manufacturing
The sail and mast manufacturing processes "were designed and engineered by us in-house," Whidden maintains. "We have 40 or so degreed engineering people in our company. We've got 10 or so great software writers and 50 or 60 sail and mast designers worldwide. I continue to be impressed with the level of our technical staff."
Whidden estimates the original 3DL patents for sail manufacturing are approximately 18 years old and soon will expire. "However, we've developed new ideas and received patents since then," he insists.
North Sails Technology buys carbon and aramid fibers from a number of different suppliers. "We buy carbon from suppliers that is suited just for sail-making, as well as buying carbon from suppliers that is only suited for mast-making," Whidden notes. "The sail-making carbon is not as brittle as some of the carbons used in rigid composites. However, the carbon for the masts and boats is extremely rigid and brittle but suits that purpose perfectly. A keen understanding of the material is essential."
Designing innovative products and ways to manufacture them keeps the staff of North Sails Technology busy. "We're constantly upgrading our equipment because we design a lot of it," Whidden declares. "Our guys are pretty innovative, and they keep at it. If you ask me one thing about North Sails Technology that is key, it would be the culture. The guys are all can-do – there is hardly anything we set out to do that we don't do. We're probably too stupid to know what we don't know, so we do it anyway.
"I'm always constantly amazed at how forward-thinking these guys are," he continues. "We make all our own plotters, those gantries that come down on top of the molds – all those molds were built, designed and engineered by us. We've turned it into a pretty good process. That's why we're fortunate to have such a great market share. It's because we worked hard at it, and we've got great people."