Aid to press
With a history dating back over more than 45 years to when the company was founded with the aim of designing and producing equipment for process coil material for presses, Servopresse has developed a reputation as one of Europe's leading companies in this sector
Servopresse products are found in shears, forming machines and machines that use sheet metal coils across several industry sectors. The company was founded in 1970 and today continues to operate as a mid-sized privately managed organisation, with around 40 employees and partners operating in its factories in Milan and Nice covering a combined space of 5000 sq. metres.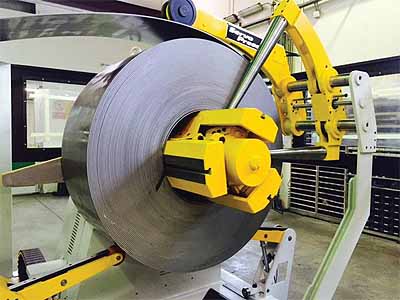 Throughout its history Servopresse has remained at the forefront of developing markets, new customer requirements and ongoing technology trends, which the company is able to respond to quickly, owing to its experience as a family owned business. Indeed, since Silvano and Umberto Cecchi first established the firm, Servopresse has sold in excess of 5000 coil lines to customers worldwide. The business is in its second generation and is currently under the successful guidance of Dario, Lara and Paolo Cecchi, operating as technical, commercial and financial managers respectively.
"The name Servopresse comes from a play on words, with 'servo' in the Italian language meaning aid or servant, while 'presse' simply means press. Therefore the name Servopresse literally translates to 'aid to press'. My mother conceived this name 46 years ago, when the company was founded and the brand was later officially filed in 1975," reveals Commercial Manager, Lara Cecchi. "In recent years this name has been increasingly useful to us, because the development of technology in building presses with servomotors, has resulted in greater visibility for our company. Since we obviously own the trademarks and domains for Servopresse that are recorded for our organisation, this is something that does somewhat 'stick in the throat' of several press manufacturers who would like to have the exclusivity of this major brand. It is a fact that we received some interesting takeover offers in recent years, especially from manufacturers based in Asian countries wishing to expand their activities in Europe. This would give them a major advantage over their competitors since they would then automatically have a point of distribution in Europe, however Servopresse is a family company and the progress that we achieved in the last few years has given us a lot of confidence. Therefore, we are keen to continue to push further in this area, by endeavouring to build even more advanced lines in the future."
Around 95 per cent of the components produced by Servopresse are exported to clients outside of Italy through a network of technically qualified distributors, which are able to offer customers full installation services and aftersales support. This has allowed Servopresse to gain a reputation as a trusted supplier to leading OEMs including Sertec – an important equipment supplier for Jaguar-Land Rover. The company's production range covers all coils up to a maximum capacity of 20 tons, widths of up to 2000mm and thicknesses of up to 20mm. Servopresse can build single machines, compact lines and special lines comprising:
Decoilers: single or double, with or without motor, and hydraulic self-centring expansion.
Straighteners: normal or feeding straighteners, comprising a cast iron drafting head and hardened and ground steel straightening rolls.
Electronic roll feeders: easy to use and suitable for automated lines.
Traditional lines: these feature decoilers and straighteners to be used with an independent feeder.
Compact lines: these are composed of integrated decoilers and feeder straighteners.
Special lines: to satisfy most sophisticated working requirements such as zigzag feeding lines; straightener cradles; bar feeders; complete cutting lines; micro-perforation and embossing coil lines as well as automatic multi-disc cutting lines from coil.
The company's comprehensive product portfolio is supported by its flexible management structure and 'made-to-measure' manufacturing processes that have allowed Servopresse to remain both buoyant and competitive in a challenging market. Rather than operating as a simple assembler, the company manufactures around 85 per cent of the components it uses in-house, which enables it to satisfy even the most sophisticated, diverse and complex manufacturing requirements.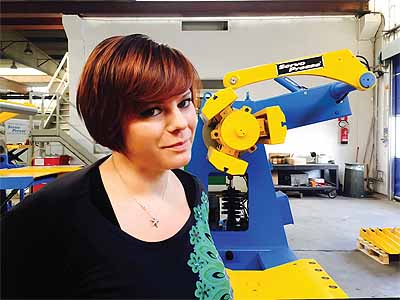 "Through a period of global financial downturn that has affected most of the world across almost all sectors, we have emerged stronger with a close-on threefold increase in production and our forward order book is full up to mid-2017," Lara exclaims. "For example, we have seen an increasing demand for machines that can process new, high-strength materials or aluminium. It is important for our customers that our machines are very capable and increasingly automated. Most of our customers are big companies wrestling with shortages in skilled operators, meaning that machines need to be automated to support their operations. In the last year, our production has changed from semi-automatic to fully automatic line production and we have therefore developed new automatic threading adjustment systems for coil feeding equipment which enables us to offer complete decoiling, feeding and straightening lines able to automate the set-up phase of these machines."
During the next 12 months and beyond, Servopresse will continue to provide market-leading solutions to its clients while managing the demands of a volatile global market. Its international customer base has given the company a diverse range of clients and a strong order book that will help the business to further develop its global reputation and win new orders over the coming years. "The UK is the most important market for us right now and we deliver to a lot of customers there. We are honoured and proud to be a supplier to one of our best customers, Sertec where in recent years, we have delivered almost 15 large lines ranging from 1000mm to 1600mm/10-15 ton coil width. Sertec operates multi-production runs so automation is very important for the business, meaning that it wanted compact lines that are very small and space saving. Line safety is also a key prerequisite for us and we fix protective barriers as an integral part of the machine and not as an add-on," Lara concludes. "Servopresse also has customers in Poland, Hungary and Scandinavia as well as Italy. It has also delivered lines to customers in the US, Mexico and Brazil and is currently in the process of delivering a machine to a rollforming manufacturer in India, with a further project for a customer in Russia. We view the Italian and global markets market as a challenge but also, more importantly, an opportunity."
Servopresse Srl
Coil and associated equipment specialist