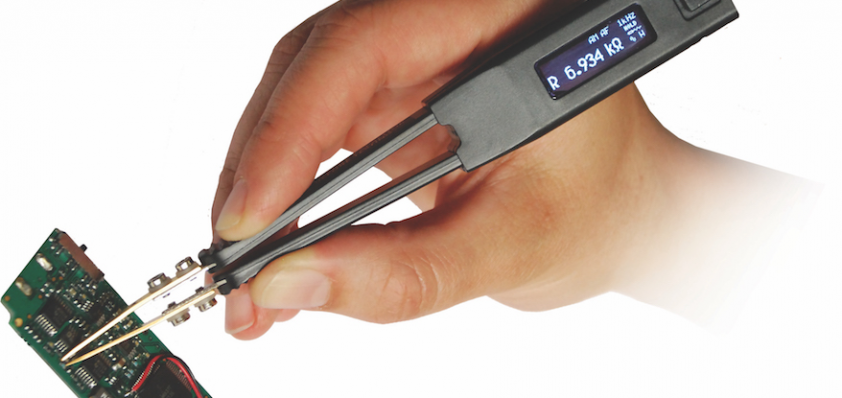 Although it started as a software provider for companies engaged in the design and fabrication of semiconductor devices, Siborg Systems has since grown its product line and found success in selling hardware products as well, particularly digital multimeters.
Its LCR Readers, successors of the world's first tweezer-meter Smart Tweezers, have become the company's bread and butter. This summer, Siborg will introduce a new and improved version of its LCR Reader.
"It's the next generation of the LCR Reader," says Michael Obrecht, founder and president. "It will be a much more powerful multimeter, less bulky and more fine tuned. We have improved the LCR Reader's appearance, performance and functionality."
Although the two products have many similarities, they also have some key differences. Both will automatically identify the type of component and measure for L, C, R and ESR instantly. Both use a Li-Ion battery with micro-USB charging that lasts up to 80 hours of continuous use. All measurements are instantly displayed on a bright display that makes reading the screen easy even in less than suitable conditions.
First Of Its Kind 
The Smart Tweezers were designed for companies and professionals in the electronics industry that require more features to customize specific measurements, as well as coming with an NIST traceable calibration certificate. They allow a user to change the test signal (with 0.5 and 1.0 voltage regulator modules), as well as variable tolerances of 1 percent, 5 percent, 10 percent and 20 percent.
This device also performs continuity and diode testing and shows active and reactive impedance components on the display. One of the device's time-saving features includes a semi-automatic offset subtraction feature that automatically removes parasitics after set-up. 
The tweezers are controlled by a joystick-like navigation tool. The push of a button directionally will change the test mode and test signal, while pressing the joystick will open the menu to allow for more customized measurements and features such as changing the screen orientation.
When Siborg introduced the product in 2005, it was the first of its kind in the electronics market. "We didn't have any competitors initially," Obrecht says. "But over time, the LCR-Reader became for us a bigger-selling item than the Smart Tweezers. People wanted a more affordable version. The LCR-Reader does pretty much the same thing as the Smart Tweezer. It's a little less accurate but two times lower priced."
Economical Version 
The budget-friendly LCR-Reader is a pen-sized device that weighs one ounce, making it perfect to stow in a bag or pocket. While the look and feel of the LCR-Reader is the same as the Smart Tweezers, it is a more stripped-down version with basic functions.
At the present time, the model also comes with a calibration certificate, but it does not have features such as component sorting diode, and continuity or open circuit testing. It does not offer variable test signals, utilizing only a 0.5 voltage regulator modules test signal. It has a one-button navigation that changes the test mode with each press.
Last year, Siborg released its new LCR-Reader-MP, an unprecedented device for testing and troubleshooting printed circuit boards and surface-mount technology. The device is the newest model in the LCR-Reader line of lightweight LCR- and ESR-meters and offers a wide range of additional features including voltage/current measurement, diode/LED test, oscilloscope and frequency meter.
The popular brand has sharp, gold-plated tweezers combined with a compact multimeter that is able to test components efficiently and accurately with no set-up. The LCR-Reader-MP offers users more features and the highest basic accuracy of all the LCR-Reader and Smart Tweezers devices at 0.1 percent.
Its features include LED/diode measurements, pulse counting, continuity testing, signal generator, super-large capacitance measurements, AC/DC voltage and current measurements and an oscilloscope mode. It is the first to offer a "large cap" mode that has a wider range of test frequencies that allows for measurements of large and super capacitances.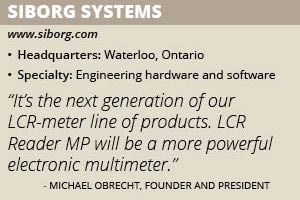 However, Siborg's newest version will offer even more. "Our new version of the LCR-Reader will be more expensive but it will have better functionality," Obrecht says. "You will be able to do up to three-volt LED testing and use one-volt signal component testing that is very critical for ceramic capacitors." In addition, it will have a lower signal source resistance thus improving signal-to-noise ratio, especially important for lower value capacitances and inductances.
Aside from the LCR-Reader and Smart Tweezers, Siborg sells other LCR/ESR-meters, including the Smart Tweezers Bluetooth models, LCR-Reader Pro Task Kits and Smart LED Test Tweezers. It also offers a variety of accessories such as spare test leads, Li-Ion batteries and a Kelvin Probe Connector that provides a highly accurate four-wire probing for Smart Tweezers and LCR-Readers.
The most popular LCR-Reader Pro Task Kit includes a calibrated LCR-Reader LCR and ESR-meter, a set of bent tweezers probes, spare battery and a NIST traceable calibration certificate. The company offers different task kits for both LCR-Reader and Smart Tweezers devices. Each kit combines a different amount of accessories and the price reflects a discount as opposed to buying each piece separately.
Smart Tweezers Bluetooth was updated last year to enable a two-way communication between the Smart Tweezers and a computer. Previous models only allowed the device to send test results to a PC or apps for Android and iOS.
The update gives it the ability to set custom profiles from either previously measured values or from scratch. These profiles set specific parameters for component testing such as frequency and signal level. When a component is measured, the receiving program either marks it as a pass or fail whether it met the tolerance settings.
Focus On Software 
Although hardware has become Siborg's bread and butter, the company will be focusing its resources on promoting its software business again. "In a way, our hardware killed our software," Obrecht says. "We have a couple of ideas for new, very fast software tools for thermal design. We want to enhance the functionality of MicroTec including the thermal analysis built into the semiconductor device simulator. It's sold to a lot of educational markets and to semiconductor manufacturers."
A semiconductor process and device simulator, MicroTec is a widely recognized educational tool that was used by more than 100 universities in 25 countries including University of California at Berkeley and Waseda University in Tokyo. It was also used by more than 35 companies worldwide including Hitachi, NTT, General Electric, Cree Research and Rockwell Semiconductors.
The software is designed to supplement a book or a course on semiconductor devices or processes. It enables students to create their own devices and test them under varying real-world parameters. The program has been used as a supplement to the book Semiconductors Devices Explained by Ton Mouthaan, published by John Wiley & Sons.
The software's strength is in computationally extensive simulations such as power semiconductor devices with large dimensions or solar cells. MicroTec is particularly useful for devices built with SiC and other wide band gap materials.
"It's great for prototyping," Obrecht says. "They do the simulation first and then if the resulting semiconductor device is not operating correctly, they can modify the virtual fabrication process. This is very similar to the actual fab environment where test runs are done routinely, but it does not cost much money to make a virtual iteration unlike the real fab test run. "
The program is easy to use, user-friendly, robust and requires only a few megabytes of RAM memory. Most importantly, it is significantly more robust and faster than its rivals. MicroTec includes three main software tools. They are SiDif for 2-D simulation of implantation, diffusion and oxidation; SemSim for steady-state 2-D simulation; and SibGraf for 3-D and 2-D graphics. The most current version of MicroTec includes a graphical device structure editor.
Siborg is also known for developing SibLin, a linear solver for matrices arising in 2-D and 3-D finite difference solutions of various partial differential equations such as Poisson, heat transfer and diffusion-drift. The method is based on the BiCGSTAB algorithm developed by H.A. van der Vorst and solves both symmetric and non-symmetric matrices.
Custom Made  
Siborg services a wide range of customers. From amateur electricians and universities to electronics manufacturing facilities and engineering companies, Siborg can provide a solution or a product for them. "We serve pretty much anybody that does work on electronic circuit boards," Obrecht says. "It's a very wide community."
Aside from the United States, the company has distributors in China, India, Russia, Taiwan, Indonesia, Malaysia, Japan, Vietnam, Netherlands and Lithuania. It also sells to end-users through its website and online retailers such as Amazon. Roughly 40 percent of its sales come through its distributors, 30 percent from direct online sales and another 30 percent from online retailers.
As far as hardware products go, "about 60 percent of business is selling LCR-Readers and 40 percent Smart Tweezers," Obrecht adds.
When it comes to the software side, the company does a lot of business with small to mid-sized companies by customizing its MicroTec semiconductor process and device simulation software for their purposes. An advantage of MicroTec is its affordability and the ability of Siborg to quickly tweak the software so that it addresses the problem that needs to be solved.
"Smaller companies are an ideal choice for this software," he says. "Maybe our software can do 90 percent of what they want. Well, we can quickly do modification to the software and that's very important to them. Plus, we support our software 24/7 and our level of support is much higher than that of our competitors."