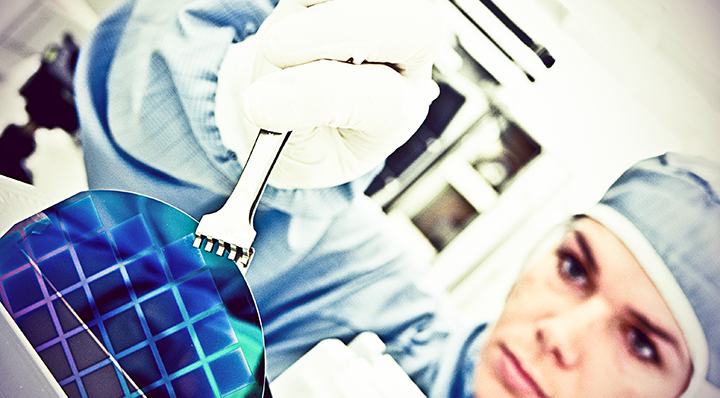 When a company makes innovation the foundation for its business, it is important that the operation demonstrates its regard for innovation as an actual practice and not just a buzzword. Solexir Technology Inc. shows a dedication to innovation in all it does, allowing it to work in accords with high-tech companies throughout Silicon Valley and worldwide.
Based in Milpitas, Calif., Solexir is a private chemical manufacturing operation well known for its high-end manufacturing facility, R&D, consulting and other services. Lead by a number of seasoned Ph.D. chemists, Solexir is focused on supporting markets such as semiconductor, hard disk drive (HDD), optical and green energy technologies, as well as industries that use specialty chemicals with ultra-pure chemical solutions, designed and developed for their manufacturing steps.
"What in particular separates Solexir from its competitors is its innovative and quick resolutions of customers' issues," says Mahmood Toofan, Ph.D., executive technical director. "Solexir prides itself for confronting and resolving problems that her competitors dare not to touch. On-time delivery of the state-of-the-art chemical solutions to customers has always been Solexir's unique advantage compared to its competitors."
Solexir's primary products and services are categorized the following key areas:
Chemical solution production – Having years of experience in semiconductor/hard disk drives and optical technologies processes, Solexir has developed specialty chemical solutions for each step in their manufacturing process. These solutions are more efficient and minimize residue, leading to higher production yields. These ultra-pure chemicals (at parts-per-billion levels) are designed for a range of semiconductor and similar industries worldwide.
R&D, consultation and focused technologies – With a staff of experienced and skilled scientists, Solexir can address any technical and complex issue raised by a customer, as well as formulate new chemicals based on customer specifications. The company is dedicated to solving manufacturing issues through chemistry.
Lab analysis – With its state-of-the-art equipment and advanced facility, Solexir can analyze any customer's sample to detect causes of a low yield or to provide levels of chemical traces in a sample. The company's modern capabilities provide the platform to continuously monitor the quality of its own chemical products.
Manufacturing capacity – Solexir can produce more than 1.3 million gallons of ultra-clean chemicals per shift. Solexir products usually ship within three business days.
"Production of ultrapure chemicals requires continuous monitoring of the quality of manufacturing process while making sure that impurities will not be accidentally introduced into the lithography process," Dr. Toofan says.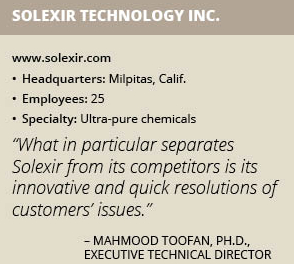 Market Support
Solexir uses processes such as high-end filtration, distillation, ion exchange and ion suppression to ensure high-purity, production-worthy process chemistry. During its processes, solutions are filtered several times through 0.02-micron filters. During distillation, solutions are purified in fractional distillation units with a minimum of 1 million theoretical plates. Solvents with inorganic ions are passed through an ion-exchange resin to remove most traces of heavy metals and their counter-anionic species. Solexir's ion membrane process removes contaminants through a proprietary suppression technique.
In addition, Solexir supports its markets in a number of ways:
Semiconductors – The company's cleaning solutions for semiconductor technologies include photoresist strippers, photoresist developers, post-CMP cleaners, wafer cleaners (particles and trace organic), hard polymer cleaners (created after post-dry etching), mask cleaners, wafer wax mounting cleaners, adhesive cleaner after dicing, clean room tool cleaners and a variety of metal etchants.
Hard disk drives – For these and related technologies, Solexir supports most HDD cleaning chemicals, including cassette cleaners, glass disk cleaners, aluminum disk cleaners, NiP surface cleaners and Cobalt surface cleaners. Additionally, the company offers different special cleaning products that are applicable in tool-cleaning processes and the cleaning of magnetic thin film head parts such as dumpers and e-blocks.
Green energy – Solexir provides a range of cleaning chemical solutions for this market. In photovoltaic cell manufacturing, for example, the company offers different cleaning and texturizing solutions for solar cells. For homes and electrical cars, Solexir provides vanadium electrolyte solutions.
"Our cleaning solutions are well known for their extreme purity, effectiveness, cleaning performance and their thermal stability," Dr. Toofan says. "We take pride in producing high-quality, high-performance and low-cost solutions for our customers. Such product characteristics owe their existence to the vast experience of the scientific team with solid technical background and our employees' commitment to resolve and attend to our customers' issues."
One latest success story relates to a client who could not solder its packaged semiconductor chips due to some chemical residues left on the pins surface. This critical issue could have easily cost the client a major customer. It took Solexir's scientists a minimum amount of time to diagnose the roots of the problem and propose an appropriate cleaning process. More than 150,000 chips have been cleaned so far to the ultimate satisfaction of Solexir's client and its customer.
"What seems as a new trend for Solexir, is the realization of the fact that new customers are referred to Solexir for issues which are not explicitly identified as part of our expertise on our website," Dr. Toofan says. "Expedited resolution of these customers issues by our experienced scientists always have resulted in awe and praises from our new customers."
Solexir achieved success through its adherence to a management philosophy that comprises three tenets: dedication to employees and creating a productive environment that allows employees to excel; finding answers to the challenges of future technologies ahead of the market; and a commitment to support and serve its customers in the best-possible way.
"Such dedication and attention to our employees and to our customers has made Solexir unique in its field of expertise," Dr. Toofan explains. "We are honored to have received high marks from our customers for the level of support and service that our expert staff has provided them."