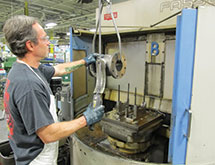 Spence Engineering Co. Inc.
Pressure-reducing regulators are used in systems that circulate steam or hot water in closed loops to provide heat. In 1925, Paulsen Spence designed the first normally closed, pilot-operated, diaphragm-actuated pressure regulator and called it the Spence Type ED. Now a business unit of Circor, Spence Engineering Co. Inc. carries forward the founder's reputation for products manufactured with high reliability and great longevity.
"We have products that have been reliably running for 40 years without rebuilding," Site Leader Stephen Gross declares. He attributes that longevity to the products' robust yet simple designs and the repeatability of the company's manufacturing processes.
Spence Engineering Co. designs and manufactures steam regulation equipment, custom steam specialty products and fluid control devices. The company's major product applications are in district heating systems that distribute steam to buildings in a central location, such as a city's downtown or a hospital, university or military installation. Its products also are used in industrial processes for products such as textiles or plastics and are sold to boiler manufacturers for inclusion on their products.
"Our products are primarily used on the steam side," Gross says. "The technology is shifting on the individual heating side to go toward hot water for self-reliant control within apartment buildings. Hot water heating is gaining traction because condensing hot water boilers can have very high efficiencies, nearly 98 percent, but steam systems that are designed well can be very efficient and cheaper in total cost of ownership. This is especially true in municipalities with district steam loops. It's going to be cheaper than buying your very own expensive boiler and running it."
Steam also is used for many industrial processes that require high heat quickly. Although steam systems operate at higher pressures than hot water ones, many of Spence Engineering's products also can be used for hot water heating, and the company is developing new hot water products to meet the demands of the market.
The majority of Spence Engineering's products are manufactured from cast iron or steel in the company's approximately 68,000-square-foot plant at its headquarters in Walden, N.Y. Many parts are machined on mills, lathes or specialized drills. Bar stock is used for internal parts key to the operation of the devices, and processes for some parts include solder-welding or brazing.
Production of some parts is fully automated running on state-of-the-art CNC work centers, while other parts may be produced in lower quantities on manual machines up to 60 years old. Assembly typically is manual but uses jigs and fixtures to optimize set-up and cycle time as much as possible. Products are distributed primarily in North and South America.
From Stock to Custom
Although it might seem counterintuitive, Spence Engineering Co. reduced its lead times approximately three years ago by switching from a build-to-stock system to filling custom orders as they arrive. "We went from being driven by management resource planning and forecasting and what we think demand is to really shortening our lead time from 20 to 30 days down to 10 days on 80 percent of our revenue and being able to individually have specific customer orders flow through the factory," Gross says.
"We like to focus our efforts on eliminating non-value-added work," Gross says. "If we constantly refine our processes to spend more of our time on value-added work and less of it on non-value-added work, it's going to lower our overall cost, increase our efficiency, improve on-time delivery and therefore satisfy our customers."
The reduction of inventory aids in this process. "Inventory hides all sins," Gross quips. "As you start reducing inventory, you start understanding where the critical processes are within your production system that need fixing."
If one workcell is slowing an entire production process, employees and managers dedicate resources to remove obstacles to its efficient operation. This might mean working smarter, eliminating duplication, improving procedures or increasing manpower or equipment, sometimes over the course of an entire year. "You eliminate these obstacles and go from 30 days to 10 days lead-time with less inventory," Gross says.
The company's team attitude contributes to its success. "We come here for more than just to earn a paycheck," Gross concludes. "You come here to have your voice heard. It's much more than just punching a clock – it's being a part of something."