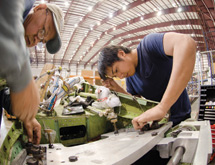 In some industries, failure simply is not an option. One of those industries is aviation, and ST Aerospace Mobile (STA Mobile) knows the quality of its aircraft maintenance and modification services must be be­yond reproach each and every time it serves a client because of the high-stakes nature of flight.
"The work has to be of high quality because safety is the highest concern," Chairman General (USA Retired) John G. Coburn says. "Our customers demand it, as does the Federal Avi­ation Administration (FAA). We listen to every concern to fix any issues, and we work hand-in-glove with the FAA to ensure quality."
Established in 1991 at the Brookley Industrial Complex in Mobile, Ala., STA Mobile provides scheduled aircraft maintenance and major aircraft modifications on an array of wide- and narrow-body aircraft. STA Mobile is a part of the 8,000 employee strong ST Aerospace global network of maintenance, repair and overhaul (MRO) facilities with a global customer base that includes military clients, major airlines and leading freight carriers. STA Mobile and its sister company, ST Aerospace San Antonio, are subsidiaries of Vision Technologies Systems Inc., an engineering group that offers integrated solutions to the aerospace, electronics, land systems and marine sectors.
Able to serve
The company has nine hangars totaling more than 671,000 square feet of hangar space and a 9,600-foot runway with an instrument landing system. It is capable of handling eight wide-body and 10 narrow-body aircraft at the same time. STA Mobile also has 150,000 square feet of office space, CATIA 3-D workstations for computer-aided design, a warehouse, 60,000 square feet of aircraft wash/strip rack, and fabrication and support shops. Additionally, its quality system was developed in compliance with the US FAR 145, ISO 9001:2000 and AS 9100:2004 standards.
"We offer our clients so much in terms of comprehensive aircraft maintenance and modification services," Coburn says. "We have a tremendous amount of tooling equipment and the right infrastructure to support all levels of checks. In addition to that, we've got a great track record in performing major structural repairs and modifications, and that's well-recognized in the industry. Our customers often call on us to perform fuel system repairs on aircraft, and we have the capability to provide full support services. I think that's what sets us apart, along with the quality of our people."
What makes STA Mobile so valuable to its clients is its expertise in heavy aircraft maintenance, aircraft inspection and aircraft repair. Its capabilities include heavy aircraft maintenance checks, life extension work on aging aircraft, airframe corrosion control, major aircraft structural work, complete aircraft interior refurbishment and repair and aircraft painting and finishing. The company offers engineering and designated engineering representative services for avionics, aerospace systems, and aircraft interiors and structures.
"In many cases, we have longstanding customer relationships that have been developed over many years," Coburn says. "Our customers know what we can do and the kind of quality we can produce. Each customer has its own representative that works alongside us, so they're in the hangars with us to monitor the work that we do."
Ready to grow
Coburn says STA Mobile is constantly looking for ways to invest in improvements within the company. The company regularly invests in tool­ing, and although there is always cost and effort involved, STA Mobile recognizes the importance of having the latest equipment.
"Another important investment area is in training our people," Co­burn says. "This is the type of business where you can't lose your edge at all. We also have to regularly invest in our quality management systems to help our organization meet the needs of our customers, and we look to invest in other companies that could add capabilities to the organization."
The impact of the economic downturn on aviation is no secret, and it has certainly been a difficult market for STA Mobile to navigate over the last few years. Its customers have been looking to find better ways to do business, sometimes simply parking airplanes because of the economy. But outsourcing to MRO providers like STA Mobile can actually help customers to be more efficient, so the company's goal is to continue to offer airlines something that they don't have internally.
"We try to provide maintenance and modification services that are as comprehensive as can be, servicing a wide range of airplanes," Coburn says. "Our range of capabilities and our experience has allowed us to thrive even in a down economy. In the short term, airlines will continue to struggle and insist that we do MRO checks in the most efficient manner possible. In the medium and long term, airline traffic is forecast to increase, and STA Mobile is well-positioned to capture more business.
"Fuel costs remain a growing concern for all of our customers, but that means we need to look to provide economic modification support that can increase an aircraft's fuel efficiency and reduce our customers' costs," he adds. "We're watching industry trends very carefully and trying to do what makes sense so we can continue to succeed in a very demanding and competitive market."
Coburn says STA Mobile is concentrating on maintaining relationships with existing customers while also looking for strategic acquisitions and partnerships. He also wants the company to begin serving military customers, something that is done by other parts of the ST Aerospace network but not yet in Mobile. Coburn feels the company can look for these growth opportunities thanks to its vast skill set and ability to simultaneously accommodate a large number of aircraft.
"Ours is a brand that is recognized worldwide, and we have a great safety record that we are very proud of. We have best-in-class services and are part of a diverse company," he says. "These will continue to bolster our ongoing success as we expand our capabilities to serve the market."