Awash with ideas
Major investment in modern manufacturing processes is helping Stephenson solidify its place as a world leader in the development and supply of speciality soap bases
Small scale, big impact' is a phrase that Sales and Marketing Director James Clews uses to describe Stephenson's operation, and the company's ambitious plans have recently been boosted by a significant programme of investment. Over the last four years, Stephenson has ploughed close to £2 million into improving its production methods and operating systems, including the installation of a large, automated reactor and the overhaul of its enterprise resource planning (ERP) system.
"ERP is the system for managing the whole manufacturing process, from order through to dispatch," James explains. "It handles raw material requirements, resource planning, and invoicing, all on one system. As any company will tell you, installing a new backbone to your business is a very challenging process, but we did everything right in terms of preparation. We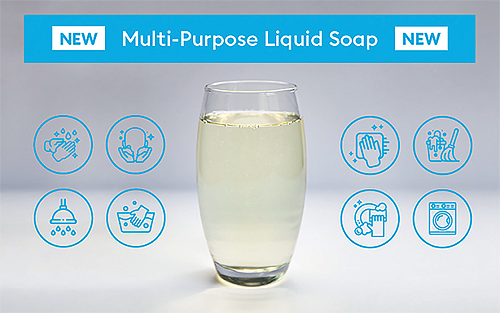 dedicated people to the system internally, we proceeded slowly and carefully, and as a result, we had a really good outcome."
Around half the company's recent investment has been directed towards automation. Based in Horsforth, Leeds, Stephenson's state-of-the-art production facility is built on a site with a fixed size. As demand for the company's products continues to grow, Stephenson has been forced to find capacity within the restraints of its current location.
"It's the old adage of getting a quart out of a pint pot," James says. "A site that had a certain capacity five years ago can now probably get twice as much out of it through the efficiency that automation has brought us. Ultimately, what this means for our customers is that we can keep up with their demands without having to really protract our lead times, or without having to run two sites, or even move sites. It also means we can use our skilled operators to add value, rather than just opening a valve."
In the last few weeks, Stephenson has taken advantage of its automated processes to launch a new product to help customers in the fight against Covid-19. A multipurpose liquid soap, it can be used as a handwash, a body wash, or it can even be diluted into a surface cleaner.
"Our vision was to make something that had universal applications and then whatever the greatest need is, people can use it for that," James states. "It's called Liquid Soap 2020 and the initial response from customers has been really positive.
"Due to the pandemic, demand right now is for cleansing products, particularly those used for washing your hands. Utilising our automation process, we were able to take an existing product and make it more efficient to manufacture, meaning we could manufacture twice as quickly as the previous equivalent. We're really hoping that, as a soap maker, it's going to help us play our part in the current crisis."
Although the nature of Stephenson's work means it is able to play a positive role in the pandemic by providing a vital service to the nation in a time of need, like all businesses, the company has had to make fundamental changes to the way it works.
'It's been a bit of a double whammy in that sense," James adds. "Coronavirus has created an increase in demand for certain product lines, but from a non-manufacturing point of view, everybody that can work from home is working from home, so the business has had to adapt and we've had to get better at keeping in touch.
"As far as manufacturing is concerned, creating social distancing has obviously been a huge part of changing the way we work. We are having significant reductions in the number of people on shifts and we've repurposed offices into breakout areas so that one or two people can have space for a break. We have a board meeting every day so we can keep up-to-date with the situation and as a company, we've had to be much more hands-on and reactive."
Another driving force behind Stephenson's production over the last 12 to 18 months has been a focus on natural ingredients. As customers continue to challenge manufacturers to produce goods that are healthy, ethically made and chemical-free, natural products are on the rise. The same conscious consumers are also questioning whether products can be better for the environment. James suggests that a good example of this trend can be seen in the rising demand for solid shampoos and soaps.
"Rather than have a 500ml bottle, which is plastic and full of lots of water, you can have a bar that is just like a bar of soap but made from the same good stuff that shampoo is made from.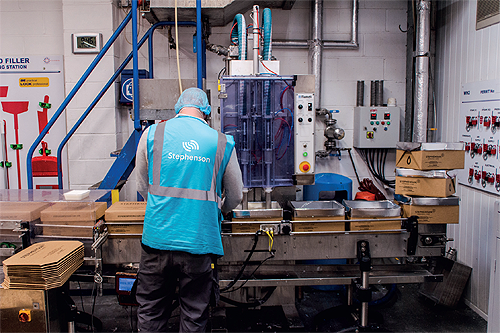 We've been working on a range of products that essentially help you make a concentrated shampoo. It gives consumers the ability to buy something that addresses whatever concerns they might have – whether they be health-based or environmental – and you'll continue to see lots of independent and large blue chip brands bringing these types of products out over the next few months and years."
A supplier to well-known retailers such as The Body Shop and Holland & Barrett, Stephenson's success has been built on a balancing act that deftly merges family values with the company's position as an industry leader. "We like to hold on to those best bits about being a family business," James insists, "which include having that caring culture, being dynamic, and being able to make brave decisions in a short space of time.
"At the same time, we have aspirations to get bigger and increase our revenue and reach. We really make an effort to build teams of people that understand the family ethos and we give them authority and permission to make decisions that keep the business moving forward. It's all about maintaining that personal approach, whilst still operating at a level where companies like L'Oreal and Unilever still see us as a viable partner."
This strategy is evident in Stephenson's plans for the future. The company has constructed six teams to focus on delivering six key projects throughout the rest of 2020. Despite the challenging circumstances, James is confident that the organisation will be able achieve the majority of the goals it set itself at the end of 2019. "The pace might be different, and there will certainly be lots of day-to-day things that take our attention, but we're very much on course to do that," he maintains. "Most of all though, if we can get to the end of the year with a healthy business, and everyone in the business still healthy, then I will be very pleased indeed."
One thing that will endure, is the strong connection Stephenson shares with its customers. In over 60 countries, Stephenson offers a soap product that can be personalised by the customer, who can add fragrance, colour and their own personal flair. It has led to the foundation of the Stephenson's Soap Club and has earned the company 30,000 followers on Facebook, most of whom are using Stephenson's product to craft their own artisan lines of soap. Perhaps now, more than ever, preserving the community is a critical part of what Stephenson does.
"It's inspiring to see people come together and share their creations," James declares. "When we run our Facebook campaign or Instagram feeds, we're not doing that for the corporation, we are doing that for the individuals that love our brand."
Stephenson Soap
Products and services: Manufacturer and supplier of speciality soap bases