Classic yet contemporary
By building furniture based on the foundations of Scandinavian modern traditions that is designed by forward-thinking designers, Swedese has gained a strong following in both the public and domestic domain
A classic Swedish furniture producer, Swedese was founded in 1945 by two brothers, Yngve and Jerker Ekström, and Sven Bertil Sjöqvist. A modernist architect, Yngve was at the core of a generation of designers who created the concept of Scandinavian Modern, which went on to become famous across the globe. With a keen eye, he designed the furniture within Swedese's portfolio and, together with L+M Architects, designed the head office building, logo, catalogues and personalised Christmas cards. Out of this extensive portfolio, the most well-known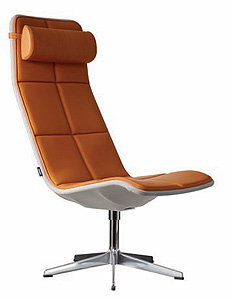 design of Yngve's is the Lamino armchair; designed in 1956, it continues to be manufactured and sold around the world. Furthermore, in 1999, the Lamino was voted the Twentieth Century's Best Swedish Furniture Design by the Swedish interior design magazine Sköna Hem. With Yngve leading the company until his death the company is now run by Anna Johannsson, who continues to push Swedese forward with the same values and goals as its founding fathers.
Elaborating on Yngve's development as a designer and its importance in the development of the company is Sonnie Byrling, Chief Executive Officer at Swedese: "At the time he became a founding father of Swedese, Yngve was a relatively famous designer in Sweden and part of Sweden's modern era. He introduced a bent wood technique into the company with the creation of the Lamino armchair and through this innovative product we have continuously developed the tradition of bent wood. Today we have 110 personnel working for us in our factories, with our products made by hand and 100 per cent made in Sweden."
Headquartered in Vaggeryd, Swedese serves two markets: residential and contract, with contract split into four segments: care, educational, hospitality and offices & public spaces. To meet the needs of this diverse customer base the company has a factory close to its headquarters, with a second factory located in Äng, a small village outside Nässjö. It is in this second factory that the company began upholstering activities in 2000, which resulted in the company operating in two areas: upholstering and bent wood. "The best part about working in these two areas is that we can combine our activities to deliver bent wood components based on an upholstered product," says Sonnie.
Remaining consistently loyal to the DNA of the company and the values of its founders, Swedese consistently delivers high quality products that are created with a vision for simplicity, the use of pure materials, care in detail and sustainability. "Sustainability is key for us and has a been a particular focus over the last decade," notes Sonnie. "Because all activities take place in our factories, if we have a lot of material left over from the manufacturing process and we use that material to heat up the facility. We also do all gluing through the utilisation of waterbased glue and factory methods so there is no pollution or toxins involved. On top of this, we boost our sustainability message by not having a stockroom, with customers instead placing an order than we fulfill."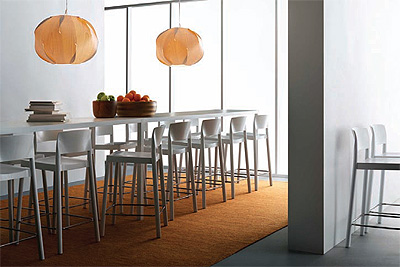 Recent projects include the Winery Hotel in Solna, for which the company delivered Boxplay, a robust and elegant sofa with an irregular shape that is designed by Claesson Koivisto Rune as well as Continental. Also designed by Claesson Koivisto Rune and seen as a landmark in modern Swedese history, the Continental is generous, comfortable and immodest. In addition to these positive developments, the environmentally friendly company is also introducing a repair service, which includes offering a change of fabrics on furniture, as Sonnie adds: "With this repair service we can renew furniture, a sofa for example, after a period of five years; this also shows the customer that our products are good quality but also good value as the life cycle of furniture can be prolonged."
Keen to continue growing and pushing forward in the design and manufacture of high quality furniture while also retaining the philosophy of its founding fathers, Swedese has generated a high degree of interest and demand with its furniture collection 2017. Presenting eight future classics that are designed by some of the most talented Scandinavian designers such as Monica Förster, Front and Thomas Sandell, the company's collection boasts several items that are based on the rich heritage design of Yngve. Referring to his thoughts on modern Scandinavian design that have the user in focus as well as Swedese's long history of local and sustainable production, the collection is comforting in its familiarity yet surprising in its innovation.
Pieces within the collection include Armchair Mino, designed by Thomas Sandell, and inspired by the iconic Lamino and marked by the large amount of compassion and care that went into the design process. There is also the Sofa Button, designed by Front, which works for both public environments and the contemporary home. Wooden buttons on the sofa make it possible to attach accessories and provide additional functions, and customers can also choose a colour, then add a table or cushions for customisation.
"At this point in time, perhaps this new collection is too modern, however we believe it will become a future classic as we have taken a lot of the company's DNA and put it into these products. With these products out on the market, we want to pioneer this era even further over the coming years. In addition to this, our goal is to have a clear direction for each of the markets that we serve by adapting and combining our products on both a national and international level," Sonnie concludes.
Swedese
Products: Manufacturer of furniture