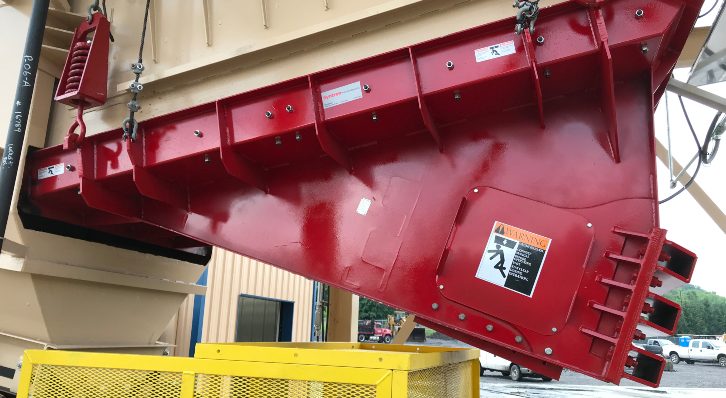 Syntron Material Handling
Born out of the legacies of Link–Belt Company and Syntron Company – two of the most powerful brands in the industry – Syntron Material Handling goes to market with confidence in the quality, durability and reliability of its bulk material-handling equipment. "We don't compromise on quality and that's what our brand strength is riding on," President and CEO Andy Blanchard says. "Every industry has the Home Depot model of 'good, better, best' and we play in the best and better."
The Link-Belt brand was founded in the late 1800s and its name is synonymous with conveying equipment, including idlers, screw conveyors, bucket elevators, and mining systems. The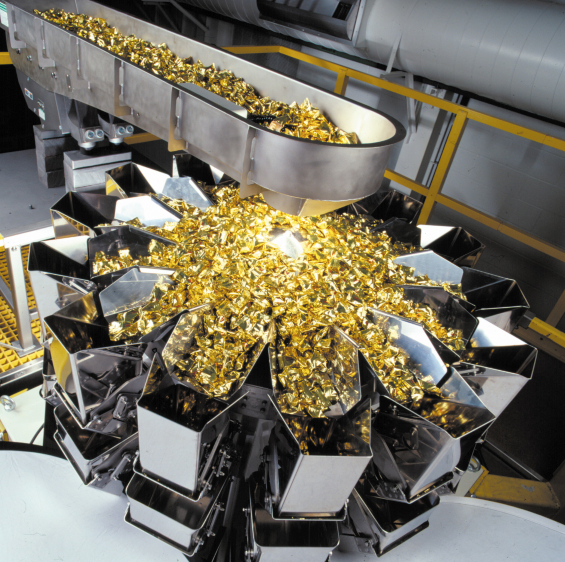 Syntron brand was founded in 1934 and is known for its vibratory equipment that includes electromechanical and electromagnetic feeders, screens, light industry feeders and flow aids used within the many food and packing industries. In 1967, FMC Corp. acquired both companies before divesting its material handling business in 2014 to Syntron Material Handling.
In January 2019, Kadant Inc (NYSE: KAI) announced the acquisition of Syntron Material Handling. Kadant is a global supplier of high-value, critical components and engineered systems used in process industries worldwide. SyntronInfo
Today, the Saltillo, Miss.-based company operates in the bulk material-handling space. "When you think 'bulk,' you think really big stuff, but it doesn't have to be," Blanchard explains. "For example, corn flakes have to start out in a bulk bag before it eventually gets packaged in boxes we buy at the food store. 'Bulk' also means getting coal mined underground to the surface, processed and moved to a power plant where it's used to generate electricity. We operate in the bulk capacity to help our customers process that material and get it to its destination where it's turned into all sorts of things."
Syntron serves a variety of industries including mining and minerals, trona, potash and salt, iron ore, gold and copper, sandstone and gravel, pulp and paper, glass, steel, food handling and more. "We perform customer surveys and what we are repeatedly told sets us apart is our quality, durability and reliability, our engineering capabilities in terms of creating solid designs and creative solutions for our customers, and finally is our level of service and attention to detail or love we give our customers," Blanchard says. "We form true partnerships with our customers and are at their disposal to help them succeed."
Syntron customers reward its dedication to delivering the highest-quality products and service through their loyalty. Many of its customers have an average tenure of more than 27 years and some customers have been with the company for 40 years and counting. "A lot of our customers operate in high-cost-of-failure environments, so if production stops, some of our customers could lose $60,000 an hour, which is why they appreciate what our products allow them to do, which is maintain high uptime and hit their production targets," Blanchard adds.
Investing in the Future
Syntron has invested $1.2 million over the past three years in high-tech capital equipment for its 350,000-square-foot, ISO 9001:2015-certified facility. The investments include robotic welding, CNC equipment with pick-and-place robots at the end of the line, automotive paint booths, milling machines, blades and more robots. "Every year, we are looking at upgrading our facility and it has nothing to do with reducing labor," Global Operations Vice President Rob Drew says. "It's about maintaining the quality Andy spoke about and retooling our facility to make us more competitive."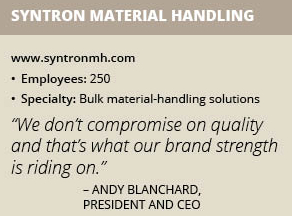 Upgrading its equipment and implementing lean manufacturing principles have allowed Syntron to drastically reduce lead times and see a reduction in cost. "As we bring new equipment in, the key is attracting the next generation," Drew says. "The labor market is tough everywhere in the United States and this is the first time we have more jobs than people looking for them. With low unemployment rates at 3 percent, we have to attract people to the business."
Employees show great enthusiasm for the company's recent investment in equipment. "Before the new machines arrived, we created a sign-up sheet for its manufacturing employees to come in on their own time for three hours in the evening over the course of five weeks for training," Drew says. "We had 30 people sign up and that's about one-third of our workforce. When the new pieces of equipment arrived, we were standing by, ready to man them."
Syntron partners with the local community college to offer machining classes and build excitement around manufacturing. "Syntron Material Handling is definitely on an aggressive growth plan and we are looking for talented, capable employees to join our company," Blanchard says. "We are succession planning and in the process of hiring right now. We have become a fixture in the community since 1974. When people come here to work, they come here to retire. We have average seniority of 25 years and just celebrated anniversaries for people with 45 years with the company."
Syntron Material Handling has spent the past five years getting its house in order and is now standing on solid ground with a modern factory and processes to begin growing. "Now we are in growth mode and are doing that organically and through acquisition targets," Blanchard says.