Generations on tow
Teagle Machinery Ltd is very dedicated to developing innovative new products and getting them to market effectively
In 2013 the family-run business Teagle Machinery Ltd celebrated its 70th anniversary, which was born from a long history of running farms. With a keen interest in manufacturing machinery, Tom Teagle Snr started off supplying local farmers in the Cornish area with equipment such as tip carts, manufacturing more sophisticated machinery as the business developed. As interest grew, the decision was made to sell off parts of the family farm to invest in the infrastructure needed to make the machinery. Today, the original farmhouse on the site has become a conference centre for training distributors, dealers and service teams. "With six members of the family involved daily in the company, we try very hard as we grow to retain that family business ethos, which is really important to all our customers.
"There was a real boom for mechanisation in the post-war years and the range and scope of machinery that my grandfather developed was quite incredible," says Tom Teagle, sales director, continuing: "He actually developed his own two-stroke engine that was fitted into hedge trimmers and lawn mowers and all kinds of different handheld machinery. We actually made some of the first mounted broadcasters and spreaders in the world." The business has manufactured a range of products, from fertiliser spreaders, to the Titan range of trailers and the Toucan forage harvester. In the mid 1980's Teagle Machining developed its first machine for processing straw to be used for bedding livestock. Named the Tomahawk 100, the range has become the cornerstone of the company and makes up a large proportion of its turnover. The Tomahawk range is made of the widest variety of feeder bedders available from any manufacturer in the world with over 30 unique models; these machines are designed to deliver comfort to livestock and to ensure the correct preparation of feed and performance.
"One of the most important strands to our success has been ensuring that we offer innovative and reliable products, and to achieve this ten per cent of our workforce is focused on research and development. It is also important to get the product to market effectively and whilst the UK is a very mature industry we are successfully developing it further, finding new markets and developing new products. Recent growth has been on the back of enormous investment in developing export sales, which started 20 years ago when my father began focusing on the export trade," explains Tom. Over the last six years, this drive has been further progressed, seeing in the employment of a US based salesman and a European sales manager, to which Tom adds: "When working in export markets it is important to have a structured aftermarket service, whether that is servicing or spare parts and we ensure that these aspects of the business are first class."
One of the key considerations for the company is addressing the difficult question of how to protect designs and intellectual property from being copied, particularly when selling to a global market. "The way to ensure that it doesn't become a problem is to make sure that by the time someone has copied one design we are already onto the next one. In addition to technology within agriculture moving at a fast pace, farming practises are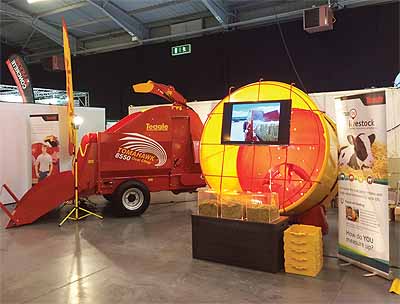 also changing quickly, and it is really important that the machinery we are offering to the market is in tune with the demand from the farmers," says Tom. Through ongoing research the business is always looking for ways to offer machinery to farmers to facilitate this to make sure that livestock are comfortable, productive and ultimately, for the farmer, that they are profitable.
As a family company it reinvests heavily to ensure a good foundation for future growth. Every year over the last six years there has been a major capital project delivered on the site, from a new hall for precision machining, to a shot blasting and powder coating facility, the redevelopment of the farmhouse, and a new production hall specifically for manufacturing larger machinery. "As farms grow larger, so do tractors, and ultimately machinery too. In 2015 we will open an additional building to accommodate a restructuring of the factory layout. Our focus has been on utilising the space we have more effectively to reach new potential.
"We have also established what is essentially a strategic partner arrangement, where we work hand-in-hand with businesses specialising in electronics and hydraulics, both very sophisticated systems," points out Tom, explaining that this ensures the ability to keep up with the fast moving pace of the technology. Recognising the challenge of recruiting individuals with the correct skill base to succeed within the manufacturing industry, the company works closely with Harper Adams Agricultural University, and also provides apprenticeship-training schemes, in all aspects of the business.
During the first three quarters of 2014 the product range has been sold to over 35 countries worldwide, trading to countries such as Germany, Poland, Czech Republic and Ukraine, as well as North America, South Africa, Japan, Australia and everywhere in between. Commenting, Tom says: "The strength this this give us is that we can spot trends that are taking place and develop machinery to take to other parts of the world as the trend emerges. That presence worldwide is an enormous strength for us." The company's leading position is highlighted by the 50 per cent market-share in the UK. "Of course we have to work very hard to stay in that position and almost every year we are releasing a new product. We need to maintain the focus on our home market because it provides us with a significant ability to continue with our export activities. We are continuing to put in additional resources and recruiting salesmen to be resident in export regions, and by localising our offering, and developing machinery specifically  or those markets we are going to substantially develop our turnover," he adds.
Over the past five years not only has the business directly grown its manufacturing capabilities but it has also invested heavily in renewable energy sources such as PV and wind power and today 50 per cent of electricity used on the site comes from renewable sources. "We have a really strong appetite for growth and nobody on the board is satisfied with sitting still. We are always looking to develop and expand what we offer to our customers. With 15,000 sqm of production halls on the site we have a strong manufacturing ethos and invest heavily in precision machining centres where we make our own hydraulic rams and gearboxes. In total, 85 per cent of what we sell is manufactured on site, ensuring we can maintain good quality control. We have also invested in a new website, delivered in 11 different languages. With around 90 per cent of our customers researching products on-line before they make a purchase this is increasingly important. In addition the new site allows our dealers and product owners to interact with us more easily, so developing stronger relationships. It is important that people feel comfortable with the product that they are investing in," concludes Tom.
Teagle Machinery Ltd
Products: Agricultural plant and machinery
Sites: Global
Employees: 150