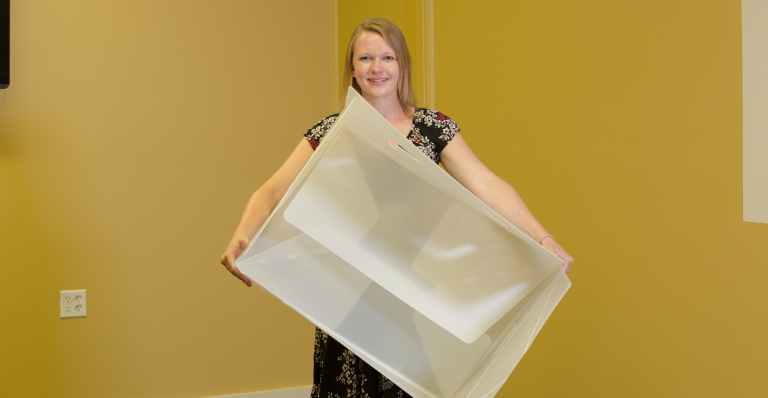 Technology Container Corp.
Claiming the largest plastic box capacity of any manufacturer in the world, Technology Container's production capabilities allow the company to manufacture thousands of boxes per hour for its clients.
"We're the world's largest plastic box manufacturer," President Fred Dowd says. "We have more plastic box conversion capacity than the rest of North America combined. We can manufacture 3,000 to 4,000 boxes per hour due to our patented technology."
The Desoto, Texas-based company's product portfolio includes reusable corrugated plastic boxes, corrugated paper boxes, hex drums, bulk bins, plastic storage boxes and point-of-purchase displays. But reusable corrugated plastic boxes, which the company has trademarked as Techno Boxes, are its bread and butter.
What makes Technology Container different from its competitors is its proprietary and high speed manufacturing process. It allows the company to mass produce these container designs and ship them cost effectively to any destination.
"It allow us to drive down the cost of these reusable boxes because it is an automated manufacturing system," Dowd says. "Everybody else in the world has to do it manually and in multiple operations. That's slow and expensive, especially for someone that needs 100,000 boxes."
Economical And Sustainable
With the cost of paper on the rise, plastic boxes are becoming a more economical means of transport for businesses that can utilize a reusable loop – meaning that they have a means of getting their distribution boxes back from their destinations.
"Paper prices have gone up about 20 percent in the past year," Dowd says. "And I think paper prices are going to continue to escalate because the demand for paper boxes is high due to dot-com businesses. They are driving up overall paper costs."
But for business that have a means of getting their boxes back, Technology Container's plastic boxes can be reusable hundreds of times. Common uses include distribution break pack jobs, work in process, snack foods distribution, retail distribution, harsh packaging environments, improved product protection and medical applications.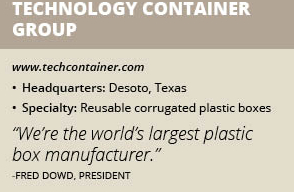 "Typically, our customers get anywhere from 50 to 500 reuses," Dowd says. "It depends on their environment, how much abuse the box is seeing, what type of products are being shipped and if they are light or heavy."
Companies with production and distribution cycles that allow them to reuse their boxes at least 10 to 12 times per year will see a 12-month return on investment.
"We should be able to drive their packing costs down to one to three pennies per distribution cycle depending on how many uses they get out of the boxes," Dowd says. "But for large companies, those pennies turn into millions. Our clients don't buy from us because we're nice guys. They buy from us for economical purposes."
Some of the soft cost savings associated with Techno Boxes include the streamlining of existing packing lines. The easy-fold plastic boxes set up instantly and can be introduced to a company's lines with little or no change. That eliminates the time, material and labor currently associated with paper box erection.
In addition, because Techno Boxes made from polypropylene, they are stronger than paper boxes. They do not weaken or crush when humid or wet packing conditions exist. Also, since Techno Boxes are purchased once and used for years, that eliminates material handling and reduces paperwork.
In addition, Technology Container boxes are a more sustainable option for distribution. "Our box is more environmentally friendly than a paper box," Dowd adds. "Reusable packaging is much more sustainable and it drives down solid waste, energy consumption and greenhouse gases typically by over 80 percent – as it relates to distribution packaging."
Custom Made
Technology Container is a pioneer of reusable corrugated plastic boxes. It can design reusable boxes in material grades from 3 millimeters to 10 millimeters. It is adept at customizing the density and strength of its material to meet the performance needs of its clients.
Technology Containers uses specifically formulated packaging grade resins, specific resin densities, material thicknesses and a number of flute counts to ensure the most reliable container for application.
"We do a very good job of tailoring the design and the box around the customer's application," Dowd says. "We can pre-automate the box with our easy-fold technology which enables the customer to automatically set up the box by pressing on the opposing corners. That allows them to eliminate time, material and labor associated with box erection. It also allows them to knock the box back down easily for convenient return and that is key."
Technology Container prides itself on pushing the envelope when it comes to technology and continues to invest in R&D. "Our ability to customize the box and our turnaround time is superior to most companies," Dowd says. "We can give our customers any size and shape they want for a $2,000 tooling cost versus injected molds costs that are hundreds of thousands of dollars."
Founded in 1988, Technology Container operates out of a 200,000-square-foot manufacturing plant in Desoto, Texas. Its proprietary one-step plastic box manufacturing line – which the company invented – allows it to service very large distribution systems. A vertically integrated company, it extrudes its own polypropylene resin sheets and then converts them through its one-step box manufacturing line at very high production speeds.