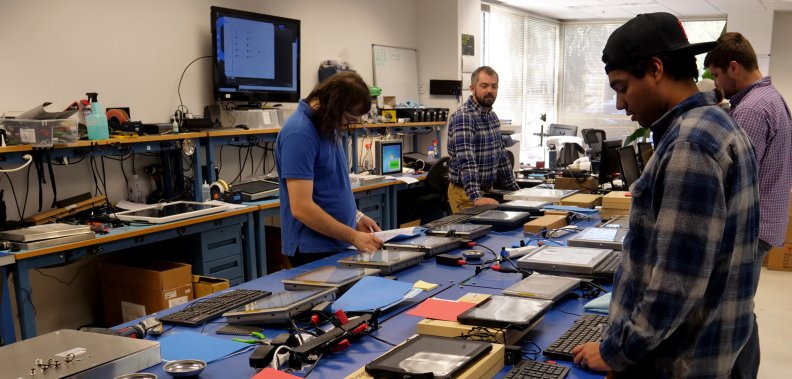 Manufacturers and their suppliers understand too well that downtime is lost time, and often lost money, as well. Companies continuously make significant investments to ensure ongoing productivity and efficiency, and they don't tend to maintain relationships with suppliers that can't assist with critical uptime. Teguar Computers understands this requirement well, which is why it focuses on delivering long-lasting industrial computers and devices that are also affordable.
Teguar was established in 2010 by CEO Jonathan Staub. He had come to the United States from Switzerland in 2006 with his wife, while he was working for a German computer manufacturer. Having gained several years of experience there, Staub saw a need in the market for a wider range of industrial and medical computer solutions. With his industry knowledge, a passion for technology and relationships with global manufacturers, he created Teguar.
"The German-made industrial computers were great quality, but had an extremely high price tag," Staub says. "I had a lot of ties to Asia at the time with contract manufacturers, so I decided to start Teguar with a similar high level of quality, but less expensive and a more attractive design. I wanted Teguar's computers to be for the same applications in industrial automation. This was the time of Apple bringing out computers with top designs, and there was nothing like that in the field of industrial computers."
He started Teguar with a focus on building computers for industrial automation markets, but he soon saw another need in healthcare for medical OEM manufacturers. These companies require computers that are much more dependable and long-lasting than what the consumer market offers, and Teguar set out to provide computers that were specially designed to for reliable performance in demanding environments.
"It's all about the quality of the components inside the computer," Staub explains. "Consumer computer components are built to last about a year, but industrial customers want a computer that works for five to 10 years and they don't want to constantly have to deal with updates. By providing reliability and serviceability of the components, we can deliver a long lifecycle to our clients."
Product Diversity
All of Teguar's computers and devices are built with industrial-grade components to ensure reliable 24/7 operation and continuous use in tough environments. The ISO 9001:2015-certified company delivers on these promises with features like fanless cooling systems, IP/NEMA-rated waterproof housings and extended operating temperature ranges. As a result, clients benefit from lower total costs of ownership and improved ROI.
"The industrial market is very broad, so we don't just have one major line, we sell our products to a lot of different niches," CTO and QMS Director Bryce Keeney explains. "With food processing, they need to be able to clean their computers with harsh chemicals, and use computers that have stainless-steel enclosures and are fully waterproof. More general manufacturers may not need that kind of durability, but they still need a computer that will hold up to vibration, heat or low temperatures, so a lot of our products are made with anodized steel."
Teguar's product line includes medical computers, industrial panel PCs, waterproof PCs and monitors, fanless box PCs and rugged tablet PCs. The company is constantly working to enhance its products, and in September, Teguar came out with a new line of high-performance fanless touchscreen panel PCs. The new TP-5010 series is available with Intel 6th generation Core i5 and Core i7 CPUs, making them the highest-performance panel PCs available in 2018. The series also was enhanced with a number of features to allow for faster boot times, more data processing, quick file transfers and overall unparalleled performance.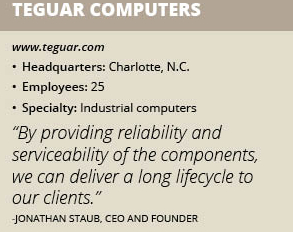 The company's rugged tablets are relatively new to its offering, but were developed to offer the same high-level of quality as Teguar's existing products. The tablets can withstand drops, spills, bumps and wide temperature ranges, but also feature a variety of connectivity options, Intel processors and hot-swappable batteries, so they can be taken nearly anywhere. Additionally, they were created with ergonomic designs and mounting options.
"We had some drive from our clients to not just offer a fixed or mounted computer, but also a tablet," Staub says. "A ruggedized, industrialized tablet that can handle oil, dust and dirt and will survive. We brought that into our product range about a year ago and we've seen amazing growth in that particular product line, it's a real success."
Customization Capabilities
To keep costs in line for customers while ensuring a high level of quality, Staub used his global manufacturing relationships to find the best fit. He found the cost of manufacturing Teguar product's components in Europe to be too high, and the Chinese market is more focused on manufacturing for consumer products, so the quality didn't match his specifications. Staub had some great partners in Taiwan, and that location offered the best mix of quality and cost.
"Taiwan is part of China but has a Western view of quality," Keeney explains. "They can help us with our products and provide support – if they break, they will help us figure out why they are breaking. We have the expertise of what clients want and expect from these products, but we can also talk to our manufacturing partners about what the products should look like. They come back with product design for us, we do the final assembly in North Carolina and then we deliver the products to our customers."
"Doing the assembly in the United States allows us to customize products for our customers," he adds. "We can make small changes for them, like in the operating system or the size of the storage device."
Additionally, Teguar collects a lot of data and feedback from customers to continually improve its operation and products. With its ISO certification, the company is better able to see where it can improve and how certain products can be enhanced to better serve its client base.
"Often it is very small," Keeney says. "In one product line, the touch screen was not as responsive as it could have been, so we recorded that and went back to our manufacturers while also changing the way we do inspections in North Carolina. Now we are doing more in-depth analysis before we ship products to customers.
"We do a lot of small things to improve to really make customers happy," he continues. "These products are not low-end solutions, and our customers want something they are really excited about. We use high-quality components that meet their expectations on feel, longevity, etc. We also have a lot of checks and balances in place so we have confidence in our processes."
This is important because Teguar's product line is so diverse, but it is dedicated to ensuring its quality remains consistent. As a result, the company has hired and trained employees who can handle a diverse amount of work, because for each product the work space might change or the quality checks vary. Consequently, Teguar offers a flexible assembly space and a strong workforce of employees who can handle that flexibility.
Ongoing Accomplishments
In the age of Amazon, more customers expect fast deliver, so Teguar has a lot of stock ready to assemble to custom specifications. Fast delivery matched with its high level of quality has allowed Teguar to grow, and support the local economy. The company recently opened an office in Taipei, Taiwan, to support its quality management efforts and worldwide logistics, but it also has a new sales office in Europe because that region is growing quickly, as well.
In North Carolina, Teguar is expanding its production facilities by doubling its assembly space because demand is so strong. The company is excited to see growth in its global client base.
"This is proof of what we have accomplished in such a short amount of time," Staub says. "We've been growing exponentially since we started – it has been completely organic with no outside investment – and that is not possible without an amazing team that carries forward my vision for a global company and product excellence. We have been on the Inc. 5000 list three times in the last few years, and that shows what we have accomplished with our team of professionals."
Keeney explains clients continually seek Teguar out because it understands their demands and the needs of their operations. In the past year, Teguar had a 98.3 percent success rate and it continues to improve on that, because products that don't fail is the value it provides.
"The biggest thing is uptime and the ability to keep their own processes running," Keeney says. "A computer is needed to complete so many business processes, and our customers want that computer to work and work consistently for a long period of time. We are not just focused on selling something that is new, fast or shiny. Underneath it all we believe it has the high-quality components to last for a long period of time in an industrial environment with very few failures."