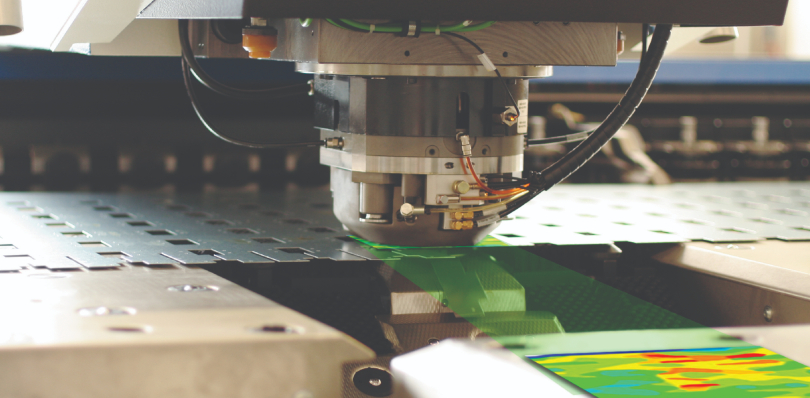 Tekscan is the world's leading manufacturer of tactile pressure and force measurement sensors and systems. Its pressure mapping solutions help manufacturers and engineers obtain interface pressure insights that may impact product design and quality. "We have 30 years of experience measuring pressure distribution in a variety of applications, and that experience helps our customers gain insight into complex problems that they couldn't gain in any other way," Product Manager Camilo Aladro says.
Tekscan offers a variety of application-specific pressure mapping systems, but the I-Scan™ is the company's general-purpose pressure mapping system offering. I-Scan systems are available in over 200 different standard sensor designs with varying pressure ranges, but the company also manufactures custom I-Scan sensors to fit the needs of a specific application space.
"We like to refer to I-Scan as a toolkit, because we have different shapes and sizes of sensing solutions that can perform a variety of applications," he adds.
Tekscan's pressure mapping systems include three components – sensors, scanning electronics and software – that deliver real-time data when used in conjunction. The ultra-thin sensors feature a matrix of sensing elements that measure the pressure distribution of two surfaces coming into contact with each other. "Our sensors are thin and flexible and can get into applications in a minimally-invasive way that doesn't change the dynamics of what you're trying to measure," Aladro says.
After being placed between two contact points – for instance, two mating surfaces of a production machine – the sensors are connected to electronic scanners that collect and convert data into a digital signal. This signal is then sent directly to a computer via a USB cable or wireless connection.
Tekscan's software displays activity in the sensor area in real-time, allowing users to analyze force, pressure, contact and timing data. Data can be displayed in multiple formats, and graphs generated from the data are available in 2-D or 3-D. "Compared to other pressure analysis technologies, like pressure indicating film, our pressure mapping sensors are reusable and can remain in a testing space for the entire testing duration," he adds. "This helps users better understand the inner-workings of their process from a pressure-distribution perspective, which may be affecting quality and efficiency."
A Range of Applications
Pressure mapping has a number of applications for nearly every manufacturing segment. "Our system can be used throughout the entire product lifecycle from conception to delivery," Aladro says.
Research and development and design applications for Tekscan's system include prototyping and material selection, improving and validating finite element analysis and competitive benchmarking.
Pressure mapping methods can also be used in product commissioning applications including machine integration, validating machine set-up and obtaining baseline quality control metrics.
Other uses for Tekscan's technology include on the factory floor for routine maintenance checkups; occupational ergonomics; and storing, stacking and shipping. "Exchanges in pressure are present in just about every manufacturing operation – whether made manually by an employee on the manufacturing floor, or mechanically by a machine," Aladro says. "There's a wealth of information about a process that may be going unnoticed without a reliable method to measure these pressure exchanges."
The company has developed application-specific systems for several of the industries it serves, including the tire and automotive manufacturing industries. One of its most recent products, High Speed TireScan™, can measure the pressure footprint of a tire traveling as fast as 165 miles an hour. Tekscan also serves the semi-conductor, packaging and distribution, and other industries.
"Pressure mapping is extremely valuable for a manufacturing process, because the uniformity of pressure distribution can be critical to product quality," Aladro says.
Research and Development Applications
Tekscan's systems are frequently used in research and development to evaluate the repeatability of an automated system.
"Pressure mapping technology is an effective tool for exposing potential flaws or hazards that can develop within a machine over time," Aladro says. "For instance, automated or robotic manufacturing machines are trusted to perform repeatable actions with a high-level of consistency. The slightest misalignment over time can ruin the yield of an entire production run.
"Using pressure mapping technology to evaluate machine performance early in the R&D phase helps ensure the final design will deliver top quality product and require less routine maintenance," he adds.
One Tekscan user, a robotic system developer, used an I-Scan system during the design phase of a new generation system to evaluate the consistency of a robot's actions. By placing sensors on the robot's contact points, design engineers were able to see high- and low-pressure points in the pick and place process.
"This data was used to make adjustments to the machine's alignment as needed," Aladro says. "While using the technology in R&D, [the developer] had a breakthrough idea of embedding that same technology within the machine's user interface, so the operator could perform alignment spot-checks on the fly."
Another manufacturer used I-Scan to understand the pressure points produced by warehouse robots while they carry heavy loads.
"Warehouse robots are immensely useful for improving productivity of high volume manufacturing facilities or storage warehouses. Not only can they carry the load of entire shelving units with ease, but their precise movements make the transportation process quantifiably more efficient," Aladro says. "However, given the extreme weight these systems can carry, their movements can cause damage to the warehouse floor. This can cause the robots to become disoriented, which can be dangerous to employees, and cost the company considerably in repairs."
Using the data gained from Tekscan's technology, the warehouse robot manufacturer adjusted its design to distribute pressure more evenly and reduce stress on other parts of its operation. The robot could be programmed to adjust its movements depending on the amount of weight it was carrying, Aladro adds.
In addition to being used in automated systems, pressure mapping can also be used to reduce the strain of repetitive actions taken by humans. "For certain manufacturing processes, nothing can take the place of the human touch," Aladro says. "Of course, repeat movements or gripping actions can wear on an individual, and can cause long-term health issues like carpal tunnel syndrome."
A drill manufacturer applied I-Scan sensors around the design of its drill show areas of peak pressure while someone operated it. "The R&D team wished to see if there were different effects of an individual gripping the drill with either their right or left hand," he adds. "Similar tests could be done to assess peak pressures while holding the drill in different positions."
Industrial Commissioning Applications
Tekscan's technology can be used to confirm conveyor connections – just one example of its use in industrial commissioning to ensure successful machine integration.
"As manufacturing companies expand to meet growing demand, sorting and distribution systems can quickly be pushed to their limits," Aladro says. "For conveyor systems, re-routing sections are incredibly important to ensure the right units are being delivered to the correct areas of the plant. Any misalignment in the conveyor system can spell disaster, especially when transporting fragile components that can damage easily.
"While installing new conveyor lines or dividers, industrial engineers can obtain a better understanding of system performance with pressure mapping technology," he adds. "Whether it's establishing alignment between one conveyor line to the next, monitoring a safe distribution of weight across the line, or ensuring product is reaching its next stage of the manufacturing process at an efficient pace, pressure mapping can be a valuable quality benchmarking tool."
On-The-Floor Applications
Tekscan's pressure mapping solutions are regularly used as part of a routine factory maintenance program. One of the company's automotive manufacturing clients used pressure mapping to improve the way it applies vehicle badges to cars.
Manufacturers apply adhesives to vehicle badges, which are then pressed onto a vehicle part using a pneumatic tool handled by an operator or by a robotic system as the car goes through an assembly line. Uneven application on the vehicle can create gaps in the seal which can ultimately cause the badge to fall off the vehicle.
The manufacturer used an I-Scan system to test the pressure uniformity applied by its pneumatic emblem application tool. "A pressure mapping sensor was positioned onto a vehicle door to record pressure distribution across an entire emblem design," Aladro says. "The operator could adjust the position of the pneumatic tool, and also reposition themselves to apply the emblem at the better angle for an even seal."
Tekscan's systems also have applications in the warehouse. A group of researchers used pressure mapping technology to determine what happens when unevenly stacked boxes distribute pressure after compression is applied. "There was a significant discrepancy of pressure distribution between boxes stacked uniformly versus non-uniformly," Aladro says. "This data helped identify ways to improve the box design, and also develop some best practices for warehouses to employ when stacking packages.
"Similar methods could also apply to other quality control storage aspects, and apply just about any mass of material, including pallets on shelving and weight distribution on a shipping vehicle," he adds.
Pressure mapping technology can also help ensure proper nip roll alignment for printing, packaging, laminating and converting operations. Tekscan's Nip Pressure Alignment Tool (NPAT™) is used by industrial engineers to capture nip footprints and relative pressure distribution between nip rolls. The NPAT contains several sensing columns that independently scan the roll to show areas of high and low pressure. "With this tool, the engineer can map out the ideal nip uniformity settings before a production run," the company says.
Driving ROI
Regardless of the application, Tekscan's pressure mapping technology offers manufacturers countless ways to capture data that drive their return on investment.
"ROI comes in many forms; a technological innovation that elevates throughput efficiency, a safety measure that promotes a less dangerous working environment, or a smart tool that ensures the accurate delivery of a product," Aladro says. "Given the explosion of recent technological advancements in all of these segments, developing applications that stand out to your target user can be challenging.
"Change always brings skepticism, but as a design engineer of manufacturing machines and assembly equipment, smart utilization of proven technology, like pressure mapping technology, may be your gateway to the next landmark manufacturing innovation," he adds.