Anything else is just a sofa
Tetrad is a veritable maverick in the upholstery industry, handcrafting each of its pieces of furniture and setting the standard in the marketplace
A true passion for the beautiful has driven Tetrad for half a century, during which time the company has led the way in the design of soft upholstered furniture. Observing the vigour sported by the Preston-based manufacturer, it is easy to comprehend why its Production Director, Stuart Masson labels it "50 years young".
Tetrad's company slogan – 'Anything else is just a sofa', is demonstrative of the business' claims to being different to its industry peers, with the company taking pride in handcrafting all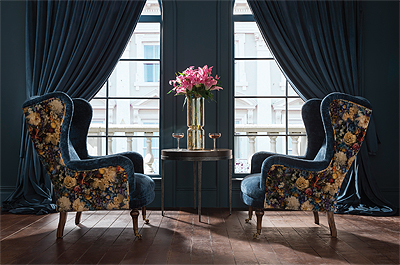 pieces of furniture it produces. "All Tetrad sofas, chairs, and stools are meticulously made with hardwood frames. We cut their shapes on-site using beech and birch hardwoods, which is becoming increasingly unusual in our industry, as the vast majority of our competitors opt for sheet materials. Another aspect, which sets us apart, is the fact that we use non-corrected aniline leather in our products. Moreover, we purchase handwoven fabrics, which are then handcrafted into the final piece of furniture, thus creating a really beautiful and unique product for our customers," Stuart discusses.
"In fact, most of the upholstery that we produce, is made by one upholsterer, which can be seen as another rarity in our industry nowadays. Many other companies use production lines, which, despite ensuring a higher throughput, take away the personal touch we can add to a Tetrad unit, where one person manufactures it from the first tiny staple to the finished and ready to dispatch product," he continues.
With the nature of Tetrad's business requiring an exceptionally skilled workforce, staff is understandably regarded as the organisation's biggest asset. "We are special in that a lot of our employees have been with the business for a very long time, and a considerable percentage of these people have started their career here as apprentices and have progressed through the ranks over time. The company runs a comprehensive apprenticeship scheme, which allows us to embed skills into potential employees from an early age and build the business's future that way. Our long-term vision projects the continuing development of home-grown talents who realise what it is like to produce not just an ordinary sofa but to produce a Tetrad," Stuart claims, also commenting that through training its own people, the company is trying to address the much-talked-about skills shortage gap in manufacturing.
"There are two ways to address this issue and we use them both, although we certainly prefer applying the method I just discussed. Nevertheless, we also engage what we might call 'migrant labour', by employing staff who have not been with us from day one of their professional path."
Over the years, Tetrad has formed a web of cherished business collaborations with a number of like-minded businesses, which has helped the brand build its popularity in the marketplace. "For example, we collaborate with Harrison Spinks to create the luxurious Spink & Edgar collection and also produce furniture using Mulberry Home fabrics and Signature Ralph Lauren fabrics. The collection that has proven historically most popular, however, is the Harris Tweed. Our Heritage range has also been especially sought-after, attracting customers with the genuine aniline leathers we use. I am pleased to say that all of our collections perform well and generate a very diversified sales portfolio for the business. We can offer our clients highly-customisable solutions for their needs, due to our capability to manufacture furniture across the entire spectrum of design," Stuart points out.
Even though its products are predominantly being sold in the UK, presently, the company is developing its export side intensively. "As a matter of fact, we already sell our furniture all over the world, in countries like France, Italy, Germany, Belgium, the Netherlands, as well as in the Middle East and the Far East," Stuart reveals. "We are now looking to further upscale our activities, because we have identified export as a key strategic area for the business. This explains the investment we have placed and will continue to place in exhibiting at furniture shows worldwide. By the end of the year, we will have been at exhibitions in Brussels and Singapore, which reflects our ambition to target the Far East and Europe as potential areas of expansion. Naturally, we are keeping an eye on the Americas, too."
Stuart admits that the upholstery market is not having its greatest spell, noting that consumer confidence has been damaged in recent times, but that Tetrad is staying strong, due to keeping itself a step ahead of the competition through continuous innovation. "To give you an example, in June 2018, we launched our collaboration with Mulberry Home, which has been very well-received for the colourful, luxuriant, and vibrant items we have manufactured. Not suffering as much as other businesses are, is a true testament to the reputation our brand holds across the industry."
In order for Tetrad to continue navigating the challenging business climate and maintain its leadership in the market, the company has put in place ambitious plans for the future. "One of the significant investmesnts we are going to make, will involve the purchase of new fabric cutting technologies to make our operations a bit more efficient. It is also worth mentioning that we have just launched a range of beds for our Spink & Edgar brand, combined with Harrison Spinks mattresses, which we hope to see in stores just before Christmas, or shortly after.
"The only way for us to evolve is through seeking constant improvement in every aspect of the business. We are certainly not going to stand still, as we follow our growth plan. Infrastructure development is one of our priorities and another is ongoing investment in marketing and PR activities as a means to raise brand awareness. It also goes without saying that excelling in delivering our services is on the top of our agenda. Ultimately, we are going to continue to design and craft beautiful pieces of furniture that will push Tetrad as a force to be reckoned with in the upholstery market," Stuart concludes.
Tetrad
Products: Handcrafted upholstered furniture