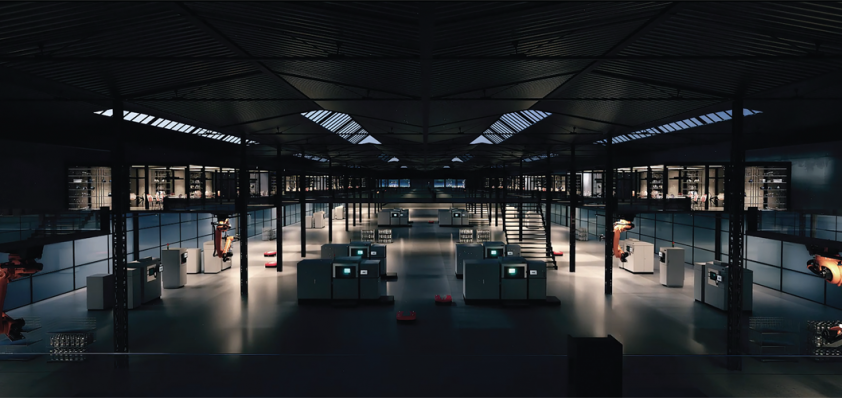 Everyone involved in manufacturing and supply chains has had good reason over the last 15 months to think about how to protect their production flows and make them more efficient. A change was already taking place, with distributed production vividly demonstrating what could be achieved through the pandemic, but was it just a plaster, or can it really be a sustainable solution?
There is the potential to change structures for the better and industrial 3D printing can play a vital role. Additive manufacturing is not yet the solution for millions of units of mass production. Nor can it make up for past failures at the touch of a button – if you want to prepare for the future, you'd better start yesterday as opposed to today.
Industrial 3D printing allows for demand-driven production, streamlines processes, and makes the supply chain more robust. Products can be improved or newly created with regard to their complexity, functional integration, or lightweight construction. Combining industrial 3D printing with digital manufacturing structures that link machines and production control software systems in globally dispersed locations results in new levels of transparency thanks to real-time reporting, flexibility, and performance. Ultimately though, the form distributed production takes for any business must be defined based on the company's situation and strategy, but broadly speaking there are three basic models that can be adopted:
Global additive manufacturing structures –In order to maintain a high vertical range of manufacturing within a company and maintain full independence, company built and owned AM cells can be set up worldwide. Thanks to profound networking, it is possible integrate and control distributed production on a global scale across every location and machine
Integrating 3D printing at local manufacturing sites – For flexible design and production, 3D printing can be integrated into existing local manufacturing structures and networked using the appropriate software system. Monitoring of the AM process provides insight into construction progress and quality at all times
Use of individual 3D printing systems – For those not wanting to build large distributed production structures, individual 3D printing systems can be implemented in suitable locations around the globe. This allows direct delivery to end customers and significantly reduces warehousing and logistics costs, by producing products on demand
Creating value with digital for small and medium series production
Additive manufacturing can span the whole product lifecycle from design to prototyping, production and after-market spares. At its heart it is a digital process with value creation starting in product development. This stage enjoys a high degree of design freedom through 3D printing and designs can be very quickly optimized. This means products can be brought to market and tested 'in market' very quickly as part of the optimization process. These final products are transferred as digital files to production control, which in reality could be anywhere in the world. Cloud-based software is used to control the production process giving comprehensive reporting across all machines and the production process as well as complete traceability of build cycles/parts. These are crucial components of series production along with quality control, and the reality is that distance is does not mean loss of transparency.
A production island designed in this way is not closed off in any direction – there are interfaces that can be automated in any direction. This means that the connection to superordinate software systems at the manufacturer (MES, ERP, SAP) and thus automated job processing are possible, as well as the connection to other production processes and stations.
Digital control also provides the basis for the self-optimization of production using digital twins. The idea behind this is that digitally networked machines use intelligent algorithms to create a self-optimizing network – in other words, digital intelligence enters the production chain. Parameters are recorded in real-time on every part produced, creating digital twins of each. After ten weeks of production, for example, different parameters can be compared for 100,000 digital twins and modified in simulations to identify any potential for improvement. The system plays through which change has what effect on the result – to find the best way to optimize itself in the eleventh week.
No plaster, just the future
The transparency, flexibility and control offered by 3D printing means that it is consistently sustainable as a manufacturing technology. There is no waste of material, because only as much is used as is actually needed – as opposed to subtractive manufacturing techniques. When a manufacturing operation is digitally networked and built globally, the material cycle becomes local and the end products are manufactured closer to the customer – massively reducing transport routes and CO2 emissions.
Recent events have led all manufacturers to face that they may not have been as flexible as they thought – allowing 3D printing to shine on the global stage. A technology once seen as only suitable for prototyping is dealing with these challenges head on and leading to evolutions in product design and manufacturing that simply are not possible with traditional techniques.

Dr Marius Lakomiec
Dr Marius Lakomiec works at EOS. EOS is the world's leading technology supplier in the field of industrial 3D printing of metals and polymers. Formed in 1989, the independent company is pioneer and innovator for comprehensive solutions in additive manufacturing. Its product portfolio of EOS systems, materials, and process parameters gives customers crucial competitive advantages in terms of product quality and the long-term economic sustainability of their manufacturing processes.
www.eos.info