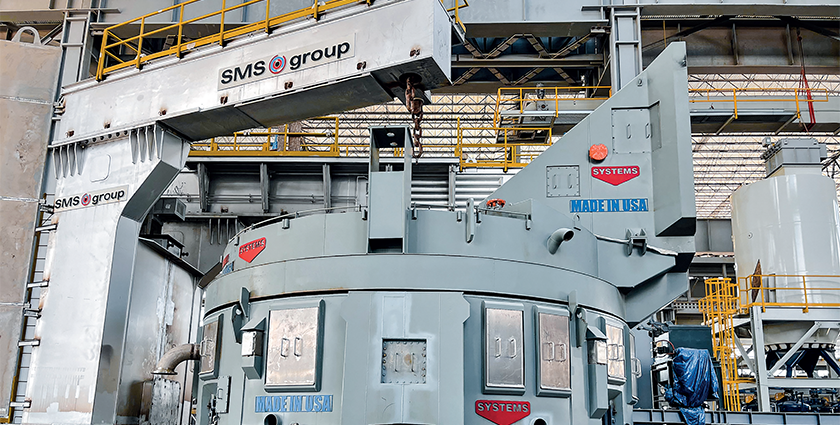 A safer future for steel
As a trusted partner of the booming US steel industry, The Systems Group enjoys unprecedented demand for its expert services and innovative cooling solutions
Taking care of the customer is a number-one priority for The Systems Group (TSG). With a range of services specifically tailored to the steel industry, the company has been a valuable source of knowledge and support for steel makers across the US, and beyond, for over 50 years. Today, the company pioneers safer, more sustainable steel production with its innovative Spray-Cooled™ technology, and advanced contracting division.
Becoming a true specialist in steel manufacturing has helped TSG see ongoing success since being established in 1970. As company president, Lee Morgan, discusses: "The Systems Group is a set of companies focused on the steel industry, specifically tailoring products and services for electric arc furnace applications. Our mission statement is: 'Engineered Solutions for a Safer, More Productive Steel Industry.'
"We are a 52-year-old company, which started as a small pipe fitter in Arkansas servicing the local chemical, oil & gas industry in South Arkansas. Nucor hired Systems in 1988 to pipe up the EAF of the new Nucor-Yamato steel mill being built in Arkansas. Nucor Steel at the time was a small steel maker but they grew and grew and took Systems to every steel mill they built. Today, Nucor is the biggest steel maker in America, with 22 steel mills and hundreds of downstream support plants. We are proud to have supplied products and contracting services for every single one of those steel mills and work in many of the downstream facilities.
Steel industry revolution
"Today, The Systems Group also makes patented Spray-Cooled systems for electric furnaces and offers refurbishment and maintenance support alongside that. Additionally, we have a dedicated contracting division, which helps build new steel mills across America, and a network of fabrication shops to support this growth.
"The company has Spray-Cooled equipment installed in over 100 steel mills in 20 countries, however our contracting services are only available in the US. We are really excited about the resurgence of the steel industry across America and Europe, because it marks the beginning of a whole new chapter for us."
Recent developments in mini-mill technology have opened up the possibility for more sustainable steel production and led to a massive boom across the industry. With renewed activity in mills across the US, The Systems Group has stepped up to support the steel industry's transition to more modern manufacturing.
"There is a massive evolution happening within the steel industry. We have seen a lot of stagnation in recent decades, because the production of these metals is so carbon intensive. However, by re-melting scrap metal, which is a process that has a far lower carbon emission rate, steel makers have been able to make a comeback.
"The original scrap metal recycled steel was primarily only used to make rebar, which was your cheapest, lowest-quality metal. With more advanced technology today, steel makers have been able to create a solution that takes the impurities out of scrap metal, which means it can be used to create any alloy mix, including incredibly high-grade metals.
"Many more companies than just Nucor are now expanding their mini-mill recycling ranks. Steel Dynamics, Commercial Metals, and Big River Steel are leading recyclers. US Steel, one of the oldest steel mill companies in America just bought Big River Steel and have greatly expanded their recycling capacity. Cleveland Cliffs used to be an iron ore company, but now they have expanded into buying up mini-mills to add recycling to their iron ore integrated mill processes."
Important development
This new era for steel production has created massive demand for TSG's specialist products and services, as Lee confirms: "Bringing back the ability to make steel, in a newly sustainable and modern way, is really good for us as a business that only serves the steel industry.
"We currently have four divisions that make up The Systems Group: Systems Plant Services, Systems Contracting, Systems Spray-Cooled, and Systems Fab & Machine. Our portfolio is designed to provide comprehensive support to the steel industry. Our Spray-Cooled technology does the cooling in the melt shop, our Contracting division helps build steel mills and provides them with piping and equipment setting, our Plant Services division provides maintenance, and our fabrication shops provide vital products for steel manufacturers.
"The electric arc furnace part of TSG has grown tenfold in the last two years, thanks to the renewed vitality of the steel industry in America. We are actively supporting this growth, having just finished helping construct three new steel mills, the industry will be breaking ground on four more, worth an estimated $6+ billion, at the start of 2023."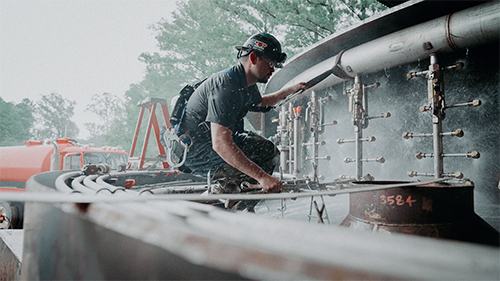 These advanced capabilities have placed TSG at the forefront of modern steel making technology. As Lee already mentioned, the
company's latest innovation, Spray-Cooled, is a particularly important development. "Our Spray-Cooled system is a really effective piece of equipment that significantly improves furnace safety. Electric arc furnaces can be dangerous, they reach incredibly high temperatures and explosions are not uncommon. It puts people at risk, which is why we developed our cooling product.
Traditionally, water is wrapped around the furnace in essentially a radiator and used to cool the upper shell and roof. However, if anything goes wrong, this system can actually exasperate the issue by shooting large amounts of water, which then becomes steam, into the furnace and blowing it up. Our technology drastically reduces this risk, by removing the high-pressure water and spraying water on the furnace wall. This builds up a frozen layer of slag on a protective plate. With no water pressure exposed to the furnace, only small amounts of water can get in if a hole is formed, and the plate can be maintained and repaired without having to cool the furnace down.
"Steel makers are becoming more modern, and a big part of that is spray cooling. We are rapidly converting steel mills around the world to use Spray-Cooled technology, improving safety and longevity," Lee explains.
Exciting times
In order to provide the ever-growing steel industry with the spray cooling and piping technology it needs to succeed, TSG has made major investments into people and plants. "We are currently in the process of expanding our main fabrication and machine shop in El Dorado, which will add 47 acres of land and at least 60 new employees. The project primarily involves installing a new high bay with some additional cranes. In buying four 20-ton overhead cranes, we will be able to lift our industrial-sized spray cooling equipment much more efficiently.
"Another one of the key additions we will be making to the facility is our new range of welding machines. This new equipment is top-of-the-range, so it comes with a lot of new processes, including spray arc and surface tension transfer. This added functionality will improve our weld speed and quality, and improve efficiency by adding another automated element to our overall process.
"We are also creating an in-house welding school, with 12 available booths, in order to grow our labor force. There is a shortage of trained welders and fitters across the country, and so this investment is really as much about ensuring the future of industry as it is about our personal growth. We have a dedicated welding instructor on staff, and they will be training up young people who are interested in the profession," Lee reveals.
This expansion comes at the right time for The Systems Group, as it continues to manage numerous major projects across the US. "One of our latest projects is the new Steel Dynamics Inc steel mill in Sinton, Texas. It's the newest and biggest steel mill in America, and we provided the Spray-Cooled equipment and piping for the entire melt shop, which is just incredibly exciting.
"Additionally, there have been two brand-new Nucor rebar mills built in Florida, and Missouri, and Systems did all the piping. We are now working with Nucor, in Brandenburg and Gallatin Kentucky. Brandenburg is a new mill going in with Spray-Cooled technology and Gallatin is an expansion with Spray-Cooled technology, and we are doing piping for both.
"We have so many more interesting projects to look forward to. Big River Steel is duplicating one of their most successful plants, and we will be doing construction and Spray-Cooled equipment for them very soon. There are also numerous projects with various steel mills coming up over the next few months. It's an incredibly busy time for us right now," enthuses Lee.
It is clear that this is only the beginning of an exciting journey for The Systems Group, as Lee concludes: "We are experiencing a period of rapid growth, and the real challenge now is meeting the increased demand without compromising on quality & safety. We are investing in expanding our facilities and training new people, so that we are equipped to fully support the steel industry's transition into the future."
The Systems Group
www.tsg.bz
Services: Solutions for the steel production industry