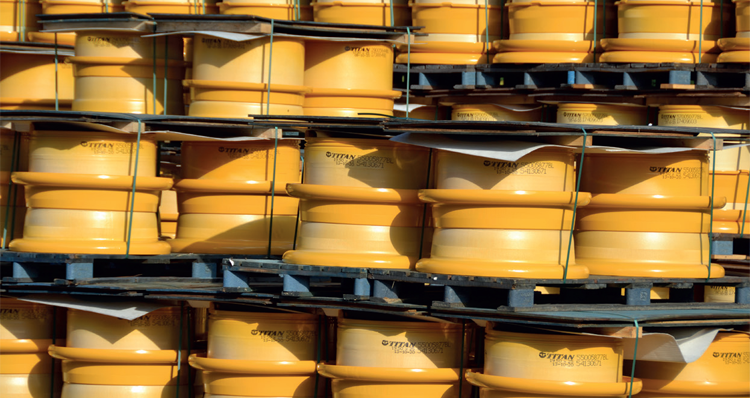 Strong as steel
When Titan Steel Wheels (Titan), the UK division of Titan International – the global market leader in the manufacture and production of off-road tires and wheel technology – last graced the pages of Manufacturing Today it was the summer of 2020. At that time, it, like the rest of the world, was rapidly coming to terms with the immediate impact of the Covid-19 pandemic, and what it might mean for the future of the business.
Catching up with Managing Director Chris Akers in July 2021, he talks us through the steps he and his team took to navigate the unpredictable times experienced by us all over the last 12 months. "The nature of our business predominantly involves supplying our customers with just-in-time products, rather than building an inventory of stock. What this initially meant was that when our customers all began ceasing operations at the start of the first lockdown in March 2020, we too took the decision to shut down our factory for several weeks," he begins. "At this time, we made use of the UK's furlough scheme in order to ensure that our people continued to be supported financially. Then, as our customers began to gradually ramp up their activities, so too did we until, by around August time we were in a position whereby every member of the team was back delivering for the business."
During the second half of 2020, Titan would enjoy a strong increase in demand for its products, a pattern that has continued throughout the first six months of 2021. "We are now projecting quite significant growth figures in the latter half of this year, and a rising number of our customers are also now talking about a manufacturing 'super-cycle' taking place during 2022/2023, with some predicting levels of demand reaching heights not seen since before the economic crash of 2008," Chris reveals.
In terms of how Covid-19 has materially affected the way in which Titan manufactures its products, the company has been fortunate in that the way its facilities and infrastructure is laid out lends itself well to the concept of social distancing. By coupling this with the introduction of staggered shift patterns, face masks, sanitizer, and conducting customer or supplier business via platforms such as Zoom and Teams, the company has weathered the challenged extremely well.
"Arguably the biggest issue we have faced as a business in recent times has actually been the knock-on effect that the pandemic – and other external events – has had on the global supply chain. The impact of this has revealed itself in the form of the rising costs and declining availability of raw materials like steel, and the costs of shipping, especially from the Far East," Chris adds, before noting one of the ways that Titan is working to overcome said issues. "I think it is very much about having people at hand who are experts in areas such as the logistics sector and the steel purchasing area, and people who have close relationships with key players and suppliers, and who keep a closely trained eye on what is happening in different world markets. It is those skilled individuals who are tasked with making a lot of difficult, timely decisions, sometimes on an almost hourly basis, who can make a massive difference in today's world."
Facilitating growth
Bearing the above in mind, it goes without saying that it is incredibly beneficial that Chris finds himself today surrounded by what he proudly calls 'the best team he has ever had' making up Titan. "Everything we do and achieve as a business ultimately comes down to having a really great group of people who all pull together in a single direction for the betterment of everybody," he enthuses. "The difference this can make is invaluable, especially during challenging periods of time."
Adding to said team in order to help facilitate the levels of growth that the company expects to see in the months ahead is going to be a particular area of focus for Chris going forward. "Since Brexit in particular, there is notably a shortage of generalized labor available to businesses such as our own, making the hiring of new people to fill roles that are becoming available especially difficult compared to in the past," he explains. "Among the toughest of roles to fill at present are at a production operative level, and such is the demand for these people that companies like us are looking at various ways to overcome this challenge.
"We have identified two ways to do so. One is to push ahead with incorporating a greater use of automated technology, reducing the need for manual labor. We have done a lot of that in recent times, and we will continue to do so wherever possible. The other thing that you can do is have goods made in those countries or regions where lack of manpower is not an issue, and then have those goods shipped back over for sale from the UK.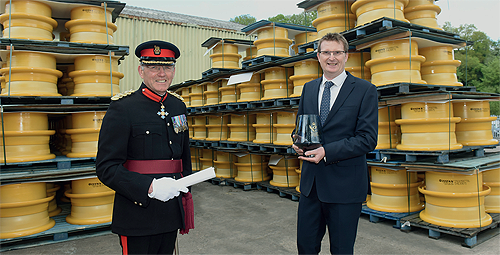 Again, this is something that we have intensified lately, so as to reduce the demand on our domestic labor force, however this has to be balanced against those rising shipping costs."
Queen's Award
For Titan, 2021 has to date been an extremely dynamic year, and it has also seen the company awarded with what is its fourth Queen's Award (three of which have now been earned during Chris' tenure as Managing Director) for 'International Trade for Outstanding Short-Term Growth in overseas sales'. Accepting the award in early June 2021, Chris commented that winning the award was "testament to the hard work and dedication of the entire team".
Notwithstanding the impressiveness of picking up a fourth Queen's Award, Chris goes on to tell us that, as far as personal highlights from the last 12 months go, what gives him the most pride and satisfaction has been the company's ability to keep its entire workforce intact throughout the Covid-19 pandemic. "We didn't lose one person during the last year and a half, and now that we are actively recruiting for new talent I think we find ourselves in a nice, strong position for future growth," he declares.
So, what is the plan for the coming months – and in 2022 – for Titan? "For us, it is about constantly evolving our designs in order to meet our customer's needs," Chris says. "Now, wheels are of course still going to be round, and we don't try to reinvent them every time we make a new one, but we understand that those that we do produce tend to go onto machines that work in incredibly difficult environments or carry big loads. Therefore, what we do is constantly evaluate what we have designed and produced in the past, and pin-point any adjustments that we can make to the benefit of the end user.
"Going forward, we anticipate the next 12 months to remain a period of very strong growth, but with that comes the aforementioned need to bring in a large number of people, potentially increasing our workforce by as much as 15 per cent. So, finding those people, training them, making sure they come on-board safely and can operate effectively within the business, and ultimately create added value for ourselves and our customers will be a major focus for us, and we look forward to the challenge."
Titan Steel Wheels
www.titan-intl.com
Products: Manufacturer of wheels and tires