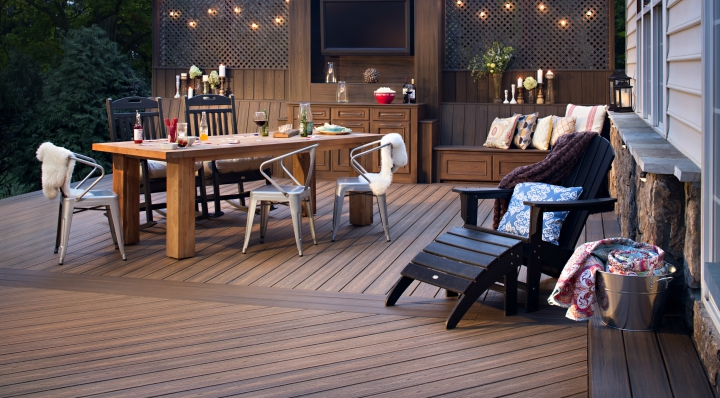 In the eyes of many of its customers, the Trex® name is synonymous with outdoor composite decking. "Many of our customers specifically want Trex, not just a deck board. Our marketing, coupled with our strong distribution footprint, drives them to purchase our branded product," Vice President of Operations Jay Scripter says. "With such strong brand awareness and market share, Trex is frequently the only brand of composite decking that people know."
The Winchester, Va.-based company defined and led the composite decking category since it started business in 1996. Trex manufactures decking materials and railings and sells complementary products including furniture, lighting, pergolas and outdoor kitchen storage and cabinetry. The company in 2017 added to its offerings when it acquired SC Company (now renamed Trex Commercial Products), the country's leading manufacturer and supplier of custom architectural railings and staging solutions that serves the majority of large sporting venues around the country, including AT&T Stadium, home of the Dallas Cowboys.
"Our products are high quality and we have built a well-recognized brand with high customer satisfaction," Scripter says. "Our vision is to enhance the lives of people by engineering what's next in outdoor living."
Trex sells its products to lumberyards via two-step distribution and to home improvement DIY retailers directly, but considers itself a consumer product manufacturer. "Our end-user is a homeowner who appreciates beautiful, high quality outdoor living without the maintenance hassles of traditional wood decking and railing," he adds. "These are people who want to spend more time enjoying their deck rather than maintaining it."
The company's products have earned it a number of accolades from customers and industry peers alike in recent years. For the past seven years, Trex has been recognized as the "Greenest Decking Brand" in Green Builder Media's Reader's Choice Awards. In 2017 Trex was also given the "Best of Houzz" design award for the third consecutive year and designated an official "Houzz Influencer" by Houzz.com.
Proving its brand prominence among trade professionals, the 2017 Builder Brand Use Study named Trex number one in "brand familiarity," "brand used the most" and "brand used in the past two years" for the composite/PVC decking category. Trex has earned top rankings in these three major brand performance areas in each of the past 10 years – an unparalleled achievement within the composite decking industry. Adding to the company's hot streak, Trex Signature® aluminum railing recently was included in Green Builder's "Hot 50 Products" list.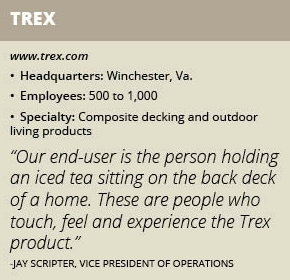 Green Pioneers
Environmentally friendly practices have been standard at Trex for all of its more than 20-year history. The company's products are made from 95 percent recycled materials. "We were doing that before 'green' became popular," Scripter says. "For us, it just made good business sense, and we're good at it."
The company operates manufacturing facilities in Winchester, Virginia, as well as a plant near Reno, Nevada. Recycled materials used in Trex® composite decking include polyethylene products such as shopping bags or stretch wrap from pallet packages. "We are one of the largest polyethylene recyclers in the country," Scripter says. "We are very good at utilizing recycled polyethylene that other manufacturers can't use."
Trex has developed a number of innovative manufacturing processes to convert what it calls "unloved" plastics into its products. "Through complex proprietary processes, we're able to process this material to make beautiful finished products that will stand the test of time," Scripter says. "Today's homeowners want to spend their time enjoying their outdoor living spaces – rather than maintaining them. Trex decking stands up to weather and day-to-day wear. It resists fading, stains, mold and scratching far better than wood, making it a superior choice for today's eco-conscious consumers."
The company enlists the assistance of more than 570 schools across the country to gather plastic film for recycling. The annual Trex School Recycling Challenge encourages K-12 students to compete against one another to see who can collect and recycle the most polyethylene plastic. The winning schools receive beautiful Trex products and the gratification that comes with going green. "We have worked to educate students on the importance of recycling and through this program have collected more than 250,000 pounds of plastic in 2016-17," he adds.
Rising to Challenges
Trex is constantly improving its processes. "All of our critical processes are highly specialized and proprietary, so the only place we can look to for improvement is ourselves. This places us in a unique position, whereby we are able to rapidly evaluate, critique and improve upon what we just produce." Scripter says. "Continuous improvement is the norm for our team, which we've reinforced and expanded to meet the demands of our successful business growth.
"We have doubled our resources in the last two years by combining existing technical and manufacturing talent with new highly skilled people to create a huge acceleration of innovation and execution as shown in our top- and bottom-line growth," he adds. "Talent is hard to find, but giving people the chance to join a company that is constantly reinventing itself as a market leader has proven to be an effective tool to attract great people at all levels and in all areas of the business."
In addition to improving its manufacturing techniques, Trex recently developed an in-house customer care team to heighten the service level for customers and to further differentiate the brand. This team assists customers with questions ranging from selecting products to installation, ensuring that all queries are resolved quickly and customers are connected with local dealers and contractors for further support.
Trex's investments and focus on manufacturing quality products have paid off. "Growth continues to be a manufacturing challenge for us," Scripter says, noting the company has seen an approximate improvement in residential segment gross margin of 750 basis points and its stock price moving from $38 to more than $100 since 2015. "We aspire to continue the record-setting financial performance of the past two years well into the future."