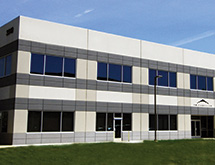 Few businesses can say that their work helps save people's lives, but TriVascular Inc. can. Since its start 17 years ago, "We've successfully treated over 7,500 patients to date throughout the world," Vice President of Manufacturing Mike Maszy says.
Based in Santa Rosa, Calif., TriVascular designs and manufactures technologies for endovascular aortic repair (EVAR). The company's flagship offering is its Ovation iX and Ovation Prime Abdominal Stent Graft System, which treats abdominal aortic aneurisms (AAA) a weakening of the arterial wall. AAA rupture carries a risk of death up to 90 percent and is the third leading cause of sudden death in men over the age of 60.
Historically, aneurisms have been treated with complex surgeries that involve cutting patients open and removing organs. "Our device is unique in that it has [a smaller] profile, which means it's minimally invasive," Maszy says.
When using Ovation, doctors insert a delivery catheter and advance it from the femoral artery in the aorta. They then insert a stent graft, with the help of fluoroscopy. After positioning the graft, a main body is deployed and filled with polymer to seal against the aorta and support the graft.
Afterward, limbs are inserted into the main body, which is deployed into position, completing the graft and creating a path for blood to flow. This allows patients "to get in, get treated and get out of the hospital faster," Maszy says. "We've seen patients go home the next day."
TriVascular's products have been approved for use in more than 35 countries. "We recently received FDA approval and CE Mark approval for our next-generation device called 'Ovation IX,'" he adds. Launched earlier this year, Ovation IX is "part of our commitment to delivering a smart pipeline of products."
Doing it All
TriVascular has a vertically integrated structure, Maszy says. "We make the stents, we make the grafts, we make the catheters, and it's exciting to see that all being done in one building," he states.
The company manages this with a four-point quality system that consists of a customer focus, a compliant quality system, continuous improvement and its core values. Maszy also highlights its customer focus, which includes listening to its clients.
"Everything we do in regards to developing our product is based on customer feedback and to treat safely on label as many patients as possible," he says. "If you look at your typical medical device company, [they'll largely focus on how] they get a product into the market fastest even if that means a smaller on-label indication."
Maintaining manufacturing quality is the responsibility of its entire staff, he adds. Instead of relying on just product inspections at the very end, "We really start at the beginning when we're designing the product," he says.
As TriVascular's product is developed, "It goes through process validation, where you have to demonstrate that your processes are not just capable, but they can [be applied] repeatedly," he says. "We do a lot of process control."
TriVascular also performs intense and continual data studies. "Our teams are looking for trends or things that are out of control," Maszy says. "We'll see immediately if something is wrong."
The company's engineers are all certified in Six Sigma and hold study groups to build their knowledge and skills around these approaches. Ultimately, "They can become certified Black Belts or Green Belts," he says. "It's been pretty neat working with our engineers."
Making a Difference
Maszy is proud of TriVascular's culture, which is rooted in the core values of innovation, excellence, leadership and integrity. "We really do believe and empower our employees to make a difference in our patients' and customers' lives," he says.
TriVascular's employees can play a critical part in treating AAA, which often goes undiagnosed. "They call it 'the silent killer,'" Maszy says. "Most people experience their aneurism ruptures before they find out they have one or are able to get treatment.
"If someone is in the hospital and has a rupture, you have a finite amount of time to get that treated," he says. "We have sales reps who have driven overnight to get our product to a doctor to treat a patient."
The company also places a strong emphasis on employee input. "Whether you're an engineer or you're in customer service, anybody in our company can make a bottom line or top line impact," he says.
The future of TriVascular is exciting. "We are getting a lot of traction with our product," Maszy says. "It is a different way of treating AAA disease. We have a device that is capable of treating a much larger group of people. [It can] be the workhorse device that does it in a manner that's less invasive and can yield better results."