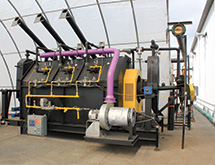 Vulcan® Systems is rapidly becoming the leader of custom-built thermal systems in its industry. Although the industry is extremely competitive, the company has strongly positioned itself as a manufacturer of reliable and durable equipment that is affordable. In addition to custom-built units, Vulcan® Systems offers standard systems.
Now serving customers in more than 70 countries around the world, its standard systems, along with its custom-designed solutions, allow clients to process to their specific needs. Its systems convert waste into beneficial refuse, helping to reduce disposal costs and environmental footprints for its customers.
"We're in an industry that has a lot of competition," Executive Vice President of Operations Nico Scheeres says. "We found a niche in reengineering equipment and apply that basic knowledge and keep to our principles. We manufacture cost-efficient, quality equipment."
Vulcan® Systems develops three main thermal streams that produce several beneficial by-products. At the most basic level, it manufactures rotary dryers that remove moisture from solids, semi-solids and liquids through the application of hot air produced by a burner. By removing moisture, the volume and weight of the material is reduced, which results in a solid final product that is easier to process, store and transport.
The company's incineration system is a thermal waste treatment process that destroys organic substances contained in waste materials through combustion.
Its most globally recognized product is its thermal desorption unit, which removes numerous volatile and semi-volatile organic compounds such as pesticides and fuel oils from waste streams.
These thermal streams allow clients to save money on storage fees and/or to further process their materials. Clients find these products beneficial because only one step is needed to clean up a product and turn it into a beneficial substance or to destroy it completely.
Vulcan® Systems' typical clients are those with a goal of driving moisture from products. The company treats a myriad of materials that can range from drilling muds for oilfield service companies to animal manure for agricultural production facilities. Vulcan® Systems' thermal services can process a wide range of materials across multiple industries.
Top of the Industry
As the thermal division of its parent company Worldwide Recycling Equipment Sales, Vulcan® Systems reengineers, designs and manufactures new equipment, while Worldwide Recycling sells used equipment.
The parent company has another division known as Tuffman® Equipment that manufactures some of the components that go into Vulcan® Systems' thermal processes. Additionally, Tuffman® takes on the processing and handling for Vulcan® Systems' thermal processing, so the two work hand-in-hand to serve more markets.
Vulcan® Systems began developing its thermal processes in 2009 and built new plants to satisfy this market. Everything is manufactured, tested and assembled in-house. "We want to be known as the most innovative in the thermal market," Scheeres says. "We provide services and quality equipment that will match any competitor regardless of how long they have been in the market. We continue to revolutionize the industry by providing solutions to our clients' specific needs."
Vulcan® Systems is in a rebranding process, as it's separating itself from Worldwide Recycling to stand alone in its thermal market, but it will still operate under the parent company. It is branching out more into e-commerce as well, releasing a component catalog so that clients can buy components on the website and put their own thermal units together or buy complete units that are ready to go. To facilitate this, Vulcan® Systems invites current and potential clients to visit their testing and manufacturing facility to learn how everything is made and how the products work.
"We like to show people what we can do," Scheeres says. "We like people to come visit us so we can show them how everything works."
Always Innovating
Standardization of the process has made the manufacturing of thermal units much more efficient. New units are manufactured to order, but Vulcan® Systems has the largest inventory of thermal processing units in the industry, according to Scheeres. "We tend to have a lot of the long lead time items here, then we manufacture on order," he says, "We can deliver fast to market because we don't have to worry about building everything from scratch. Only the new products."
This not only saves costs, but also allows Vulcan® Systems to innovate more energy-efficient systems. As an example, heat exchangers have been incorporated within the thermal units to recapture heat. By reintegrating the heat, Vulcan® Systems saves customers up to 15 percent on fuel consumption.
Much of the company's innovation occurs in the testing centers. Some of its units are in their third generation, and with every release, Vulcan® Systems has made improvements through new technologies. For example, the company recently began looking at a new thermal screw heat exchange process that will be very competitively priced thanks to the higher temperatures it will achieve for waste disposal.
But so far, the company's biggest technological challenge has been for a client that wanted Vulcan® Systems to develop a thermal technology to desorp mercury. Its previous desorption process didn't work well with the specific mercury material, so the company had to come up with an alternative.
The fine mercury was put through a fluidizing process to heat it to 800 F, which was a challenging combination because it was hard to get that technology to maintain those temperatures. "We reengineered that and came up with an alternative solution," Scheeres explains. "It became a more cost-effective solution for the client. We did that in the testing center, working very closely with the client."
When a challenge like this arises, Vulcan® Systems utilizes best engineering principles to solve the problem, along with good business sense. Scheeres believes all problems can be solved when you put forth constant, honest communication with a client.
"Make sure they know when problems arise," he says. "Communicate how you're going to solve the problems and your solution. And always make sure you're able to test everything, that you actually can implement that solution. We are committed to our clients and are with them throughout the entire process. This relationship continues once the unit has reached its new home through training and onsite operation. We act as a life vest and teach them how to swim."
Vulcan® Systems' headquarters is in Missouri, the Show Me State, which Scheeres believes comes through in its principles of conducting business honestly and transparently. "We're proud of the product we manufacture, we're proud of where we come from and of the growth we've achieved," Scheeres says. "We've taken used equipment, learned from that and built new equipment."