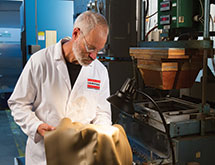 Uniroyal Engineered Products
Uniroyal Engineered Products has become a top producer of cast vinyl coated fabrics. Its assets include the iconic Naugahyde brand, a leading choice for many types of vinyl fabrics. Uniroyal Engineered Products is focused on providing performance coated fabric solutions for the automotive, healthcare, hospitality, marine, recreational, furniture and transportation markets.
"We have a well-known brand and are seen as providers of high-quality products at competitive pricing," President Howard Curd says. "In the U.S., we are about 50 percent automotive and 50 percent non-automotive. In the automotive industry, we mostly sell to the Tier 1 suppliers to the major OEMs. We've worked hard to earn a reputation for high-quality products, intense customer service and technical support."
Storied History
The Uniroyal name traces its legacy back to the United States Rubber Co., which was founded in 1892 and changed its name to Uniroyal, Inc. in 1961. Uniroyal created the Naugahyde brand coated fabrics in 1936.
Over time, Uniroyal, Inc. was broken up and sold in pieces in a series of transactions over multiple years. In 2003, Curd and his investor partners purchased Uniroyal Engineered Products, the producer of Naugahyde, which was the last remaining independent piece of the former Uniroyal, Inc. Curd saw a great company and brand that could be re-focused and expanded in the coated fabrics industry. The Naugahyde brand had always been a small piece of large corporations and as an independent standalone, Curd felt the company could flourish.
Today, Uniroyal Engineered Products reaches the industrial and automotive markets via the Uniroyal Engineered Products name and to the consumer market under the Naugahyde name. It is headquartered in Sarasota, Fla., and runs a manufacturing plant in Stoughton, Wis.
"Our success is driven by technical sales and support," Curd says. "Our technologies solve problems for customers. That technical and manufacturing ability helps increase penetration with existing customers and gets our name out to new prospects."
Expansion Effort
One important recent undertaking for Uniroyal Engineered Products came in March 2013 when the company combined with Wardle Storeys (Group) Ltd. of Earby, England, another major producer of vinyl-coated fabrics. Both firms serve a diverse array of market segments in coated fabrics, including the automotive, industrial and healthcare sectors.
Wardle Storeys' business is about 80 percent automotive focused. Among its brands are the Ambla vinyl-coated fabric for contract upholstery and Velbex calendered vinyl sheet for medical, industrial, barrier, pond liner, decorative laminates and other markets. In addition, its components division focuses on vacuum forming, injection molding and urethane foam molding for automotive and other markets.
The acquisition was important because it allowed the combined company to establish a global footprint, servicing key customers in the U.S., Europe and Asia. Currently, each company operates under existing brand names because of the brand equity and customer loyalty within current markets. Although each firm is heavily involved in the auto business, there is not a lot of overlap in customers. Both companies have extensive design and development capabilities, and exchanging technology and sharing resources will allow the companies to develop and launch more exciting product offerings.
"Our automotive customers are primarily global manufacturers and are moving more to global platforms," Curd says. "We've been able to leverage our customer bases and find new opportunities to bid on projects through our global expansion."
Uniroyal's other key investments have focused on R&D and technology, and it has also been investing heavily in its plants to upgrade capabilities and increase productivity. The company recently invested $2.2 million into the Wardle Storeys plant to upgrade its facility and equipment. Increasing productivity, decreasing costs, improving services and staying competitive are all critical for Uniroyal.
"We've upgraded and expanded our coaters with higher speed and efficiency and state-of-the-art control systems," Executive Vice President of Global Operations George Sanchez says. "We've made investments at our Wisconsin plant and our U.K. facility. These investments have improved our cost of production and allow us to be more competitive in the marketplace."
Wherever it operates, the company understands that it must get to know its customers' businesses intimately. By understanding its customers' manufacturing needs, Uniroyal can adapt its formulas to best serve the customers' manufacturing processes.
"Service, reliability and on-time delivery are important, and we communicate regularly with customers to be sure we understand their supply chain and production issues and can help solve their challenges," Curd says.